Recipes
Grilled Octopus with Chickpeas, Cherry Tomatoes, and Anchovy Vinaigrette
Serves

serves 4

Cook

1 hour 40 minutes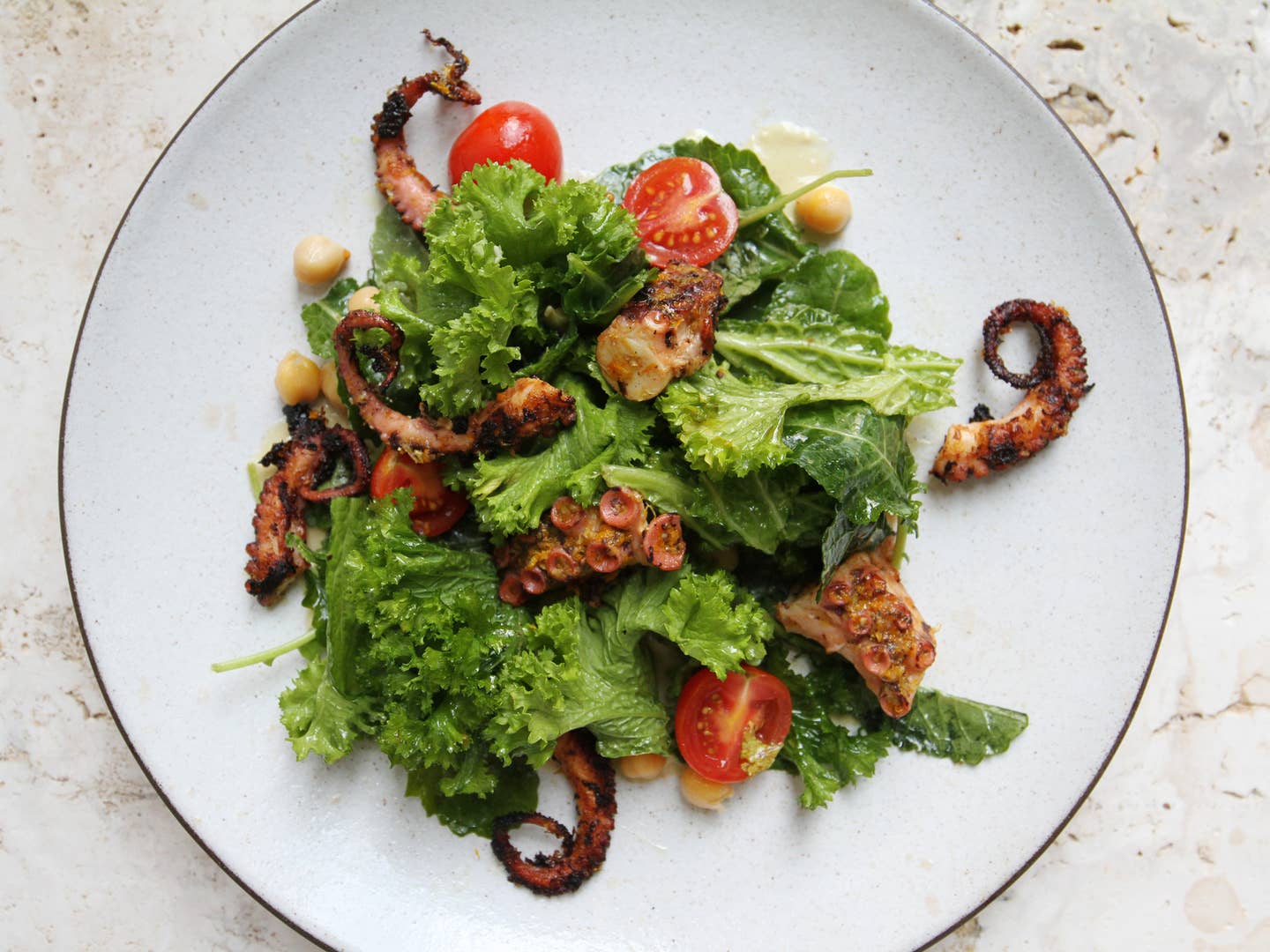 Tacolicious owner Sara Deseran first discovered this smoky salad, from Neil Fraser of LA's Redbird, while cooking at the annual Sabores San Miguel festival in Mexico. The trick to getting tender, flavorful octopus is boiling it first, then marinating and grilling it.
Ingredients
1 (2-lb.) octopus, fresh or frozen, cleaned
1⁄2 cup dried chickpeas
3 garlic cloves, peeled, 1 mashed into a paste
Kosher salt
1 1⁄4 cups olive oil
2 oranges, zested
2 lemons, zested
2 tbsp. lemon juice
2 tbsp. red wine vinegar
2 Spanish white anchovy fillets
1 egg yolk
4 oz. baby kale or another green (about 5 cups)
4 oz. frilly mustard greens, or other spicy green (about 5 cups)
1⁄4 cup vermouth vinegar
1 pint cherry tomatoes, halved
Instructions
Step 1
Soak the chickpeas overnight. Drain, then cover with water in a small saucepan and cook with 2 garlic cloves and salt until soft, about 25 minutes; drain and set aside.
Step 2
Whisk remaining garlic, lemon juice, red wine vinegar, anchovies, and egg; while whisking, slowly drizzle in 3⁄4 cup oil until emulsified. Season dressing with salt and pepper.
Step 3
Place octopus in a 6-qt. saucepan; cover with water and boil. Reduce heat and simmer until tender, 45 minutes-1 hour, then drain. Marinate in 1⁄4 cup olive oil and zest. Build a medium-hot fire in a charcoal grill, or heat a gas grill to medium. (Alternatively, heat a cast-iron grill pan over medium-high heat.) Remove octopus from marinade, and transfer to grill; cook until charred on the outside, about 5 minutes, and keep warm.
Step 4
Toss reserved chickpeas, remaining oil, the greens, vermouth vinegar, tomatoes, salt, and pepper in a bowl and divide between 4 plates; top each with octopus.