Recipes
Redfish "on the Half Shell" with Creamy Grits
Serves

serves 8

Cook

1 hour 45 minutes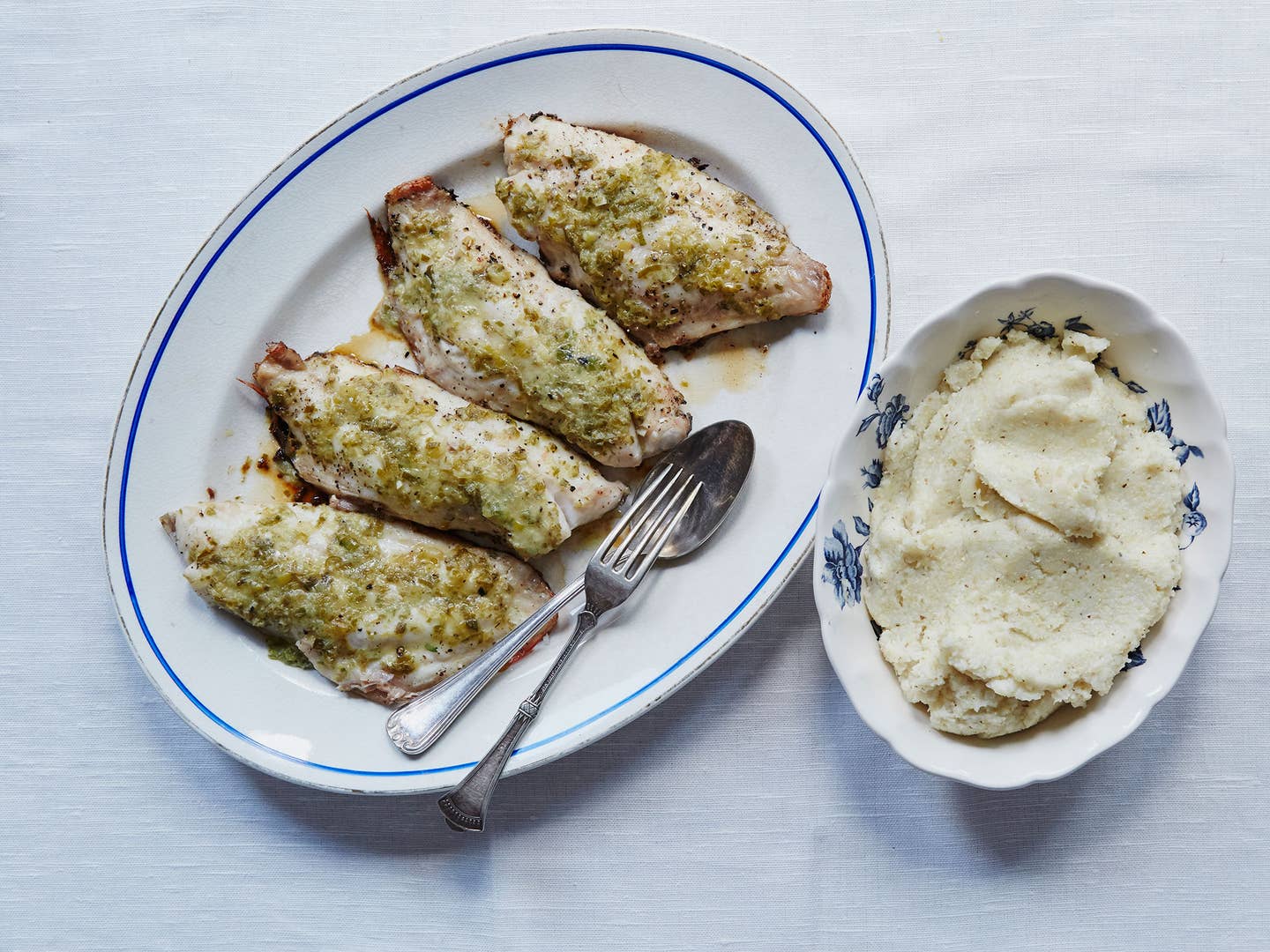 Chef Justin Devillier of La Petite Grocery learned this popular Louisiana fish camp technique—cooking "on the half shell"—after moving to New Orleans from California. Grilling fish skin-side-down with its scales still attached protects the tender meat from ripping and insulates it slightly from the heat, resulting in perfectly tender flesh.
Ingredients
2 bunches scallions (9 oz.), green and white parts separated
3 sticks unsalted butter, softened
2 1⁄2 tbsp. fresh lemon juice
1 1⁄2 tbsp. colatura di alici (anchovy syrup)
2 cloves garlic, minced
Kosher salt and freshly ground black pepper
4 cups whole milk
4 cups water
1 1⁄2 cups coarse-ground grits (not instant)
8 redfish or red snapper fillets, with skin and scales still attached (8 to 10 oz. each)
Instructions
Step 1
Light a grill and set it up for direct and indirect grilling. On a cutting board, thinly slice the scallion greens and place in a bowl. Place the scallion whites over direct heat on the grill and cook, turning, until charred and soft, about 5 minutes. Transfer the whites to the board and let cool completely. Finely chop the whites and add to the bowl with the greens along with 2 sticks butter, the lemon juice, colatura di alici, and garlic. Season with salt and pepper and mix the scallion butter until evenly combined.
Step 2
In a large saucepan, combine the milk and water and bring to a boil. While whisking, slowly pour the grits into the milk and cook, stirring constantly, until the grits are tender, about 1 hour and 15 minutes. Stir in the remaining stick of butter, season with salt, and remove the pan from the heat.
Step 3
Season the redfish with salt and pepper and place over direct heat on the grill, skin side down, and cook for 3 minutes. Without flipping, move the fillets to indirect heat and brush each with 2 tablespoons of the scallion butter. Close the grill and cook the fillets until cooked through, about 10 minutes. To serve, scrape the grits into a serving bowl, remove the skin from each fillet, and serve the fish alongside the grits.