Recipes
Grilled Stuffed Trout with Pebre Sauce
Serves

serves 4

Cook

45 minutes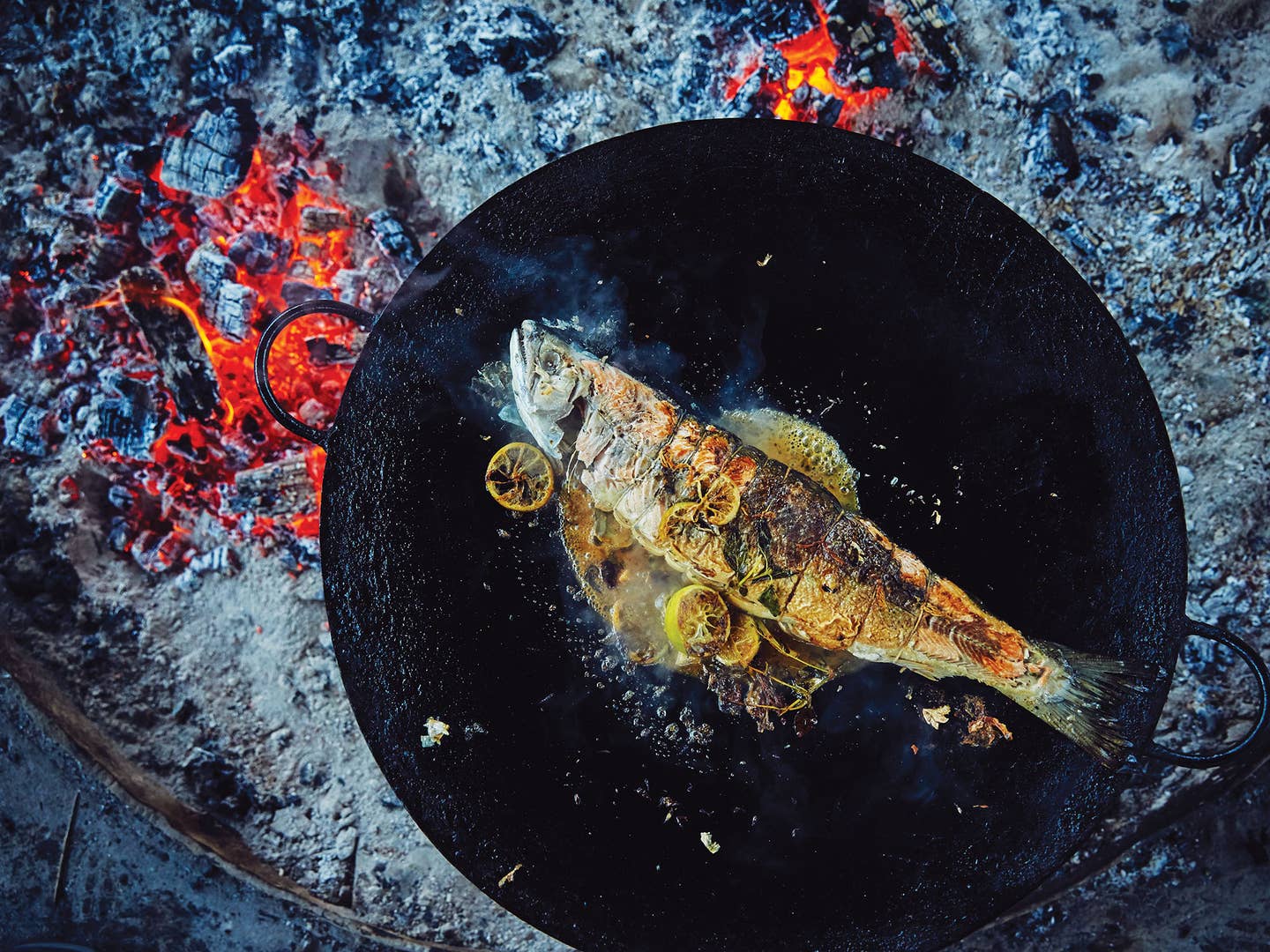 Smoky trout stuffed with cheese and sausage for a full meal. Serve it with pebre, a ubiquitous piquant Chilean condiment that's somewhere between salsa and chimichurri. Recipe adapted from Federico Ziegler of the Awasi Lodge.
Ingredients
For the fish
3 tbsp. extra-virgin olive oil, divided
Four 1-lb. trout, cleaned and butterflied
1 tsp. merkén chile
Kosher salt and freshly ground black pepper
2 cups thinly sliced red onion
4 oz. fresh cheese (such as mozzarella), cut in 1-inch strips
4 oz. thinly sliced chorizo
1 lime, thinly sliced
4 oz. fresh cilantro
1 oz. fresh dill
For the pebre sauce
1⁄2 cup minced yellow onion
3 tbsp. extra-virgin olive oil
1 tbsp. dried oregano
1 tbsp. fresh lemon juice
1 tbsp. red wine vinegar
1 tsp. hot red chile paste
1 tsp. minced cilantro (about 4 sprigs)
2 jalapeños (about 2 oz.), seeded and minced
1 garlic clove, ground to a paste
Kosher salt and freshly ground black pepper
Instructions
Step 1
Preheat your grill to medium heat, about 375°, and oil a hinged fish-grilling basket with 1 tablespoon of olive oil. Alternately, heat a large, oiled cast-iron skillet to medium-high heat over the coals. Rinse the inside of each fish, then rub them inside and out with the remaining oil. Season the fish with merkén, salt, and pepper.
Step 2
Fill the cavity of each fish with 1⁄2 cup of onion, a few slices of cheese, chorizo, and lime, and whole sprigs of cilantro and dill. The fish will be very stuffed; tie them neatly closed with cooking twine and space them at least 3 inches apart in your prepared grilling basket, if using.
Step 3
Grill the fish for 12–15 minutes, flipping the basket halfway through cooking. The meat is cooked when it is opaque and flakes easily.
Step 4
While the trout is roasting, make the pebre sauce: Combine onion, olive oil, oregano, lemon juice, vinegar, chile paste, cilantro, jalapeños, and garlic in a small bowl. Season with salt and pepper to taste.
Step 5
Remove the twine from the cooked fish before serving and plate each whole fish with 1⁄2 cup of pebre sauce on the side.