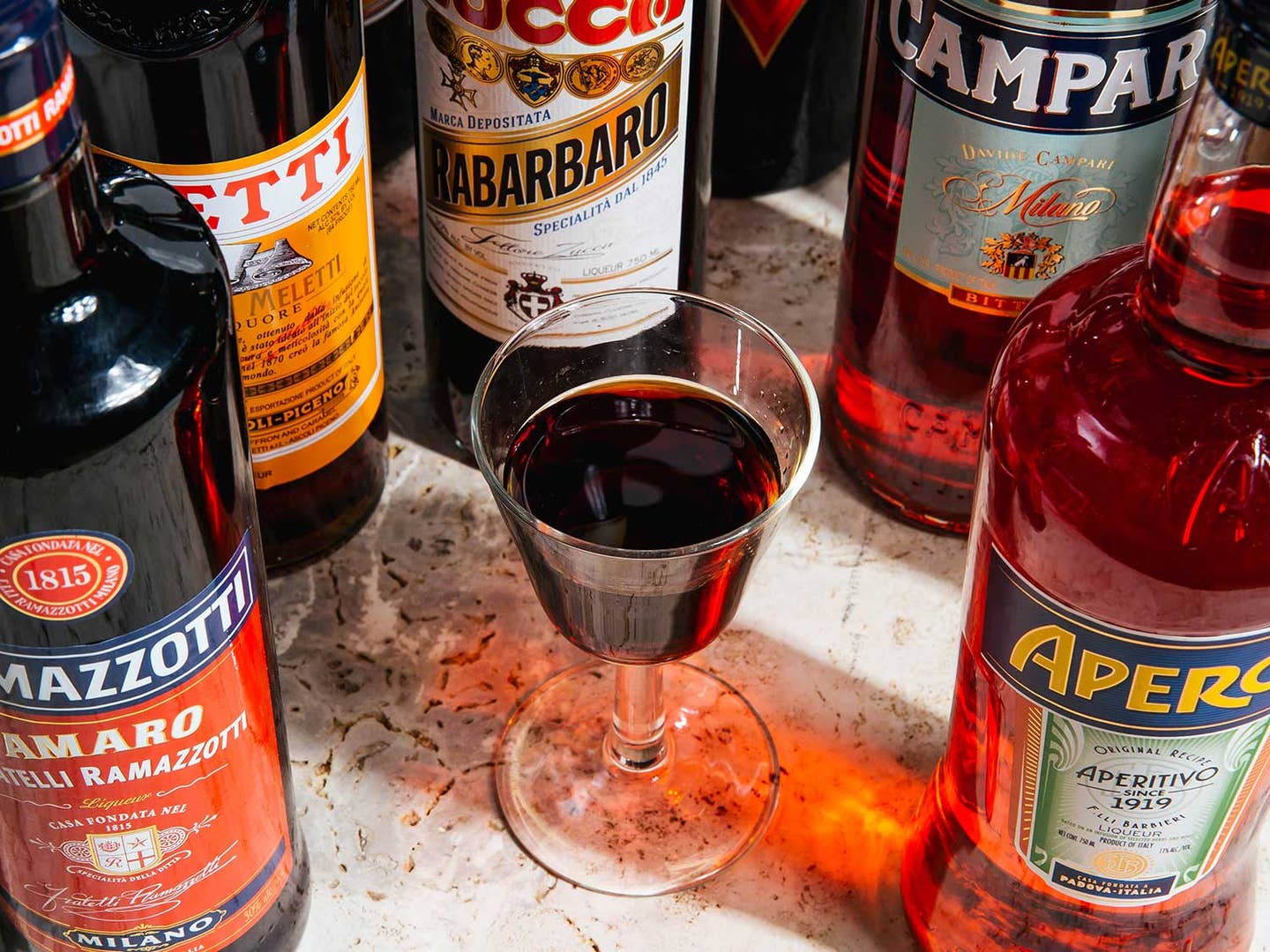 Drinks
A Field Guide to Italian Amaro
Get to know the diverse styles and flavors of those bittersweet Italian liqueurs known as amari
"How I explain it to people is, it's unexplainable," exclaims Sother Teague, chuckling at the way this amorphous spirit category confuses the heck out of people who come into his East Village "bitters tasting room," Amor y Amargo. "The cool—and uncool—thing about amaro is it's the wild west as far as definition goes." Teague would know: He's just back from Miami, where he was named mixologist of the year at Wine Enthusiast's Wine Star Awards—one of the many distinctions he holds.
If you haven't tasted an amaro on its own, you've undoubtedly come across them on cocktail menus. They're essential ingredients in classics like the Aperol Spritz, Negroni, and Americano, not to mention more inventive cocktails at countless bars across the country. "In the beginning there wasn't that much to offer, and now I feel like I get something new every week," Teague remarks, explaining that it used to be a question of economics. No demand meant no supply, but now that more bartenders and consumers are interested in amari, new producers are getting into the game. You can even try your hand at making your own.
Perhaps this increased production is muddying the waters a bit, but then again, the history of amari is more about tradition and lore rather than strict rules and regulations. "The definition is bittersweet liqueur. It used to be bittersweet liqueur from Italy, but it's not that anymore," Teague says, pointing to bottles from Germany, Poland, the U.S., and France. Originally, they were bittersweet herbal tinctures created by medieval monks and pharmacists for their medicinal properties. Merchants like Salvatore Averna started commercializing them in the 1800s, and they've been an integral part of Italian gastronomic culture ever since.
As Teague explains, "most bitters are a three-pronged construction: alcohol in the base, bittering agent in the middle, flavoring on top." Of course, every element varies from one amaro to the next. Some are made with a neutral spirit base, such as beet molasses, while others have a grappa base. Many use gentian flowers or roots as the bittering agent, but some use bark, like wormwood. And when it comes to the flavoring, that's where producers really go nuts, incorporating as many as sixty different herbs, fruits, spices, and other ingredients into their recipes. So how on earth are you supposed to know which one you're gonna like best? Taste them, of course! Here's a rundown on some of the most popular Italian amari.
The Easy-Going Aperitivi: Campari & Aperol
These bright red-orange spirits are most commonly served as aperitivi in cocktails like the ubiquitous Aperol Spritz, Campari Soda, Negroni, Negroni Sbagliato—and the list goes on. True fans should make a beeline for Camparino, a bar in Milan's Galleria Vittorio Emanuele II, and Bar Basso, where the Negroni Sbagliato was born, but walk into any bar in Italy and you're pretty much guaranteed to be served any of these drinks. Taste on their own, Campari and Aperol are like siblings: Campari is more intense, with strong orange hints, a bitter taste, and viscous texture. Aperol also has strong orange notes, but is softer, with a lower ABV for easy sipping.
The Gateway Amari: Montenegro, Nonino, Vecchio Amaro del Capo
Montenegro, Nonino, and Vecchio Amaro del Capo are on the lighter end of the spectrum—both in color and flavor, making them perfect gateway amari. Montenegro's recipe dates back to 1885 and has 40 botanicals from around the world, including orange peel, coriander, nutmeg, marjoram, cloves, and cinnamon. Nonino has a grappa base and is aged in barriques of Nevers, Limousin, and small sherry casks. Teague often recommends it to wine drinkers because it maintains that fruity, grape-y flavor and is easy to sip neat. Vecchio Amaro del Capo is a bit syrupier than the others, but is still quite approachable, with orange and floral gentian notes—though with a distinctly higher ABV at 35%. It hails from Calabria and is made with 29 ingredients, including orange blossom, chamomile, liquorice, peppermint, and aniseed. According to Giacinta Polidori, Food & Beverage Manager at Rome's iconic Hotel de Russie, it's one of the most popular amari at their legendary Stravinskij Bar.
The Sweet Sicilian Sipper: Averna
Averna could be considered a gateway amaro, but is a bit more intensely sweet and flavorful than the others. It was born in the Sicilian village of Caltanisetta in 1868 and is still produced there, using a secret recipe of roughly 60 ingredients that get macerated and infused in a neutral spirit. In Sicily, it's often consumed after dinner with a slice of orange or lemon peel and fresh mint, rosemary, or other herbs. Polidori cites Averna as her personal favorite. It's also one of the most requested amari at Bar Longhi in Venice's famed Gritti Palace, according to Head Bartender Mirko Falconi.
The Alpine Amaro: Bràulio
Though you can't really talk about terroir in relation to amari, Bràulio has a distinct pine-y taste, closely linked to its Alpine origins in the picturesque village of Bormio. It was born there in 1875 and, though it's now part of Gruppo Campari's portfolio, it's still made by the same family. They use a combination of 13 herbs, berries, and roots, like gentian, juniper, peppermint, wormwood, and yarrow. This is the amaro you want to be drinking on a cold winter night.
The Artichoke-Laced Sipper: Cynar
The big artichoke on the bottle is a dead giveaway—this Mediterranean thistle is one of the ingredients that gives this amaro its bitter, herbal taste. With a recipe that traces back to 1952 in Venice, it's one of Italy's younger amari. This dark brown liqueur has strong caramel notes. Danny Meyer's new Roman-inspired bar Vini e Fritti serves it in their Cynar Spritz.
The Cola-esque Amari: Meletti & Ramazzotti
Meletti and Ramazzotti are both made from kola nut, the same ingredient used to create the distinct caramelly flavors of Coca-Cola, Pepsi, and Dr. Pepper. As Teague puts it, "if Meletti is Coca-Cola, Ramazzotti is Dr. Pepper—a lot of dried fruit and back notes of cinnamon and allspice." If someone comes asks him for a rum and coke, he'll make them a cocktail combining white rum, Meletti, lime bitters, a grapefruit twist, and seltzer.
The Smoky Campfire Amari: Zucca Rabarbaro & Sfumato Rabarbaro
Rabarbaro means rhubarb in Italian, but this amaro has nothing to do with the sweet and tangy taste of rhubarb pie. It's made using Chinese rhubarb, which takes on a subtle smoky flavor when dried. The original Zucca Rabarbaro recipe dates back to 1919 Milan, but Cappelletti decided to ramp up the smoke factor in Sfumato Rabarbaro, actually smoking some of the Chinese rhubarb stems. The result is an aroma that evokes youthful memories of sitting around a campfire.
The Unfiltered Amaro: Amaro dell'Erborista
Teague considers this a favorite for everyday drinking, especially in the spring and fall. It looks a bit like a wheat beer because it's unfiltered, and has notes of gentian and honey, which is used to sweeten it. Unlike most amari, which are flavored with a wide variety of herbs, fruit, and seeds, this one gets its dominant flavor from the gentian flower, which does double duty as bittering agent and flavoring agent.
The Bartenders' Handshake: Fernet-Branca & Branca Menta
Fernet-Branca and Branca Menta are definitely an acquired taste. Both feature a high level of menthol, which might make you feel a bit like you're drinking boozy mouthwash. According to Teague, the world's number one consumer of Fernet-Branca is the country of Argentina. Number two? The city of San Francisco, where an affinity for it spread among the bartenders of the predominantly Italian North Beach neighborhood, leading many to call it "the bartender's handshake." "It's pretty bracingly bitter, but sweet at the same time," Teague says. "It's really towing that line, confusing your palate." Falconi loves this one because it's an old style and an old recipe.