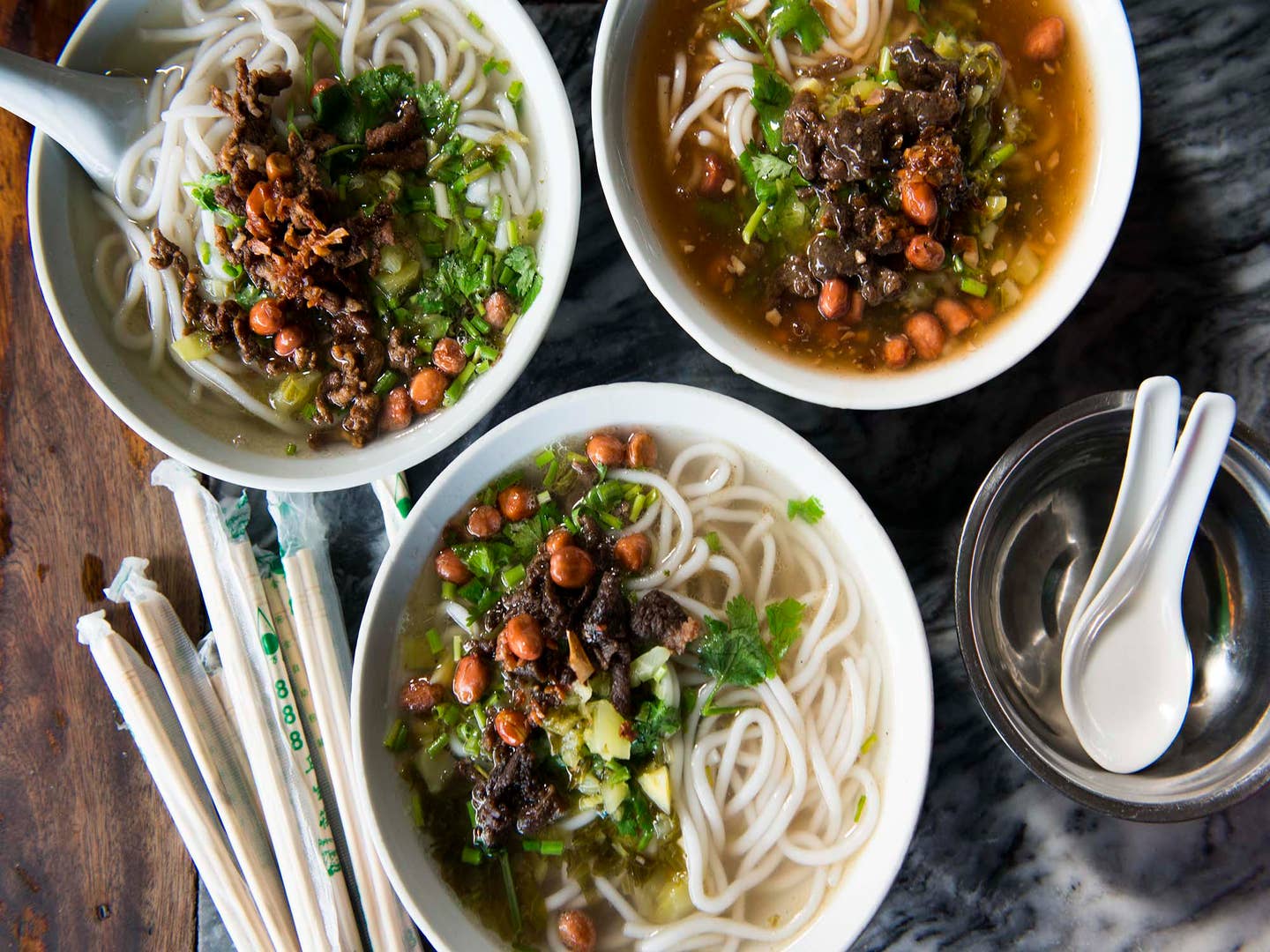 Recipes
Hainanese Rice Noodle Soup is Your New Late Night Favorite
Browned pork and tender beef jerky fortify the broth with loads of flavor
This Hainanese rice noodle soup is vibrant and flavorful, and is a staple of nighttime food stalls in Wenchang, China. The broth is typically full-bodied and rich, so be sure to make your own from scratch, and while the noodles are typically handmade, Filipino "luglug" noodles are a great alternative if you can't make your own. Crowning the dish are pork and beef jerky, cooked until browned and tender, and peanuts, fried until crispy and golden. Enjoy a bowl for dinner, and save some for a warming late night snack. Treat yourself.
First, combine the pork with the soy sauce, sesame oil, white pepper, and garlic. Toss to combine and marinate at room temperature for 15 minutes. While the pork is marinating, heat vegetable oil in a wok with the peanuts and fry over medium heat. Set aside, and return wok to stove. Add the marinated pork and beef jerky and cook, tossing often, until the pork is browned and the jerky is softened. Remove from heat, stir in remaining white pepper, and keep warm. At this point, it's time to make the noodles, cooking in a pot of boiling water until tender. Heat broth in a saucepan until hot. Drain the noodles and divide amongst bowls. Ladle broth over noodles, then add chopped mustard greens, bamboo shoots, cilantro, and scallions. Divide the pork between the bowls and garnish with crispy peanuts.
For more inspired recipes from Hainan, see our story on Hainan chicken.