"Cheater" Soft Serve Ice Cream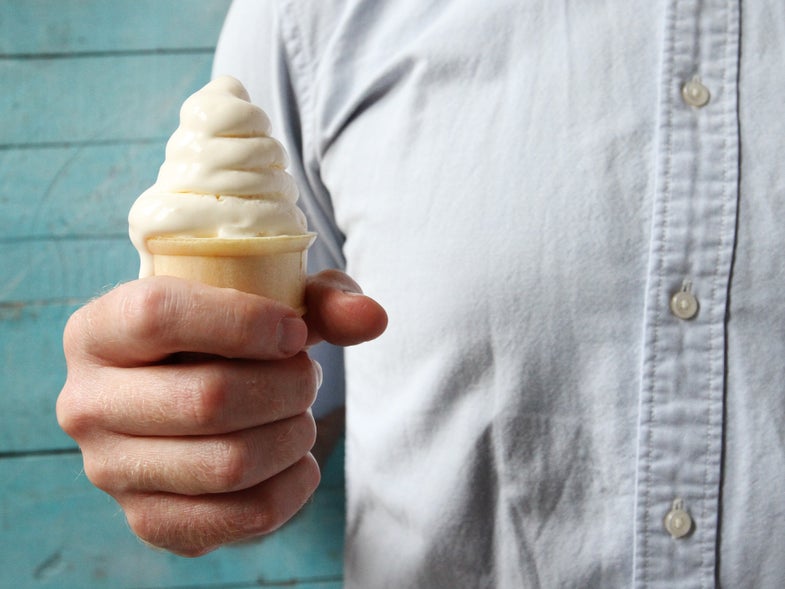 Making actual soft serve at home is nearly impossible—here's the best way to hack it. This recipe originally comes from food writer John T. Edge, who first published it in The Food Truck Cookbook (Workman Publishing, 2012). We found it in The Big Gay Ice Cream cookbook (Clarkson Potter, 2015), and have found it to be the most spot-on rendition of soft serve at home. For the classic soft serve experience, serve it in a cone—or make your own.
Featured in: You Can't Make Soft Serve—Unless You Hack It
Homemade Soft Serve
From the Big Gay Ice Cream cookbook
Time: 5 minutes
Ingredients
3 cups store-bought vanilla ice cream, slightly softened
1 cup whipped cream
2 tbsp. store-bought chocolate syrup (optional)
Instructions
In the bowl of a stand mixer fitted with the paddle, beat the ice cream, whipped cream, and syrup, if using, until well blended. Scrape into a container and cover with the top. Freeze for at least 12 hours before serving.