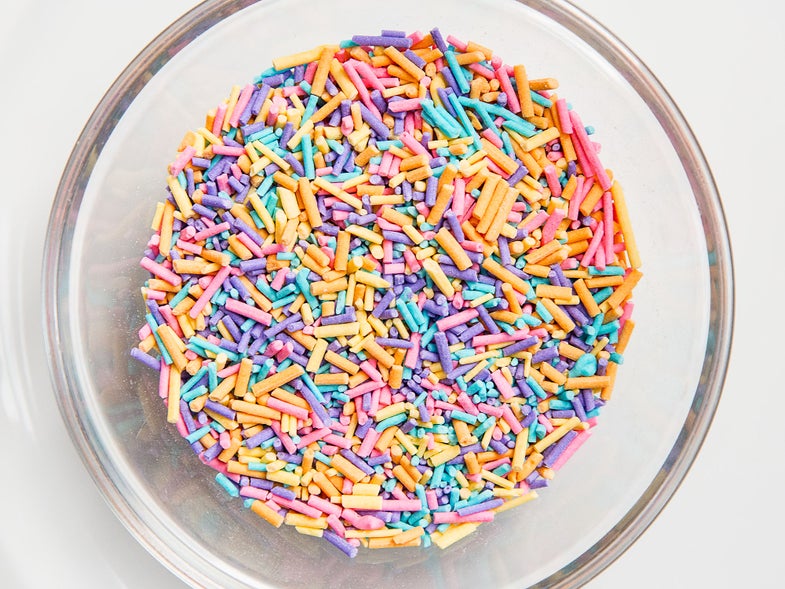 These sprinkles are a simple variation on royal icing, a stiff frosting made from whipped egg whites and sugar. Chef Monica Glass, of Philadelphia's Sbraga Dining, taught us how to make them: she whips confectioners' sugar with dried egg whites, adds vanilla extract and coloring, and pipes it into thin lines which she lets dry overnight. Once dry, they're broken into bits. You can tailor them to your favorite colors and flavors; however you make them, they are worlds apart from the store-bought, plastic-canister version. See more tips from pastry chef Monica Glass »
What You Will Need
Homemade Sprinkles
Chef Monica Glass of Sbarga Dining adds a little coloring and flavoring to a simple frosting recipe, pipes them in thin lines, and then breaks them into tiny sprinkles after they've sat overnight
Time: 24 hours
Ingredients
1 1⁄3 cups confectioners' sugar
2 tbsp. dried egg whites
1 1⁄2 tsp. vanilla extract
1⁄2 tsp. kosher salt
Food coloring, to taste
Instructions
In the bowl of a stand mixer fitted with the paddle attachment, combine the sugar with the dried egg whites, vanilla, salt, and 2 tablespoons water and mix until a stiff icing forms. Divide the icing between bowls and color them with food coloring as desired, stirring to mix evenly.
Spoon the icing into piping bags and pipe very thin lines onto parchment paper-lined baking sheets. Let the icing lines air dry for 24 hours. Break into small pieces and store in an airtight container at room temperature for up to 2 weeks.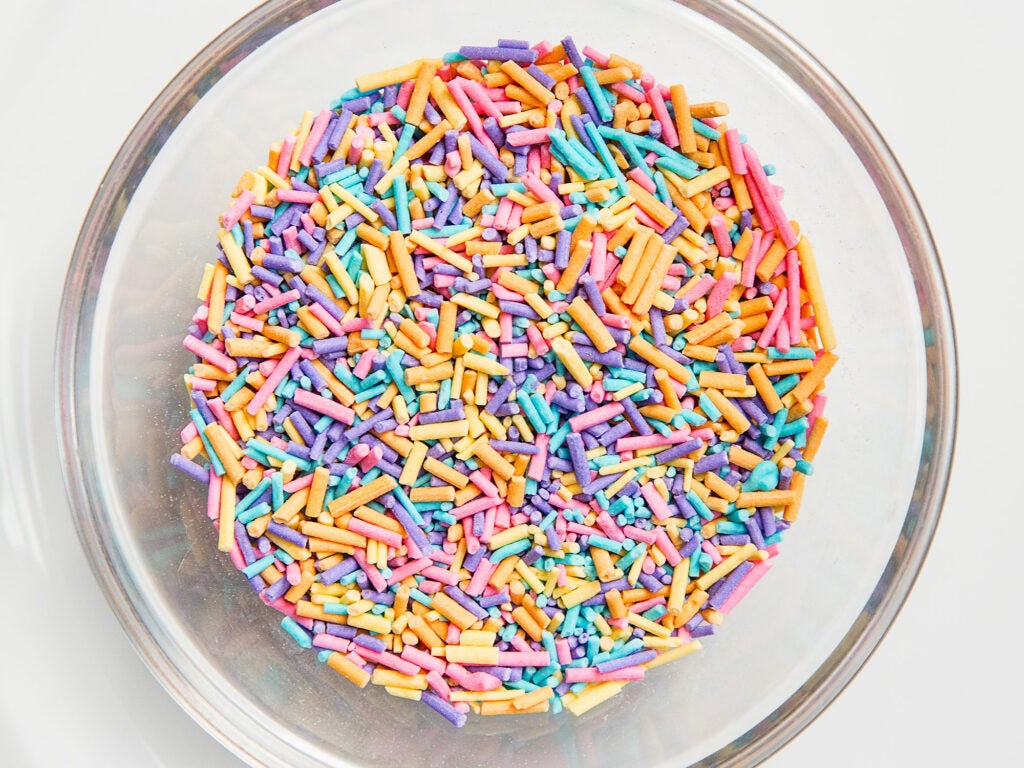 These sprinkles are a simple variation on royal icing, a stiff frosting made from whipped egg whites and sugar.