Honey-Roasted Apples with Calvados and Sesame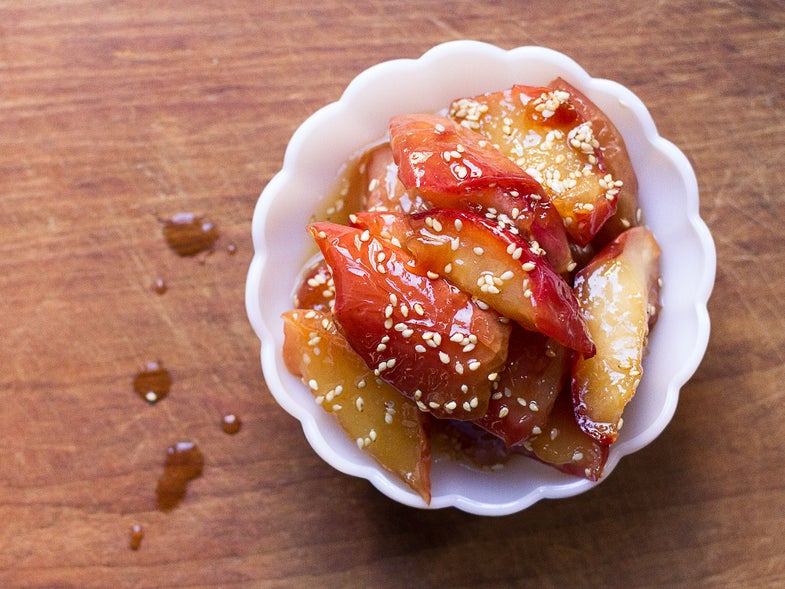 Sweet apples are roasted until caramelized in honey and butter, then marinated in their cooking juices along with Calvados and sesame for a simple but surprisingly complex quick weeknight dessert.
Featured in: Bring the Orchard Home with Easy Roast Apples
Yield: serves 2 to 4 people
Time: 45 minutes
Ingredients
2 arge apples, such as Cortland, Macoun, Empire, or Fuji
2 tbsp. unsalted butter, melted
2 tbsp. honey
1⁄4 tsp. kosher salt
1 tbsp. Calvados
1 tsp. toasted sesame seeds
Creme fraiche, for serving
Instructions
Heat the oven to 425°. On a cutting board, quarter the apples and remove their cores. Cut each apple quarter on the diagonal lengthwise to produce two jagged pieces. Place the apple pieces in a 9-by-13-inch baking dish and toss with the butter, honey, and salt. Roast, turning once halfway through, until the apples are soft and lightly caramelized, 15 to 20 minutes.
Transfer the dish to a rack and, using a slotted spoon, transfer the apples to a serving dish. Scrape the pan juices into a small bowl and whisk in the Calvados and sesame seeds. Pour the juices over the apples and toss gently to combine. Let the apples stand for 10 minutes to soak up some of the juices, stir again, and then serve warm with creme fraiche.