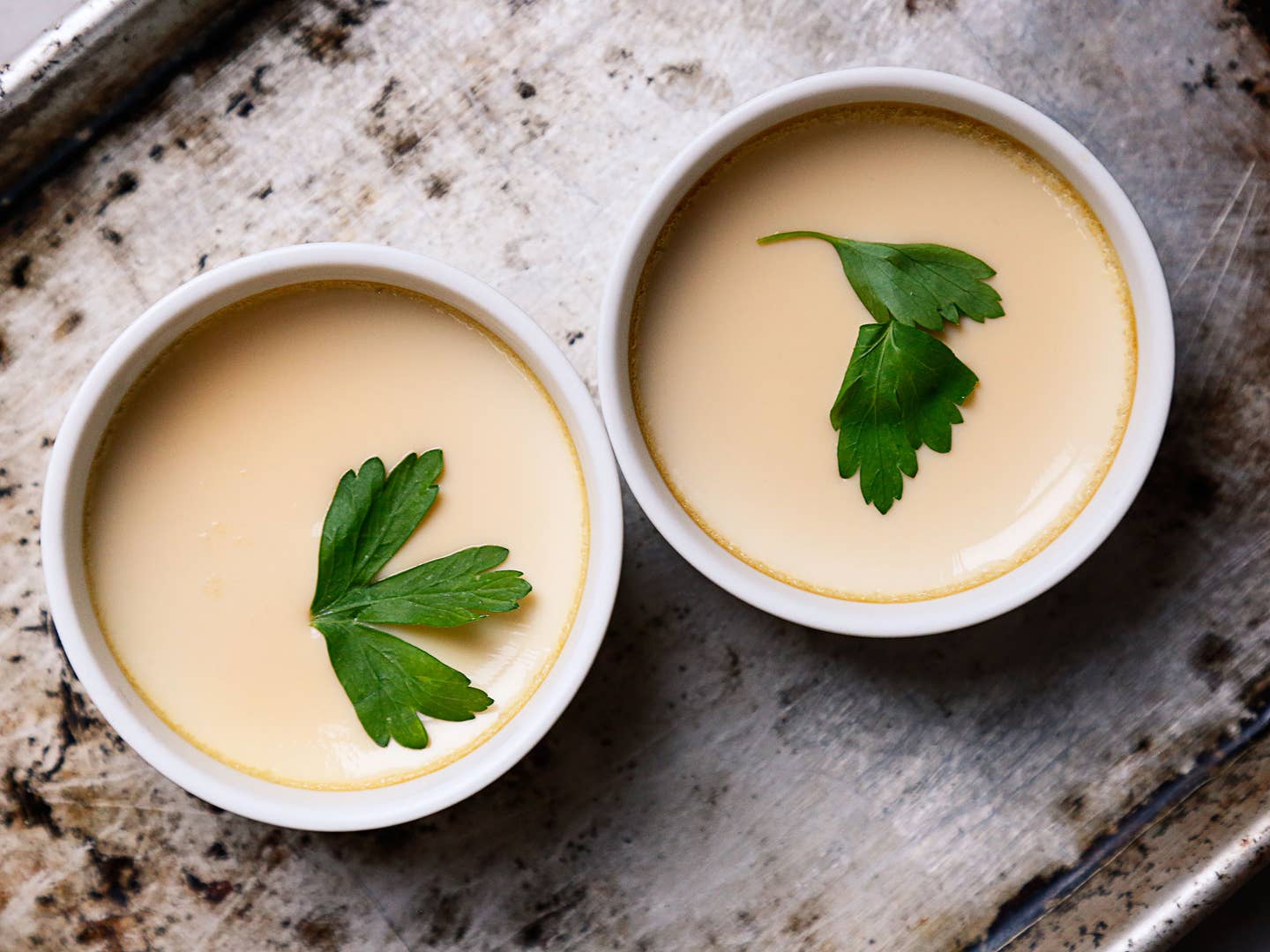 Techniques
How to Make Chawanmushi, Japan's Incredible Egg Dish
Chef Brady Williams of Seattle's Canlis shares his technique for the Japanese staple
Dashi + eggs + about half an hour. Have those things? Good, then you have dinner, or breakfast, or whatever meal you like. Because chawanmushi is the dish for all meals and all kitchens; a simple savory egg custard that's easier to make than an omelet and even more customizable. It's a homey dish that still conveys all the precision of Japanese cooking: eggs cooked just until set, delicately flavored with smokiness of bonito and the savory oomph of kombu, into something so soft, smooth, and creamy, it practically falls apart as you eat it.
Chawanmushi is also prime leftover fodder, good dressed down with the likes of chicken, shrimp, or greens, or gussied up, as chef Brady Williams does at Canlis in Seattle, topped with a little sea urchin. It's a dish he grew up eating in his Japanese mother's kitchen (minus the uni back then), and it helped win him his posting as the Seattle restaurant's head chef. In the video above, Williams shows us how to make this versatile miracle of an egg dish, and all the ways you can make it your own.
Now yes, making chawanmushi means you need to make dashi first. But compared to every Western stock and sauce out there, dashi couldn't be easier. Gently cook kombu (umami-laden dried kelp) in warm water, then remove it, raise the heat, and stir in some smoky flakes of bonito. Strain out the bonito and there you have it: a broth to start of chawanmushi, miso soup, or any number of sauces. Make a bunch and freeze it into single-serve portions for later, so your next chawanmushi is always within reach.