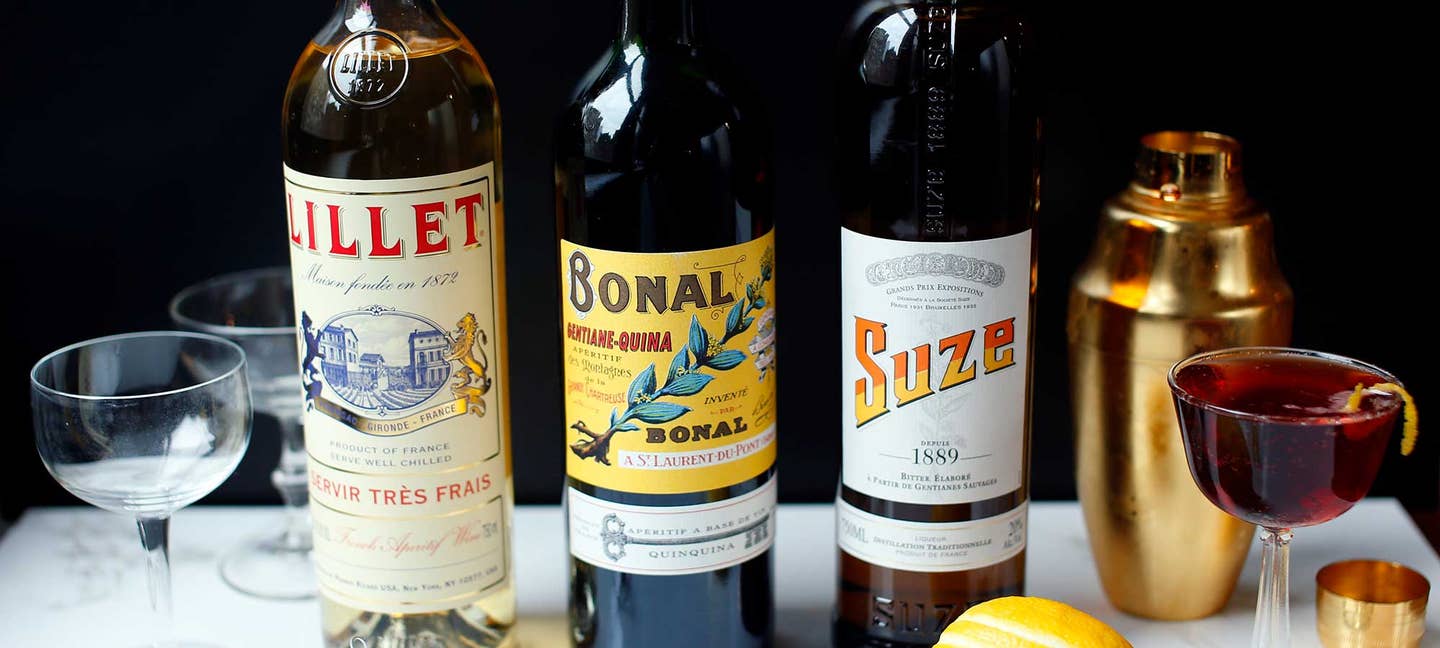 Drinks
3 Bottles to Start Building Your French Aperitif Bar
They're pretty, classic, and will help you spin out an impressive array of French-style cocktails
In French, the word apéritif comes from the Latin verb aperire, meaning "to open." This makes good sense, because in France, taking a drink (or aperitif) at the beginning of a meal or gathering is a long-held nightly ritual.
While the word refers to the practice itself, it can also represent the bottles used, as well as the drinks made with them. In my book, Apéritif: Cocktail Hour the French Way, I celebrate the tradition of French apéritif in its three definitions: ritual, bottle, and drink. And one of my favorite parts is that bitter ingredients can be employed liberally in the beginning—as opposed to just the end—of a meal.
When we talk about bittering agents in spirit form, a lot of the discussion goes straight to digestifs or, the Italian version, amari. This is for good reason: bitter drinks promote digestion and can help calm an over-full stomach. But bitter is no one-trick pony. It works just as well as an opener (think of the aperol spritz or the negroni), both for your appetite and to a festive evening.
These three bottles prove that very point. Start with the recipes provided then continue on—the possibilities are bottomless.
Intensely bitter and lightly vegetal, Suze is one of those hyper-classic, sits-behind-every-copper-trimmed-bar-in-Paris, prettily bottled French apéritifs. It's been on American bars since 2012, and if you've been drinking white negronis stateside, you've had Suze, maybe without knowing it. Like many bitter-leaning bottles developed in the late 1800s, France/Swiss native yellow gentian root imparts its characteristic bitterness. Unlike a lot of other distillers at the time, distillery owner Fernand Moureaux chose to macerate the root in grain alcohol rather than wine before infusing the pressed, distilled mixture with botanicals. The result is a bright-yellow pour that is ideal for low-ABV cocktails because you don't need much to infuse the flavor of a drink with Suze's herb-forward taste as a starting point.
When using Suze, something sweet and bubbly can help tame the excess bitterness. Try a splash of sweet crème de cassis and a top of bubbles (see the Crème de la recipe here), or do as they do in France and try Suze on the rocks with a simple twist of lemon, and maybe a splash of soda water. (Wicker chair and bistro table optional.)
Some describe Bonal Gentiane-Quina (Bonal for short) as something like sweet vermouth. While, sure, it's reddish brown, a little prune-y, and can totally be used in a pinch as a substitute for vermouth in a Manhattan, to play that broad comparison game is to lose sight of a very special bottle. Lightly bitter care of a one-two infusion of bittering gentian root and cinchona bark (quinine), Bonal is a fortified wine infused with herbs from the Grand Chartreuse Mountains. It employs a mistelle base (grape versus Suze's grain alcohol base) then is fortified using hard alcohol. This process allows the unfermented grapes to keep all their natural fructose (which is converted to alcohol during fermentation) and gives the final apéritif a sweet, fresh, and juicy fruit undertone. See the recipe for a Tour de France cocktail here.
Before the advent of modern medicine, the guard against malaria was quinine, extracted from South American cinchona bark. In the 1830s, the French government was offering incentives to anyone who could mask the bark's bitter flavor and entice the French Foreign Legion into drinking it, thus kickstarting a whole slew of quinine-based apéritifs. Lucky us, Raymond and Paul Lillet got involved in 1872. While present day malaria treatments have gotten more scientific, Lillet is still drinking just fine. Each of the three styles—Blanc, Rouge, and Rosé—is made by infusing brandy with said bittering quinine and a mix of orange peels and other fruits before the infusion is blended with locally sourced Bordeaux wine. Each bottle is perfectly lovely served well chilled and neat, on the rocks with a twist (lemon for Blanc, orange for Rouge, lime for Rosé, I say), or in cocktails like the AM/PM Sherry (see recipe here) from my book Apéritif: Cocktail Hour the French Way.