Drinks
Orchata (Indian Almond and Rosewater Drink)
Serves

makes 4 1/4 Cups

Cook

40 minutes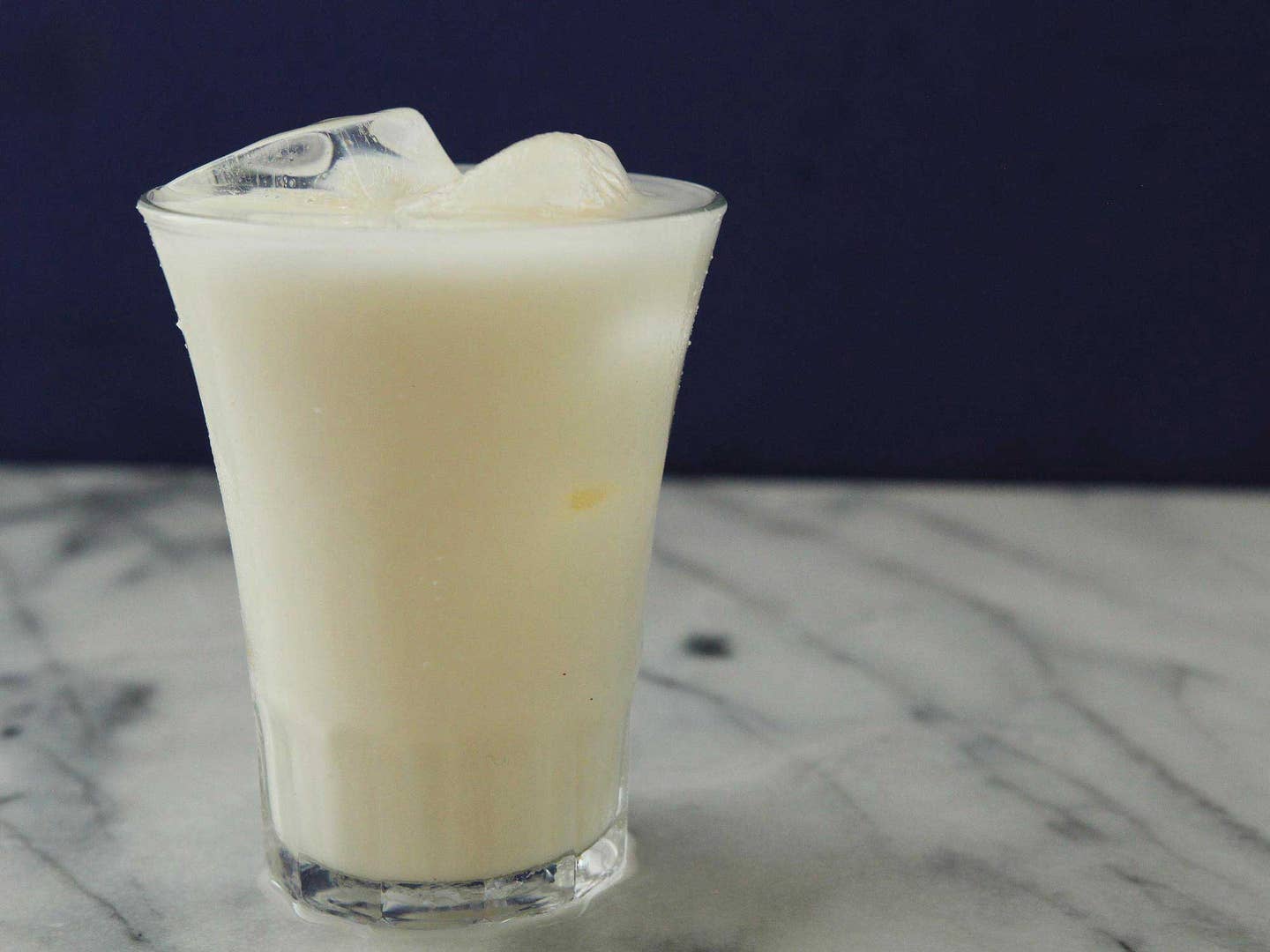 Of all the heat-beating cold drinks in India's southwestern Goa state, perhaps the most lush is the orchata. Not to be confused with Mexican horchata, orchata is a clean, simple drink made from ground almonds and sugar, faintly accented by rose, and is prepared most often for special occasions. In Maria Teresa Nenezes' Goan cookbook and memoir, The Essential Goa Cookbook, she writes of the drink offered at her sister's wedding party in 1935: "Trays of wine, liquors, the special xaropes, or syrups, of Goa … We children concentrated on orchata, and of course, sampled every tray that passed us!"
During the stifling heat of summer in India, these cold, richly spiced drinks are comfort in a glass
Ingredients
Ice
2 cups (12 oz.) raw almonds
1⁄3 cup sugar
1⁄2 tsp. rose water
Instructions
Step 1
Set a large bowl of ice water by the sink. Bring a medium pot of unsalted water to a rapid boil. Stir in the almonds and let cook for 10–15 seconds. Drain the almonds, then immediately plunge them into the ice water to cool and loosen the skins. Remove and rub between your hands to peel away the skins; discard the skins.
Step 2
Transfer the almonds to a blender with 1½ cups cold water. Blend on high speed until very smooth. Line a fine mesh strainer with 2 layers of cheesecloth and strain the almond milk, pressing the almond pulp to extract as much liquid as possible.
Step 3
Return the almond pulp to the blender and add an additional 1½ cups cold water. Pulse to rehydrate and combine, then pass the liquid again through the cheesecloth-lined strainer, once again pressing on the pulp.
Step 4
Spoon the remaining solids into a bowl, and stir in a final 1½ cups of water. Strain though the cheesecloth. Refrigerate the almond milk while you make the rose syrup.
Step 5
In a small pot, combine the sugar and ⅔ cups water. Set over medium heat and bring to a simmer, stirring to dissolve the sugar. Lower the heat to maintain a simmer and cook until the syrup is slightly reduced, about 10 minutes. Remove the pan from the heat, add the rose water, and transfer the mixture to a heat-resistant bowl. Refrigerate until well-chilled.
Step 6
To serve, stir the almond milk well, then sweeten with syrup to taste. Serve over ice.