Recipes
Lamb Meatballs with Carrots and Potatoes (Koufteh Ghelgheli)
Serves

serves 4

Cook

1 hour 30 minutes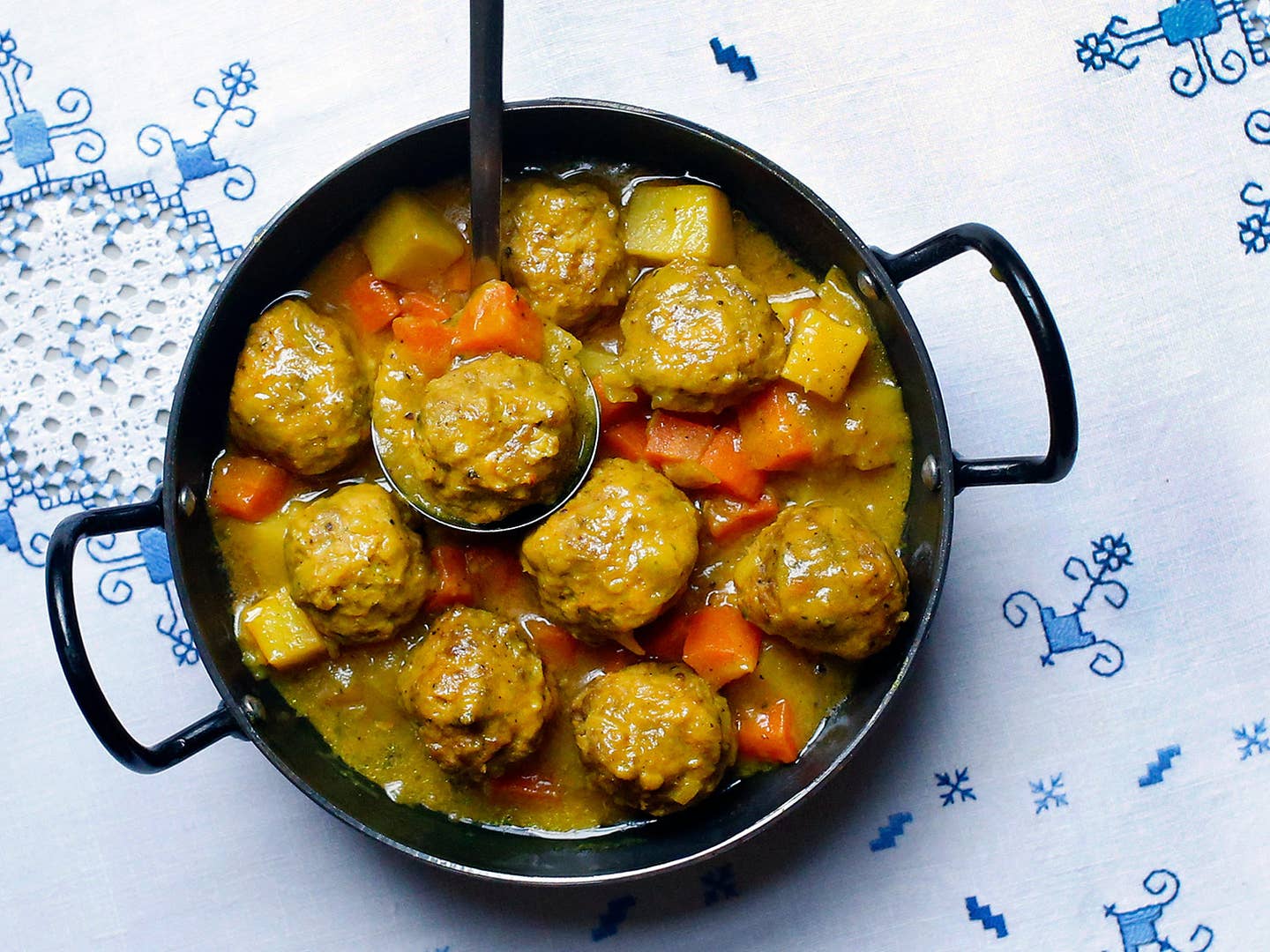 Nasim Alikhani, of Sofreh in Brooklyn, NY, calls these lamb-and-chickpea-flour meatballs from Isfahan, Iran "humble but delicious." The meatballs are cooked in a fragrant broth of turmeric, onions, and lemon juice, and accompanied by carrots and potatoes. When tart seasonal fruits are available—like Iranian sour plums in spring, sour cherries in the summer, or quince in the fall—Alikhani likes to incorporate them into the dish as a foil to the rich meat, adding them toward the end of the cooking, about 10 to 15 minutes before the dish is ready.
Ingredients
1 lb. ground lamb
2 medium yellow onions, one finely grated (1¼ cup), and one finely chopped (2 cups), divided
⅓ cups chickpea flour
2 tbsp. kosher salt, divided
3 tbsp. ground turmeric, divided
4 tsp. freshly ground black pepper, divided
¼ cups vegetable oil
½ cups fresh lemon juice
4 medium carrots (1 lb. 5 oz.), peeled and cut into 1-inch cubes
2 medium yellow potatoes (10 oz.), peeled and cut into 1-inch cubes
Instructions
Step 1
In a large bowl, add the lamb, grated onion, chickpea flour, 1 tablespoon salt, 1 tablespoon turmeric, and 2 teaspoons pepper. Use your hands to mix well, then shape into balls about 1 inch in diameter (You should have about 33 meatballs, weighing ¾ ounce each). Set aside while you make the sauce.
Step 2
In a large skillet set over medium heat, add the oil. When the oil is hot, add the chopped onions and the remaining 1 tablespoon salt and cook, stirring occasionally until the onions are soft and just beginning to turn golden, 15–18 minutes. Add the remaining 2 tablespoons turmeric and continue cooking, stirring until completely combined, about 1 minute. Add 3 cups cold water and increase the heat to medium-high. Add the lemon juice and remaining 2 teaspoons pepper. Bring to a boil, then regulate the heat to maintain a strong simmer. Gently add the meatballs and cook for 5 minutes, then gently stir in the carrots and potatoes. Bring back to a boil, then lower the heat to low and simmer until the meatballs are cooked through, the vegetables are tender when poked with a fork, and the sauce is thickened, about 1 hour. Serve immediately.