Marinated Tomatoes with Mint
Showcase the sweet juices with this easy vinaigrette.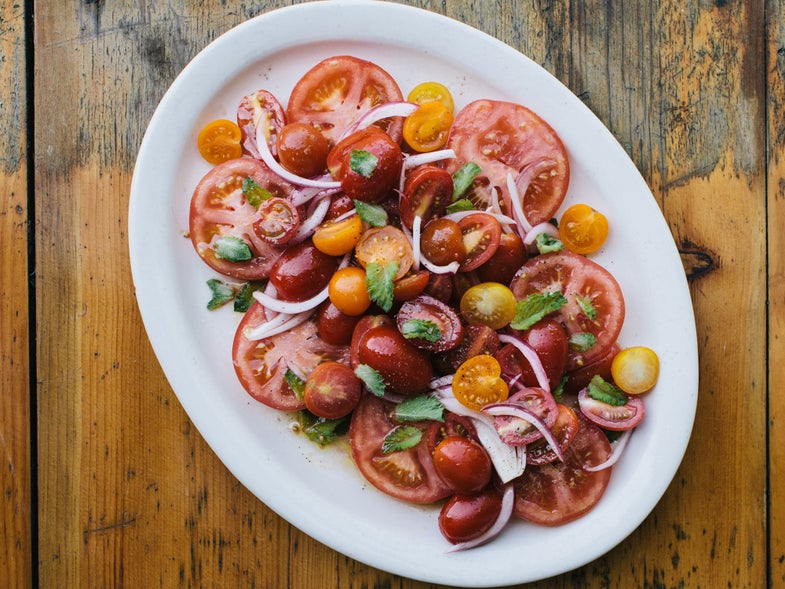 This end-of-summer salad from American chef and farmer Chris Fischer showcases the sweet juices of peak-season tomatoes. The vinegar in the dressing draws out the juice, which is then thickened with olive oil. Use any color of heirloom or beefsteak tomatoes you like to create a beautiful presentation.
Featured in: "A Gathering by the Sea."
Yield: serves 4 to 6
Time: 40 minutes
Ingredients
2 lb. cherry tomatoes, preferably Sun Gold, halved
1⁄2 medium red onion, thinly sliced
1⁄4 cup extra-virgin olive oil
3 tbsp. red wine vinegar
Kosher salt
1 lb. red or yellow heirloom tomatoes, cored and sliced crosswise
Freshly cracked black pepper
1 cup loosely packed mint leaves, torn into bite-size pieces
Flaky sea salt
Instructions
In a large bowl, toss the cherry tomatoes with the onion, olive oil, and vinegar. Season with salt and set aside at room temperature, stirring every 5 minutes, until the flavors have married, the onions are slightly softened, and the tomatoes have started to release their juices, about 20 minutes.
Arrange the tomato slices on a serving platter and then spoon the cherry tomatoes and dressing over the top. Season with pepper, sprinkle with the mint leaves and sea salt, and serve at room temperature.
Get the recipe for Burrata and Marinated Cherry Tomato Sandwiches »