Moroccan Carrots with Aleppo Pepper and Mint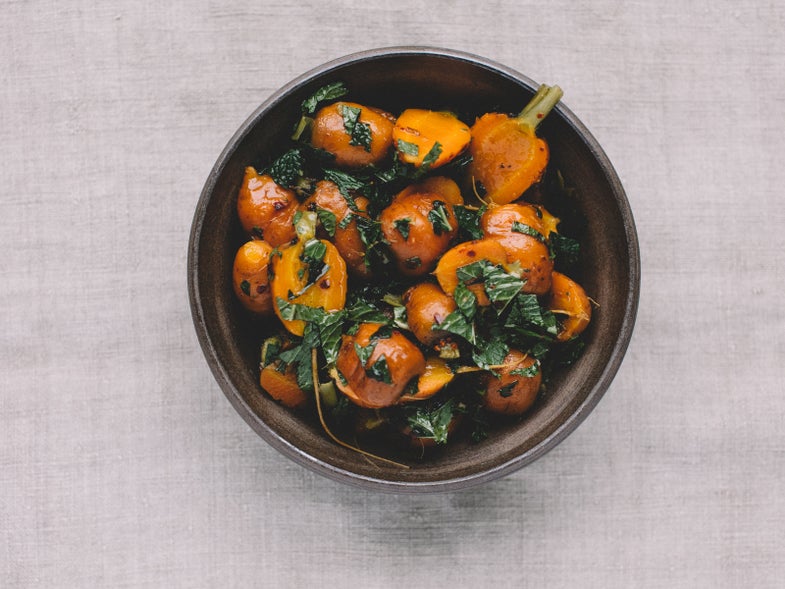 Fresh mint, Aleppo pepper, and cumin flavor this humble carrot salad, sweetened lightly by a dressing made with the carrots' cooking liquid, which becomes a concentrated syrup when reduced.
Featured in: Eating Israel with Michael Solomonov
Moroccan Carrots with Aleppo Pepper and Mint
The dressing for this cumin-spiced salad is made from the carrots' cooking liquid, which concentrates into a sweet syrup when reduced.
Time: 2 hours, 30 minutes
Ingredients
1 1⁄2 lb. small Thumbelina carrots, or large carrots cut crosswise into 1 1/2-inch lengths
1 tsp. kosher salt, plus more
1 clove garlic, minced
1⁄4 cup olive oil
2 tbsp. fresh lemon juice
2 tbsp. roughly chopped mint
1 tsp. Aleppo pepper
1 tsp. ground cumin
1 tsp. sugar
Instructions
Place the carrots in a 10-inch, deep-sided skillet and pour in 1 1⁄2 cups water. Season the carrots liberally with salt and bring to a boil. Cook the carrots, turning as needed, until they just begin to soften, 8 to 10 minutes. Using tongs, transfer the carrots to a cutting board and let cool. Halve the Thumbelina carrots (if using the large carrot pieces, cut them in half lengthwise and then crosswise into 1⁄4-inch-thick half-moons).
Return the skillet to the heat, add the garlic to the cooking liquid, and boil until the liquid reduces to about 3 Tbsp. and is syrupy, about 3 minutes. Remove the skillet from the heat and whisk in the 1 teaspoon of salt along with the olive oil, lemon juice, mint, Aleppo, cumin, and sugar. Pour the dressing into a large bowl and stir in the carrots to evenly coat in the dressing. Cover the bowl with plastic wrap and refrigerate the carrots for at least 2 hours before serving.