Our 8 Super-Simple Recipes You're Loving on Pinterest
Minute steak, better-than-French-toast, and more classics simple enough to memorize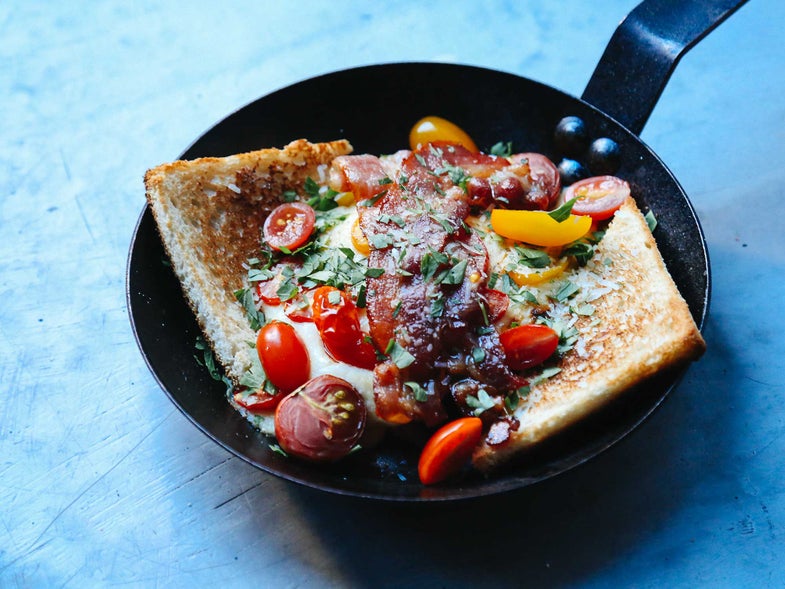 Breakfast cinnamon French toast, steamed pork buns, nachos, and the easiest steak you'll ever make—these are just some of the quick and easy recipes our Pinterest readers adore. You don't need to slave for hours to cook something fantastic—just look at our collection of simple weeknight dinner recipes. As a bonus, our most-pinned recipes are always gorgeous, from chocolate recipes to our hottest recipes from this month. Ready to get inspired? Pin these simple recipes to your grub board today.
Bostock is a sweet and crunchy breakfast pastry with roots in Normandy. Our version honors Calvados country with a schmear of apple butter and a splash of apple brandy added to the traditional frangipane cream. A generous layer of toasty almonds balances the soft and squishy filling below. Get the recipe for Cinnamon Apple Bostock »
Cornstarch adds a silkiness to bao dough, mimicking the bleached, low-protein flour commonly used in Chinese bakeries (but harder to find in supermarkets). Lard adds tenderness, richness, and a subtle porky finish. Get the recipe for Chinese Steamed Pork Buns (Char Siu Bao) »
"Beef is excellently suited to Express-cookery, since it is delicious when it is served underdone," de Pomiane advises. Use a steak sliced no thicker than 1 inch to achieve a crispy crust and warm, pink center in a short cooking time. Get the recipe for Minute Steak (Adapted from Cooking in 10 Minutes) »
A balance of pickly, salty, cheesy, and crisp, this recipe—inspired by the original—proves that simple is preferable when it comes to nachos. When deep-frying your own tortillas, look for soft tortillas made with all corn (and no flour) for the crunchiest results. Get the recipe for Real Deal Ignacio-Style Nachos »
Making sushi at home can be a challenge fraught with angst. That's where chirashi comes in. It's a rice bowl covered in colorful slices of fish, glistening balls of orange roe, and a rainbow of other garnishes from sesame seeds to seaweed promising all the architectural potential we lust for in a well-made sushi platter.
Known as chupe de centolla, this Chilean crab gratin borders on a cheesy crab dip. While similar South American chupe are always prepared with milk-soaked bread and any combination of shrimp, scallops, shellfish, meats, and cheeses, Patagonia's version relies solely on the massive local king crabs, the hallmark of fishermen's kitchens along Chile's southernmost coast. Get the recipe for The Ultimate Crab Dip »
With roots in northern Italy, this stew—prepared hunter's wife style—has numerous regional variations based on the concept of braising chicken in tomatoes, wine, or both. Get the recipe for Chicken Cacciatore »
This open-faced sandwich was created at the Brown Hotel in Louisville, Kentucky, by chef Fred K. Schmidt, who was looking for a unique midnight snack to serve to all the revelers dancing in the ballroom until the wee hours. The classic is slightly updated with the use of sweeter cherry tomatoes instead of large tomato wedges. Get the recipe for Classic Louisville Hot Brown Sandwich »