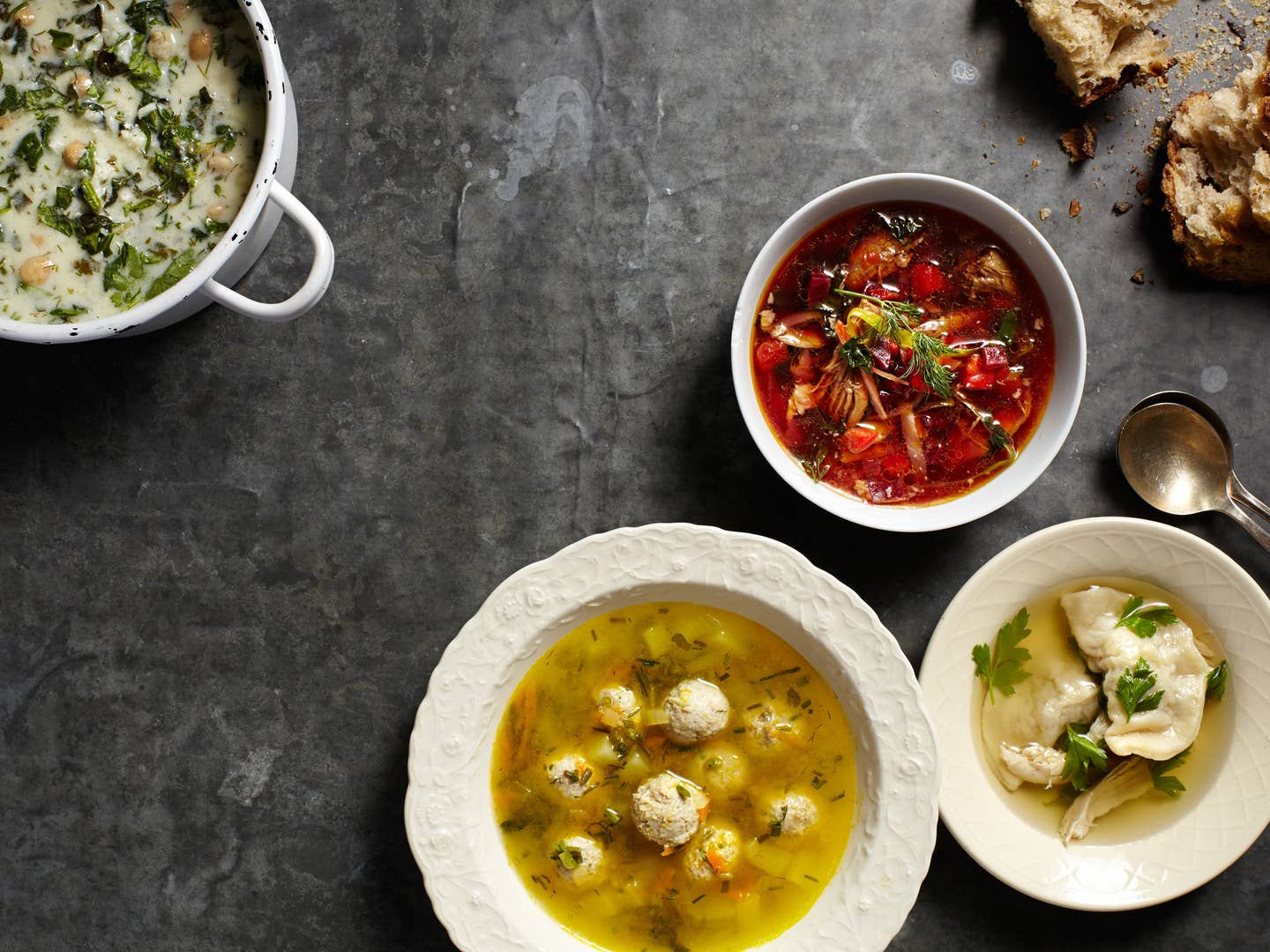 Recipes
Ukrainian Soul Food: 4 Comforting Soups to Make Right Now
Olia Hercules dishes soup wisdom from her mother's kitchen
The best tomatoes I've ever tried—even better than the ones you get in Italy—are grown in the summertime in Ukraine, where I was born. We use them for our borscht, which has a rosier hue than the dark red beetroot borschts of Russia. It was an important part of the big lunch we ate every day.
My mother and grandmother raised me on soups—my mum says she couldn't live without having some kind of rich broth daily—and now, as a chef in London, I'm fascinated by how creative those two were with their recipes back then. Fresh produce wasn't available in the winter, so we'd preserve what we could, fermenting fresh tomatoes into a fizzy pulp, or packing jars full of fresh herbs and salt to be used as seasoning in hearty soups. Today, you can buy fresh produce all year long, but it's comforting to use those old techniques and keep those traditions going—the flavors are simply more vibrant.
These four soups represent some of my family's traditions. Frikadelki are turkey meatballs. My dad hated the ones served in Soviet canteens, but my mum's were amazing; she'd use quality meat and our preserved herbs, which you couldn't get anywhere else. My pelmeni are one of my favorite foods. These Siberian dumplings were made for me by my grandmother, who left Siberia for Uzbekistan before settling in Ukraine, bringing her daughter and her dumpling recipe with her. The duck borscht shows off the fizzy tomato purée, and the yogurt soup is filled with fresh sorrel, my favorite green, which can be hard to find, even in London. I've modernized the presentation of the recipes a bit, but the ingredients remain the same, a taste of the seasons of old Ukraine.
Read about the happy accident at Olia Hercules' recent SAVEUR Supper that spawned our new favorite condiment.