Recipes
Panko- and Herb-Crusted Cod Fillets
Forget the fryer. Broiling is our go-to method for crispy and flavorful white fish.
Serves

serves 4-6

Cook

20 minutes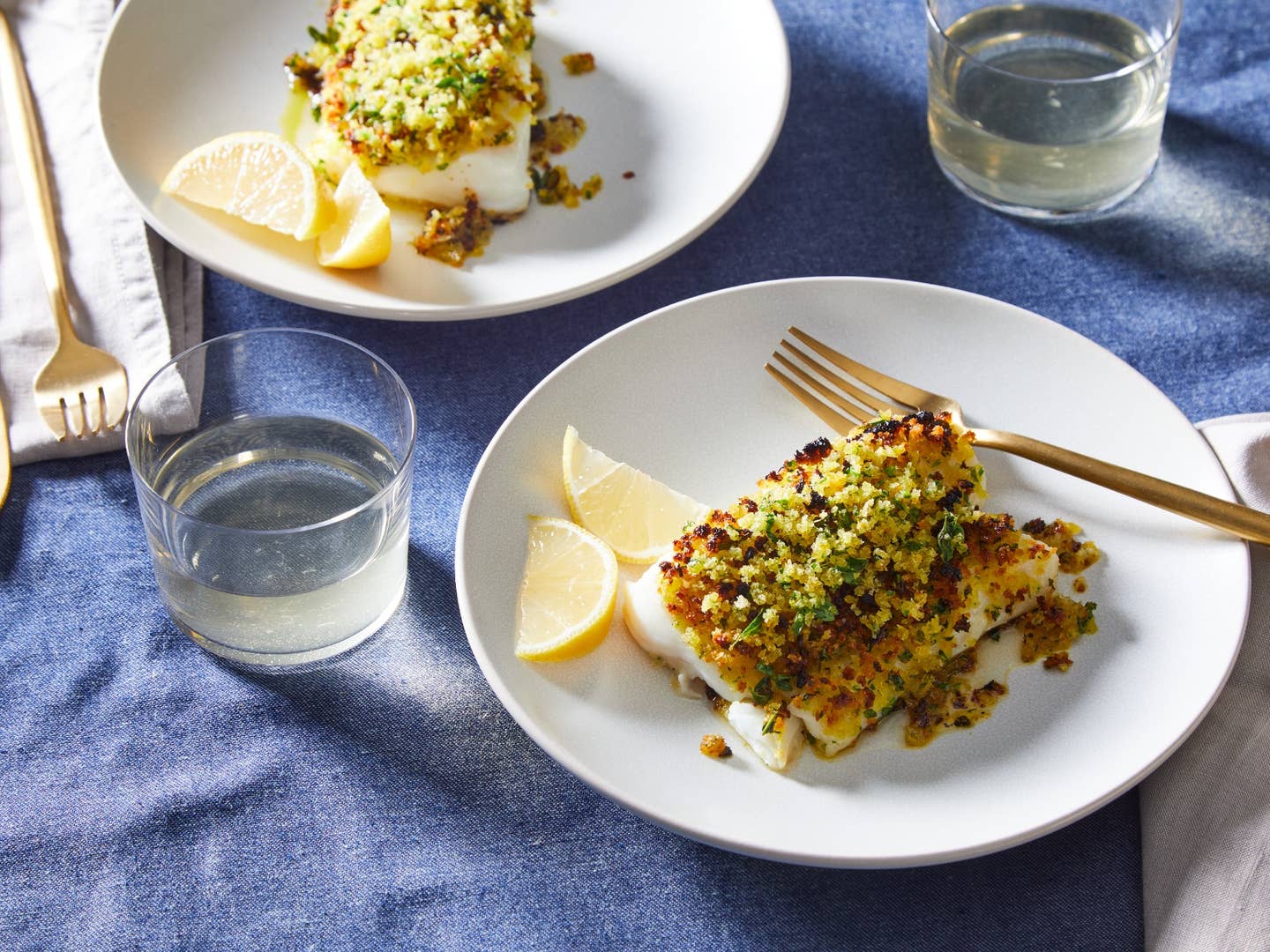 Although you'll often see cod fillets fried, cooking them under a broiler allows you to add layers of toppings. This large-format recipe from sustainable-seafood expert Barton Seaver uses the full captain's cut (the meaty top two-thirds of the fillet located near the head), which is relatively even in thickness, making it ideal for roasting and broiling. Serve with citrus wedges to bring out and brighten the fish's delicate taste. Check out all of our fish recipes here.
Ingredients
7 tbsp. (3½ oz.) melted unsalted butter, divided
Two 1-lb. skinless cod fillets, preferably the "captain's cut"
1 tbsp. plus 1 tsp. kosher salt
½ cups panko breadcrumbs
3 tbsp. Italian parsley, coarsely chopped
Leaves from 6 thyme sprigs, finely chopped
Finely grated zest of 1 orange (2½ tsp.), plus orange wedges for serving
Finely grated zest of 1 lemon (1½ tsp.), plus lemon wedges for serving
Instructions
Step 1
Preheat a broiler to its medium setting and line a baking sheet with foil. Grease the foil lightly with 1 tablespoon melted butter.
Step 2
Season the fish all over with 1 tablespoon salt, then transfer to the prepared baking sheet. Set aside for 20 minutes.
Step 3
Meanwhile, in a small bowl, stir together the breadcrumbs, parsley, thyme, orange and lemon zests, the remaining 1 teaspoon kosher salt, and the remaining 6 tablespoons melted butter.
Step 4
Sprinkle the breadcrumb topping evenly over the fillets, then broil until the topping is browned and the fish flakes when the center is poked with a fork, 4–8 minutes. Remove and serve immediately with the citrus wedges on the side for squeezing.