Panko and Herb-Crusted Cod Fillets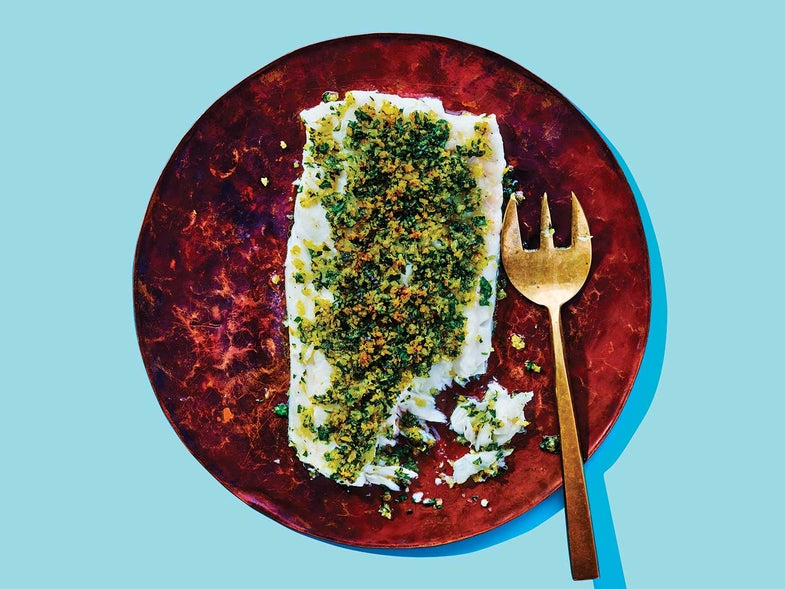 Though you'll often see cod fillets fried on American menus, cooking it under a broiler allows you to add layers of toppings, and the fish's delicate flavor is brought out and brightened by the tang and aroma of citrus. This large-format recipe uses the full captain's cut (the meaty top two-thirds of the fillet located near the head). It is relatively even in thickness, making it ideal for roasting and broiling, and can serve a crowd.
What You Will Need
Panko and Herb-Crusted Cod Fillets
Using the full captain's cut, these broiled cod fillets are covered in panko bread-crumbs, parsely, thyme, lemon, and orange zest, and are sure to fill a crowd.
Time: 20 minutes
Ingredients
7 tbsp. (3½ oz.) melted unsalted butter
2 1-lb. thick cod fillets (preferably the "captain's cut"), skin removed
1 tbsp. plus 1 tsp. kosher salt
1⁄2 cup panko bread crumbs
3 tbsp. flat-leaf parsley, coarsely chopped
Leaves from 6 thyme sprigs, minced
Finely grated zest of 1 orange (2½ tsp.), plus orange wedges for serving
Finely grated zest of 1 lemon (1½ tsp.), plus lemon wedges for serving
Instructions
Preheat a broiler to its medium setting and line a baking sheet with foil. Grease the foil lightly with 1 tablespoon butter.
Season the fish all over with 1 tablespoon salt, then transfer to the prepared baking sheet. Set aside for 20 minutes.
Meanwhile, in a small bowl, stir together the panko, parsley, thyme, orange and lemon zests, 1 teaspoon kosher salt, and the remaining 6 tablespoons melted butter.
Sprinkle the panko topping over the fish, then broil until the topping is browned and the fish flakes when the center is poked with a fork, 8–10 minutes. Remove and serve immediately with the citrus wedges for squeezing.