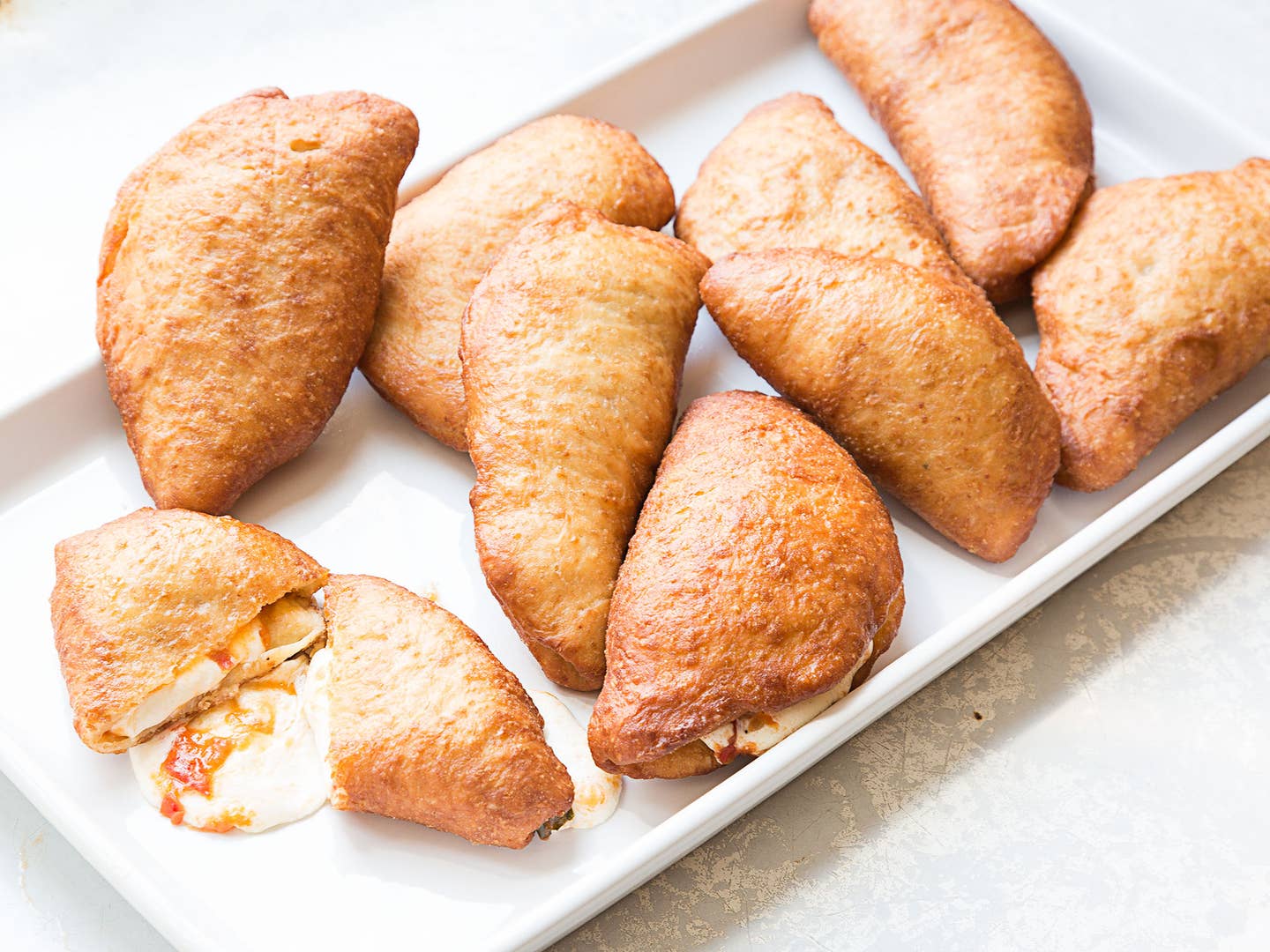 Recipes
Panzerotti: The Empanada's Italian Cousin
Meet panzerotti, a deep-fried pocket of dough usually filled with cheese that's deep-fried and eaten hot
One cold February Sunday in Milan, my sister dragged me through the city's busy outdoor market towards a small stand surrounded by throngs of hungry people and the smell of warm mozzarella. Here, attractive Italian men handed out paper bags filled with various fried foods: chicken fingers, perfectly golden french fries, arancini (deep-fried risotto balls), glistening roasted half chickens, and some unidentifiable yet delicious-looking finger foods. And then there was the panzerotti, the reason she had brought me here, and the source of that melting cheese smell.
The word panzerotti comes from the Italian word for stomach—pancia—which reflects their belly-like shape. They are semi-circular pockets of bread, much like giant ravioli, usually filled with cheese, deep-fried, and eaten hot. Their history goes back to eighteenth century Naples, where they were originally filled with fresh buffalo milk cheese (provature fresche), parmesan, Caciocavallo cheese (a semi-soft cheese common in Southern Italy), cooked ham, parsley, nutmeg, and hard-boiled egg yolks, then deep-fried in lard. They have not changed much over time, although these days some chefs experiment with fillings both sweet and savory: you'll see panzerotti filled with everything from tuna, eggplant, and ham, to chocolate or fresh fruit.
A good panzerotti is slightly harder than a calzone, has a beautiful light golden brown color, and is filled with molten cheese; the steam rises into your face as you bite into it. One of the simplest versions—and my favorite—is filled with mozzarella and fresh tomato sauce. This recipe comes from my sister, a bread-baking fanatic. It is ideal for any time of the day and makes a lovely finger food served alongside drinks or carried to a picnic.