Recipes
Celebrate the Sweetest Winter Root with These 7 Parsnip Recipes
It's time to give this less colorful carrot-cousin the attention it deserves.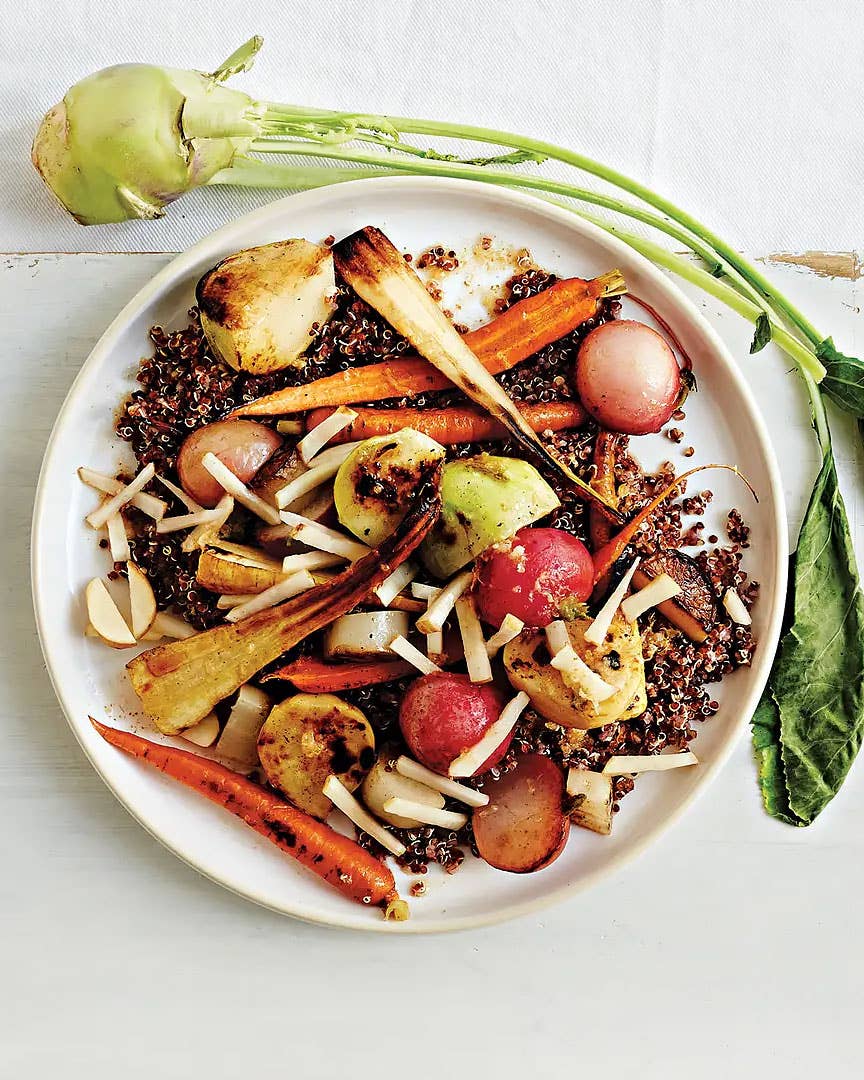 Parsnips are so abundant in the winter, but in the company of multicolored heirloom carrots and potatoes, the humble white roots are often overlooked. They're beloved in the UK and Northern Europe, but for some reason, here in the States, this easy-to-love vegetable remains rather niche.
But this underappreciated ingredient undoubtedly deserves a place on your winter weekly grocery list. Simmered in soups; simply roasted alongside chicken; shaved thinly and added to salads and slaws; or boiled and blended with potatoes, butter, and cream for a silky mash: The sweet and creamy parsnip is high in potassium and fiber. It's also widely available, even when fresh produce options are limited.
Here, I've used parsnips in two savory ways: The first is a simple, oniony roast where the sugars of both vegetables are concentrated in the oven and then enhanced with tart sumac and lemon and salty feta. The perfect bright vegetable side to winter-stews. The second is a beautiful Pakistani-style sabzi in which I've paired parsnips with some of its sister root vegetables as well as sweet green peas, finished with warm South Asian spices. You'll also find a few more great parsnip recipes from the SAVEUR archives that demonstrate this vegetable's exceptional versatility.
When shopping for parsnips, seek out firm and blemish-free roots. If sold with the greens, remove them before storing in a plastic bag in the fridge. Scrub the roots well before using. You may leave the skins on or off when roasting, but I suggest peeling when using in soups or mashes. High in potassium and fiber, pair it with all your other favorite winter vegetables because you'll be sure to miss them once spring arrives.
Parsnips' earthy sweetness sings alongside salty feta and sharp onions for the winter side dish. Get the recipe >
Sabzi is the generic term for Pakistani vegetarian dishes that commonly play second fiddle to heavier, meat-centric mains. But in this recipe, the parsnips take center stage. Get the recipe >
Upland chef Justin Smillie's crunchy and allium-laced casserole is the perfect bubbling solution to the cold-weather doldrums. Get the recipe >
A splash of Northern Italian dessert wine adds a touch of luxury to this simple vegetable-barley soup. Get the recipe >
Parsnips offer sweetness, while spicy hazelnuts and coarse pumpernickel crumbs add crunch to this modern German salad. Get the recipe >
Juniper and caraway lend this hearty roast its floral, woodsy notes, and a layer of fatty bacon seals in moisture. Get the recipe >
Vibrant red quinoa but adds color and heft to this warm and bright winter salad. Get the recipe >