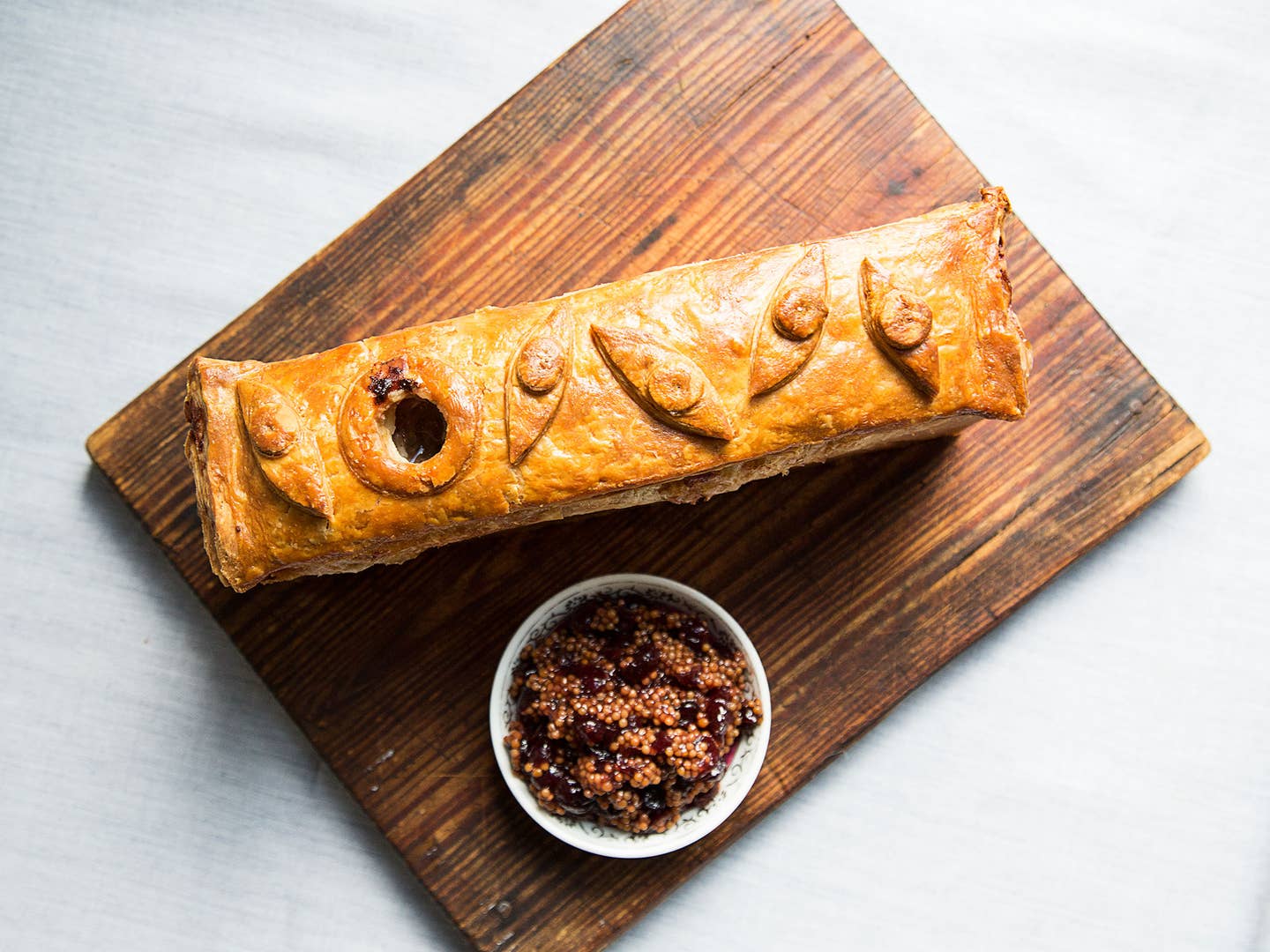 Recipes
The Ultimate Holiday Snack: Duck Pâté en Croûte
A little work and a foil chimney make a deeply rewarding dish
You've likely seen beef en croute (a.k.a. beef Wellington), and brie en croute (baked brie), but if you want to go the extra mile for your holiday party, try this: duck pâté en croute.
Francis Derby starts his the way he starts most things at the Cannibal Beer & Butcher, his meat-centric New York restaurant: by breaking down a whole animal, in this case, a duck. The meat is separated from the fat and livers, but all three components are sent through a grinder after they're mixed with a bounty of spices, such as fennel pollen, anise seed, nutmeg, and two types of salt. This pâté is not short on flavor.
You don't want any of the duck fat to melt during the process, so it's important to keep the mixture ice-cold. Derby grinds the spiced meat into a bowl kept over ice, and that bowl gets put in the fridge while mushrooms and onions saute over medium heat. Once the meat, mushrooms, and onions are combined, the mixture goes back into the fridge for another chill. That's when you start on the dough.
"Gently fit it into the mold, being careful not to break the dough," Derby says. "It's very important that when you're adding the duck and mushroom farce [the ground meat mixture] you're not letting any air in." A foil chimney is set to one side of the pâté en croûte before it's baked. This allows air, which would otherwise turn to steam and create soggy dough, to escape while the pâté bakes. That moisture loss does mean the pâté shrinks, which leaves a pocket of air between it and the roof of the pastry. To fill it, Derby pours in a seasoned broth that sets into a gelée once it cools.
Derby usually serves his pâté with a mostarda, and since we're closing in on winter he decided on cranberries. The time of year doesn't matter, though. Because, really, pastry dough filled with duck pâté and gelée is the best thing since sliced bread.