Recipes
Pear Cake with Honey and Spelt
Transport yourself to the hillside towns of southern Italy with this simple and elegant autumn dessert from Puglia's Masseria Moroseta.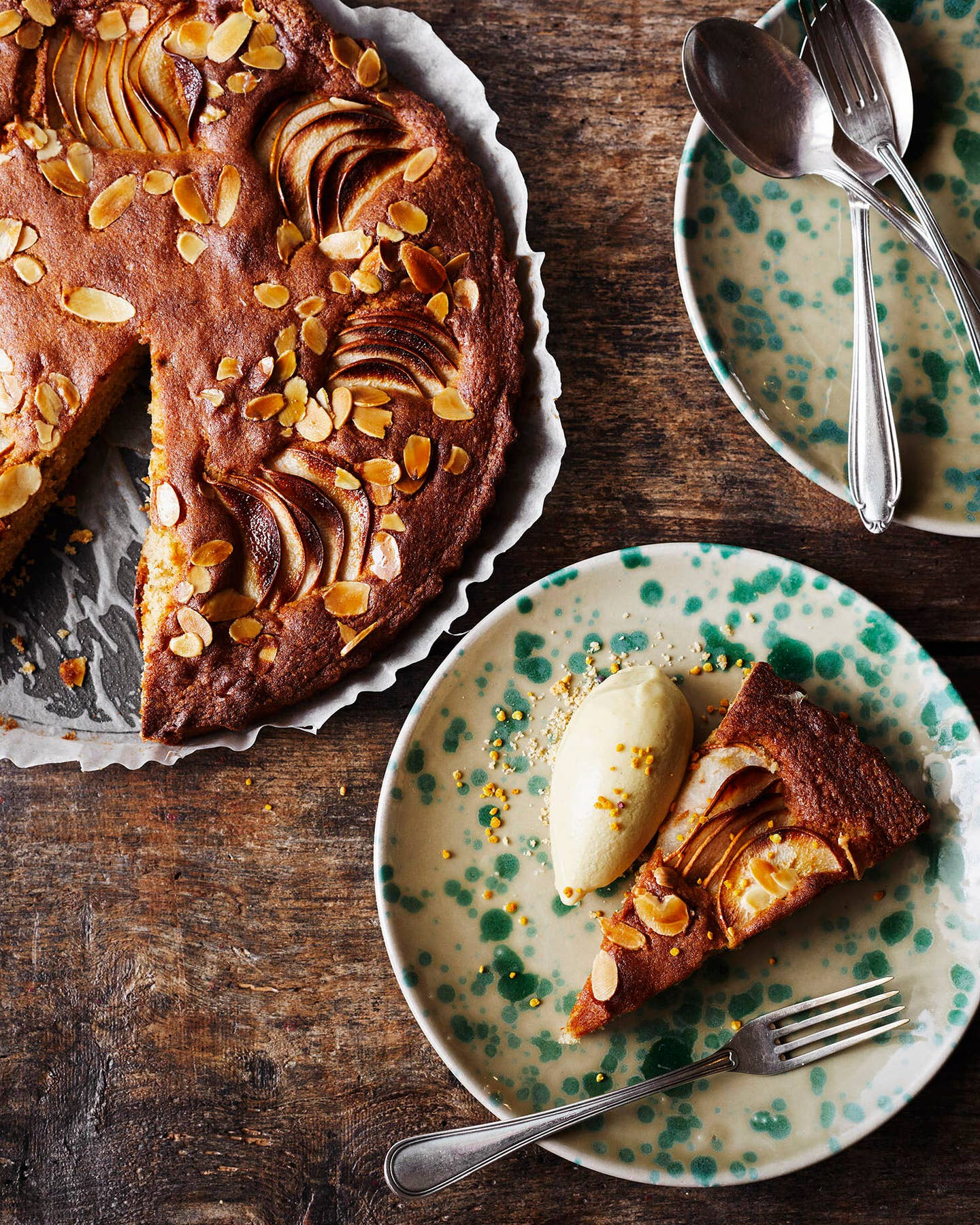 "Between chocolate and fruit desserts, I always choose fruit," says Georgia Goggi, the cook at Puglia's Masseria Moroseta. She makes this simple pear cake recipe from memory. "I brush it with honey and lemon glaze to keep the top moist and shiny." In fall, pears or apples work well, or in summer, peaches, apricots, and berries do too. Spelt, an ancient grain, lends a hearty crumb and golden color.
Ingredients
7 oz. unsalted softened butter (14 Tbsp.), plus more for greasing
1⁄2 cup plus 1 Tbsp. sugar
1⁄3 packed cup light brown sugar
1 tonka bean, peeled and finely grated (optional)
1⁄2 tsp. kosher salt
2 large eggs, at room temperature
1 cup all-purpose flour
1⁄2 cup plus 3 Tbsp. spelt flour
1 1⁄2 tsp. baking powder
1⁄3 cup buttermilk
2 tbsp. sliced almonds
1 firm-ripe pear, cored and sliced lengthwise
2 Tbsp. honey
1 Tbsp. fresh lemon juice
Chamomile gelato, optional
Instructions
Step 1
Preheat the oven to 375°F. Butter a 9-inch cake pan and line the bottom with a circle of parchment paper.
Step 2
In a stand mixer using the paddle attachment, beat the butter, sugars, tonka bean if using, and the salt until fluffy. Add the eggs one at a time, scraping the bowl as needed and making sure the first egg is completely incorporated before adding the next.
Step 3
In a medium bowl, whisk the flours and baking powder. Add half the dry ingredients to the butter mixture and mix on low speed. When mostly incorporated, stream in the buttermilk while continuing to mix. Scrape the bowl and paddle, then add the rest of the dry ingredients and mix on low speed just until smooth. Pour into the prepared pan and smooth the surface. Sprinkle with the almonds, then fan out the pears on top. Bake until the cake is golden brown and a tester inserted into the center comes out clean, 35–40 minutes. Remove the pan to a rack to cool completely. Unmold the cake and remove the parchment paper.
Step 4
In a small pot over low heat, stir the honey and lemon juice until smooth. Brush the cooled cake lightly with the glaze. Slice and serve with chamomile gelato if desired.