Culture
The Formula for a Perfect Ceviche Verde
Easy, fresh, and party-friendly, this Mexican-style ceviche is a recipe you can have on rotation all summer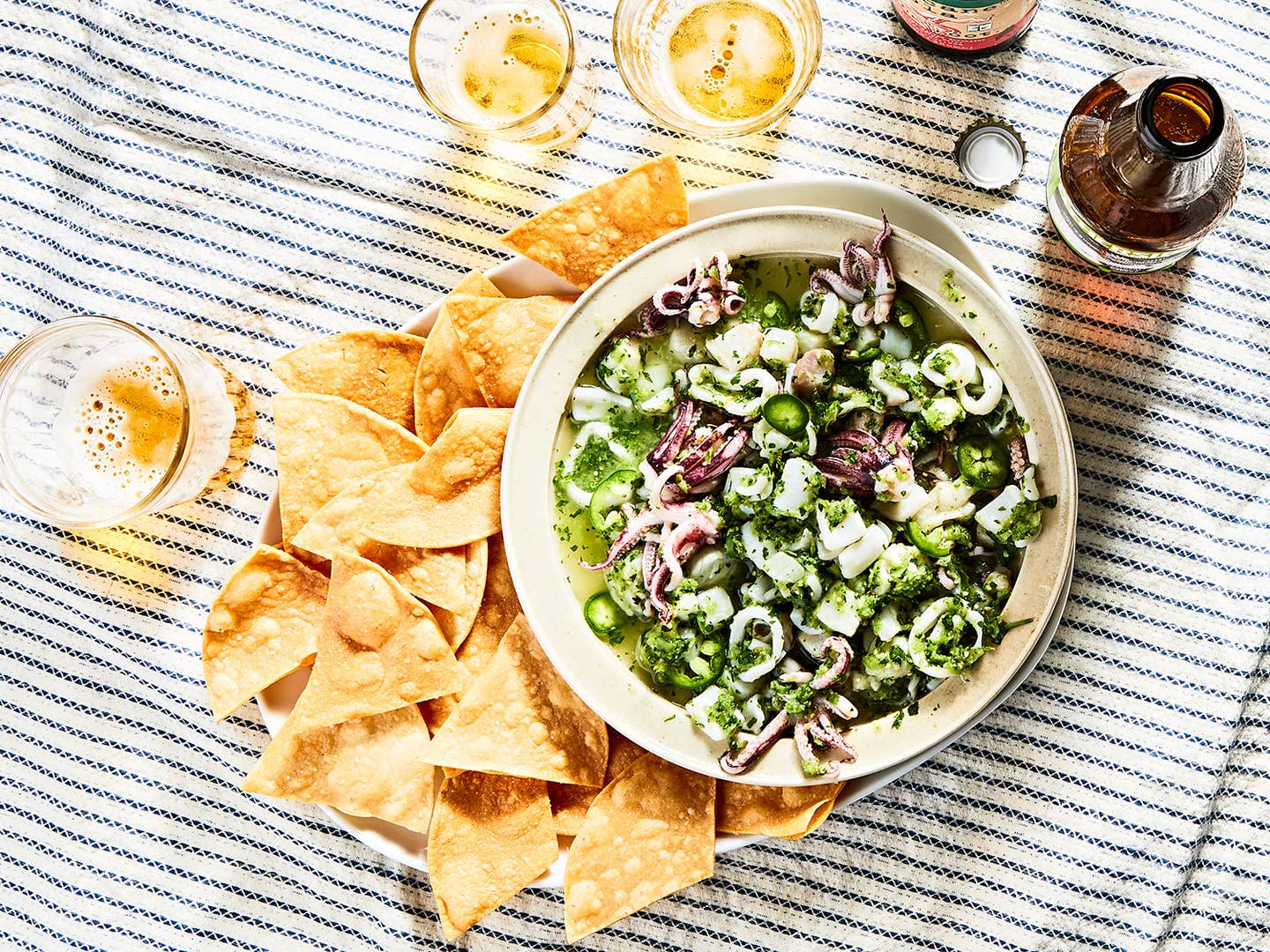 Our best guess as to why has to do with raw fish not being an ingredient many cooks in the U.S. are used to working with at home. Much like crudo—or sushi, or clams on the half shell—ceviche is a dish that, perhaps for its perceived delicacy or the fact that it requires pristine product, many diners tend to reserve for restaurant orders. In reality, ceviche checks all the summer entertaining boxes: it's effortless but impressive, ready in a pinch, and won't break the bank. Plus, you can find the fish you need at almost any seafood counter.
We've fallen in love with this simple version, inspired by the cookbook Nopalito, written by chef Gonzalo Guzmán with SAVEUR's editor-in-chief Stacy Adimando. It includes a base of tomatillos and lime, and comes from a Mexican tradition called campechana—which Guzmán describes as the blending of two fish (in this case, calamari), one less expensive than the other—to help stretch the dish to feed more people for less. The book includes a few types of ceviche, some made with puréed dried red chiles—since they're available year-round—and others with fresh in-season crab or tiny, ripe cherry tomatoes. But this squid and white fish rendition stands out to us for its tart, refreshing flavors and eye-catching appeal: The tender purple tentacles of the quick-cooked calamari are stunning alongside the bright and tangy green broth.
Here are some guidelines for acing the dish.
While this may sound like a no-brainer for ceviche, it has to be said. In a dish where you are meant to taste the true flavors of the barely cooked seafood, freshness is everything. Shop at a place with high turnover, and ask the fishmonger which white fish is freshest that day. You can use halibut, cod, or another firm, mild-flavored fillet. Buy it skinned and deboned so it's ready to use when you get home.
When shopping for calamari, look for bright white bodies and make sure the squid smells clean and briny (not fishy). While you can usually find it pre-cleaned, with bodies and tentacles separated, here's how to clean whole calamari yourself if needed: Slice the squid in half lengthwise and scrape away and discard anything remaining inside. Remove and discard any clear, filmy pieces that cling to the flesh. Trim away the ink sac and eyes if included, and remove and discard any firm pieces of cartilage, then separate the tentacles from the body.
Fry Your Own Tortilla Chips
While certainly not required, beautifully bubbly home-fried tortilla chips really up the wow factor—and flavor impact—when you're serving ceviche. They also tend to be hardier and slightly thicker than store-bought chips, meaning they'll do a better job of scooping up substantial mounds of ceviche. You can also salt them to taste, preserving the balance of overall saltiness across the chip and the fish.
Tweak the Seasoning as Needed
Though this formula is relatively fail-proof, some limes and tomatillos will inevitably be sweeter, juicier, or more acidic than others. Certain types of fish also vary in flavor, ranging from mild to strong, and levels of salt. As a result, you may need to adjust the quantity of lime juice, tomatillo liquid, salt, or chiles to get the flavor and consistency you want.
Serve (Almost) Immediately
Ceviche is technically marinated—not cooked—seafood, but the highly acidic lime juice helps to "cook" the raw fish slightly as it sits. As it rests, it will continue cooking, sometimes past the point where the flesh remains tender and delicate-tasting. Because of this, ceviche has a precise serving window—about five minutes after it is initially mixed, and not much longer than that.
Ingredients
For the chips:
6 yellow corn tortillas
4 cups canola oil, for frying
Kosher salt
For the ceviche verde:
7 oz. firm white fish, such as halibut or cod, skin and bones removed
Kosher salt
9 oz. cleaned squid, bodies thinly sliced into rings and tentacles cut into bite-size pieces
4 medium tomatillos (12 oz. total), peeled and rinsed
1 cup cilantro leaves
1 very thinly sliced serrano or jalapeño chile
1 large garlic clove, coarsely chopped
Juice of 6 large limes (about ½ cup)
Instructions
Step 1
Fry the tortilla chips: Cut each of the tortillas into 4 equal wedges (or choose whatever size or shape chip you want). Line a baking sheet or large platter with a few layers of paper towels.
Step 2
In a 10-inch stainless-steel skillet, add enough oil to reach about 1 inch up the sides of the pan. Heat until the oil registers 350°F on a deep-fry thermometer. Working in batches of around 6 or 8, add some chips without overcrowding the pan and fry, rotating and turning occasionally with tongs, until deep golden and completely hard and crunchy, 5 to 8 minutes (do not overcook since this can make the chips too greasy). Transfer to the prepared baking sheet to drain, and immediately sprinkle the chips lightly with salt. Set aside to cool completely while you continue frying the rest of the chips.
Step 3
Make the ceviche: Cut the fish into ½-inch pieces (you should have 1¾ cups). Set aside.
Step 4
In a small pot, add enough water to reach three-quarters of the way up the sides of the pot and bring to a boil. Set a medium bowl of ice water next to the stove. Season both waters generously with salt.
Step 5
Once the water is boiling, add the squid rings and cook until firmed up slightly, 1½ to 2 minutes. Using a slotted spoon, quickly transfer the rings to the ice water to cool. Add the tentacles to the boiling water and repeat; remove to the ice water. Remove all of the squid from the water when completely chilled, pat dry, and refrigerate.
Step 6
In a blender, add the tomatillos, cilantro, chile, garlic, and a generous pinch of salt; pulse until runny but still slightly chunky.
Step 7
In a fine-mesh strainer set over a medium bowl, strain the tomatillo mixture, reserving the liquid and the solids.
Step 8
When ready to serve, in a shallow, medium serving bowl, add the fish, squid, and lime juice; stir well. Stir in the solids from the tomatillo mixture plus 2–3 tablespoons of the reserved liquid. Let stand, stirring occasionally, for 5 minutes. Taste and adjust the seasoning or consistency with more salt, lime juice, or tomatillo liquid as needed. Serve immediately with the chips.