Persian Herb-Stuffed Frittata With Walnuts and Rose Petals (Kuku Sabzi)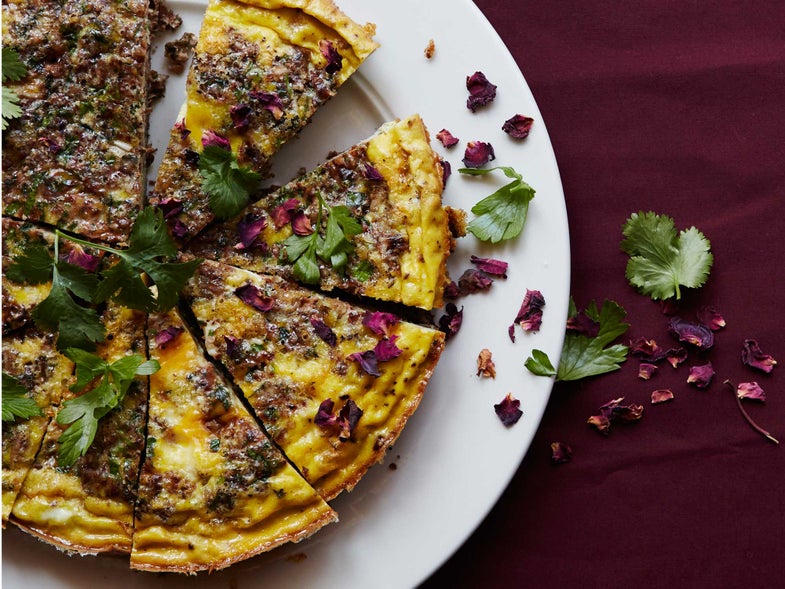 A classic Persian herb-loaded egg dish with the fragrant lift of rose petals.
Featured in: What to Make for Nowruz, the Persian New Year
Yield: serves 6
Time: 40 minutes
Ingredients
3 tbsp. olive oil
1⁄2 cup finely ground walnuts
2 tsp. crushed dried rose petals
2 garlic cloves, minced
1 cup tightly packed cilantro, finely chopped
1 cup tightly packed parsley, finely chopped
1 bunch scallions, finely chopped
8 eggs, lightly beaten
Kosher salt and freshly ground black pepper
Instructions
Heat oven to 350°. In a 10-inch nonstick, oven-proof skillet, heat the oil. Add the walnuts, rose petals, and garlic and cook until fragrant, about 4 minutes. Add the herbs and scallions and cook until wilted, 2 minutes more. Add the eggs, salt, and pepper and transfer the skillet to the oven. Bake for 15 minutes or until the frittata springs back lightly when touched. Cool slightly before transferring to a serving platter. Serve warm or at room temperature.