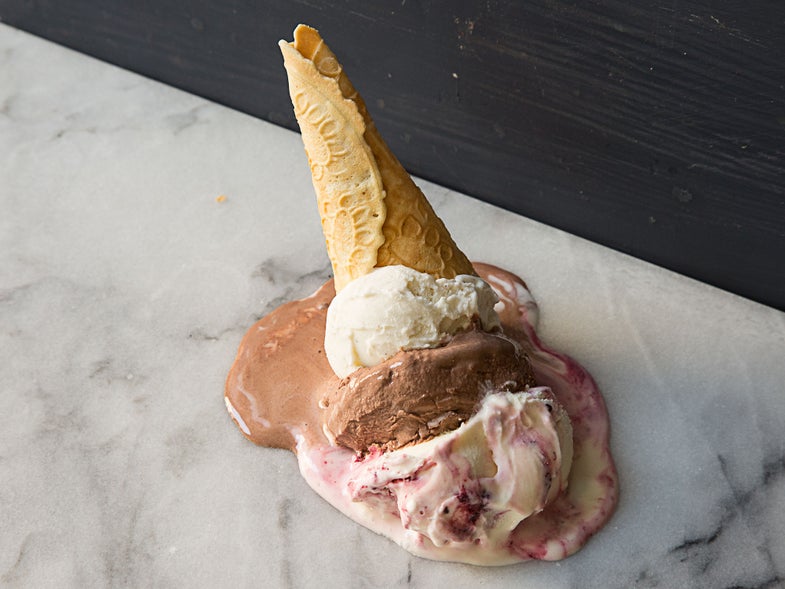 When these Italian wafer cookies are rolled immediately after cooking, they turn into crisp ice cream cones. Watch the video to see how to make them »
What You Will Need
Pizzelle Waffle Cones
Pizzelle are traditional waffle cookies from Italy. When rolled immediately after cooking, they turn into crisp ice cream cones.
Yield:
makes 2 dozen cones
Ingredients
1⁄2 cup plus 1 tbsp. sugar
3 eggs
1 1⁄2 cups all-purpose flour
1⁄2 tsp. baking powder
1⁄4 tsp. kosher salt
1⁄4 cup whole milk
1 tsp. lemon zest
1⁄2 tsp. almond extract
1⁄2 vanilla bean, scraped, seeds only reserved
10 tbsp. butter, melted and cooled
Instructions
Using an electric hand mixer, beat sugar and eggs in a bowl until pale yellow and thick, about 4 minutes. In a separate bowl, whisk together flour, baking powder, and salt. Stir in 3 tbsp. milk, the lemon zest, almond extract, and vanilla seeds. Gently fold in flour mixture until just incorporated, followed by the remaining milk and 7 tbsp. melted butter. Let batter rest at room temperature for 15 minutes. Heat a pizzelle iron. Working in batches, brush iron with some of the remaining butter and add 1 heaping tbsp. batter to each mold. Close cover; cook until wafers are golden, 1-1 1⁄2 minutes. Wrap each wafer into a cone shape and let harden on a baking sheet, seam side down. Serve immediately, or store in an air-tight container for 1-2 days.