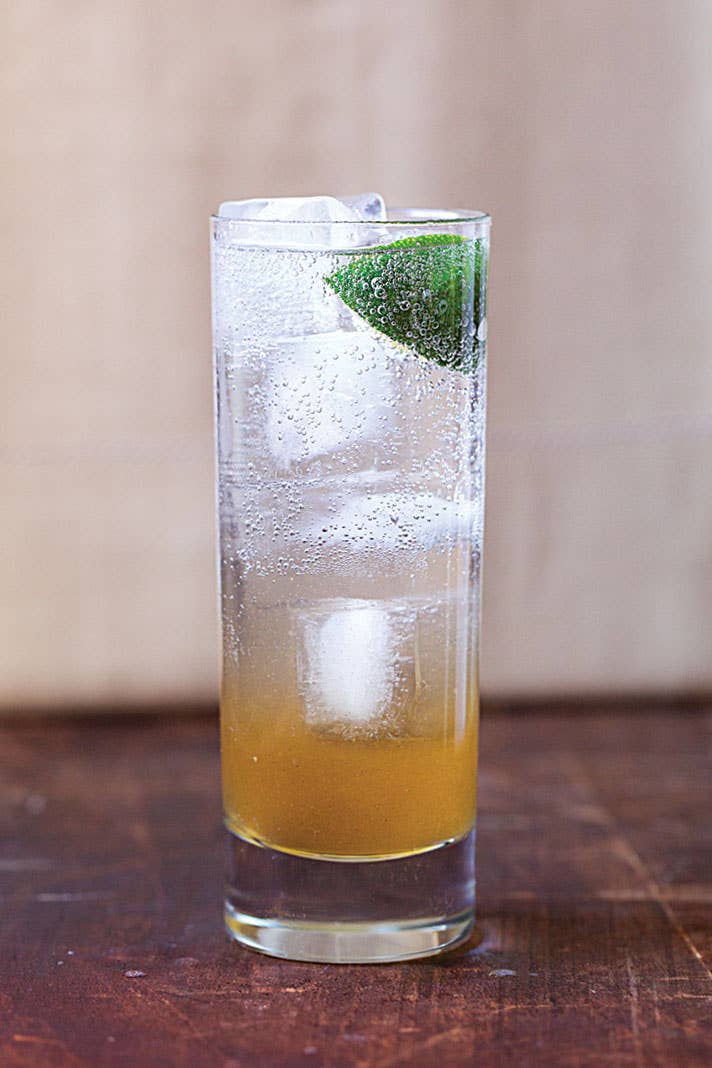 Drinks
The Pour: A DIY Tonic and Booze Bar
Here's your game plan for let-your-guests-do-the-work summer entertaining
I've thrown parties where I've (gladly) stirred brandy old-fashioneds or poured Tom & Jerry's a la minute all night. And I've also just plunked down a bunch of nice bottles of wine and let my friends have at it (I'm cooking, people). Sometimes, though, I want to do something in between: tasty, thoughtful cocktails that require little effort on my part. The solution, surprisingly, comes from fancy drinks pros Chad Solomon and Christy Pope, who operate bartending catering company Cuffs & Buttons. Usually, Chad and Christy are serving bespoke cocktails mixed to order at upmarket soirées, but despite their background as high-end barkeeps, they gave us the scoop on the easiest—and classiest—cocktail setup: a serve-yourself bar. It has tonic with some summery booze counterparts: tonic's classic partner gin, plus two other aromatic spirits, pisco and rum. Once you've stocked up on alcohol, the work here is in all the accoutrements, like homemade syrups and an exotic assortment of spices and citrus. Here's the plan:
The Booze
You want spirits with both wide appeal and big flavor. For that, Chad and Christy recommend San Francisco gin Junípero, which has well-balanced and bold botanicals; the funky, but versatile and approachable, Banks 5 Island rum; and fruity, floral Porton pisco, which is both assertive and elegant.
The Tonic
Q Tonic, which is on the drier side, is the way to go if you're serving homemade syrups (do it, they're delicious). But if you decide not to bother with them, consider the slightly sweeter Fever Tree tonic instead. Chill them in the refrigerator and then keep them on ice.
The Ice
Ice, of course, can also be made well in advance—you want one-inch cubes, which won't dilute too quickly, but still fit in a collins glass.
The Garnishes
Instead of squeezing tons of fresh juice, slice up a mix of citrus wedges and twists up to five hours in advance (they should be covered with a wet paper towel). Chad and Christy recommend lemon, lime, and grapefruit, but you can also add oranges or kumquats. To round out flavors, offer spices, like whole star anise, cinnamon sticks, and whole nutmeg (along with a grater), as well as fresh produce, such as kaffir lime leaves, slices of fresh ginger, mint, and sprigs of thyme.
When it comes time to set everything out, put your garnishes in decorative bowls and your ice in a nice bucket, along with pretty collins or wine glasses. A couple stirring spoons and jiggers should also be on the table, so that more than one person can make a drink at a time. Tell the first few guests to mix up a drink with two ounces of spirit, ¼ ounce syrup, and their choice of garnishes. (If you really want to be hands off, put little stickers on the bottles denoting recommended amounts for one drink.) As the party gets going your friends will spread the word and everyone will get into customizing their boozy tonic drink. A little grated nutmeg with rum and the blackberry and lavender syrup? Gin and tonic with kaffir lime leaves? Pisco with peach and lemon verbena syrup and a lemon twist? No one will even notice they're doing all the work.