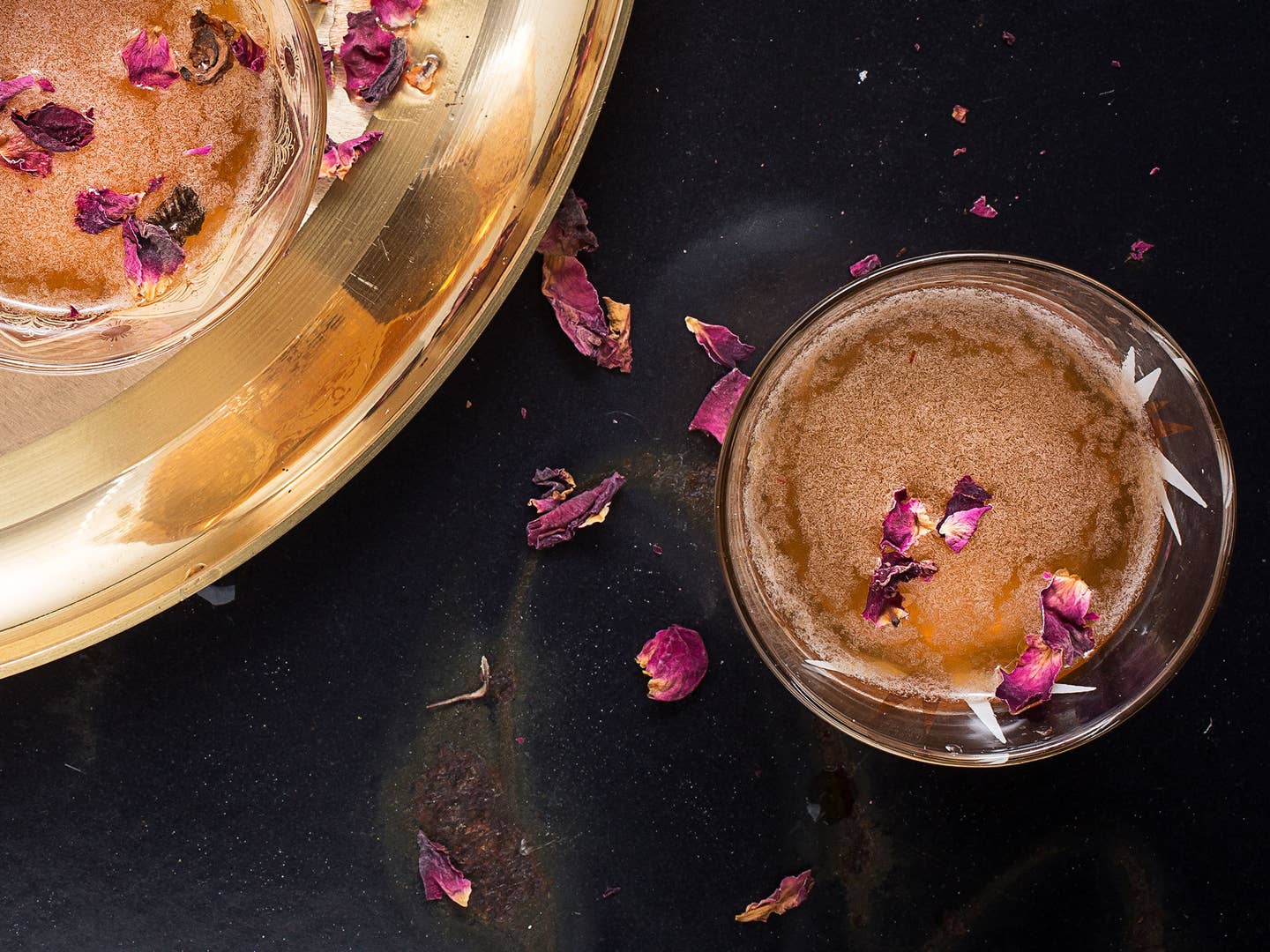 Drinks
The Pour: Rose & Rye
Rose's Luxury in Washington, D.C. has hit upon that cocktail rarity: a three-ingredient drink that feels completely new.
A few weeks back, while eating at the excellent Rose's Luxury in Washington, D.C., I had what I would call a cocktail rarity: a delicious three-ingredient drink that wasn't a classic. It's a surprisingly difficult thing to find. Outside of those rightly beloved standbys—the Manhattan, the Negroni, the daiquiri, and so on—there are few drinks mixed up with a handful of ingredients that truly hit the mark. Newfangled concoctions more often than not strain for distinction with ingredient lists that are practically menus themselves and peculiar flavors in the form of odd tinctures, obscure infusions, and brazen spirits. These newbie cocktails can be fun for a spell, but on most nights you end up going back to well-worn classics.
The cocktail in question at Rose's Luxury was not entirely new. Made from rye whiskey, lemon juice, homemade rose syrup, and a couple dashes of bitters, it's a simple twist on the whiskey sour. But that touch of rose essence is just enough to make the drink seem like its own thing—a pleasing floral note mingling with the richness and spice of rye whiskey, lightened by citrus and dried out by bitters. After the first sip, I locked eyes with a friend who ordered the same. This was not merely interesting; it was really good. It was perfect for the weather (a spring day so balmy and sunny, it felt like summer), and it was something I was already planning on drinking all season long. It's the perfect drink for the whiskey drinker who wants to lighten things up in the summer. It's also the perfect thing, sprightly and pretty, to bring the non-whiskey drinker into the fold.
Luckily, you don't need much to make it. But like many other cocktails with a short list of ingredients, the details matter. Use a different rye (Rittenhouse is recommended) and you might end up with a flat drink. Get loose while making the rose simple syrup and the drink can taste more potpourri than pleasant. Give it a limp shake and it'll be a tad too sour and sweet without the proper chill and dilution. But these are all easy enough pointers to keep in mind, and the payoff is more than worth it. From what I hear, the drink is already a classic at Rose's Luxury.