Recipes
Catalan-Style Rabbit Stew with Sherry, Mushrooms, and Almonds
Conejo borracho, or "drunken hare," gets its moniker from the rich, boozy sauce it's braised in.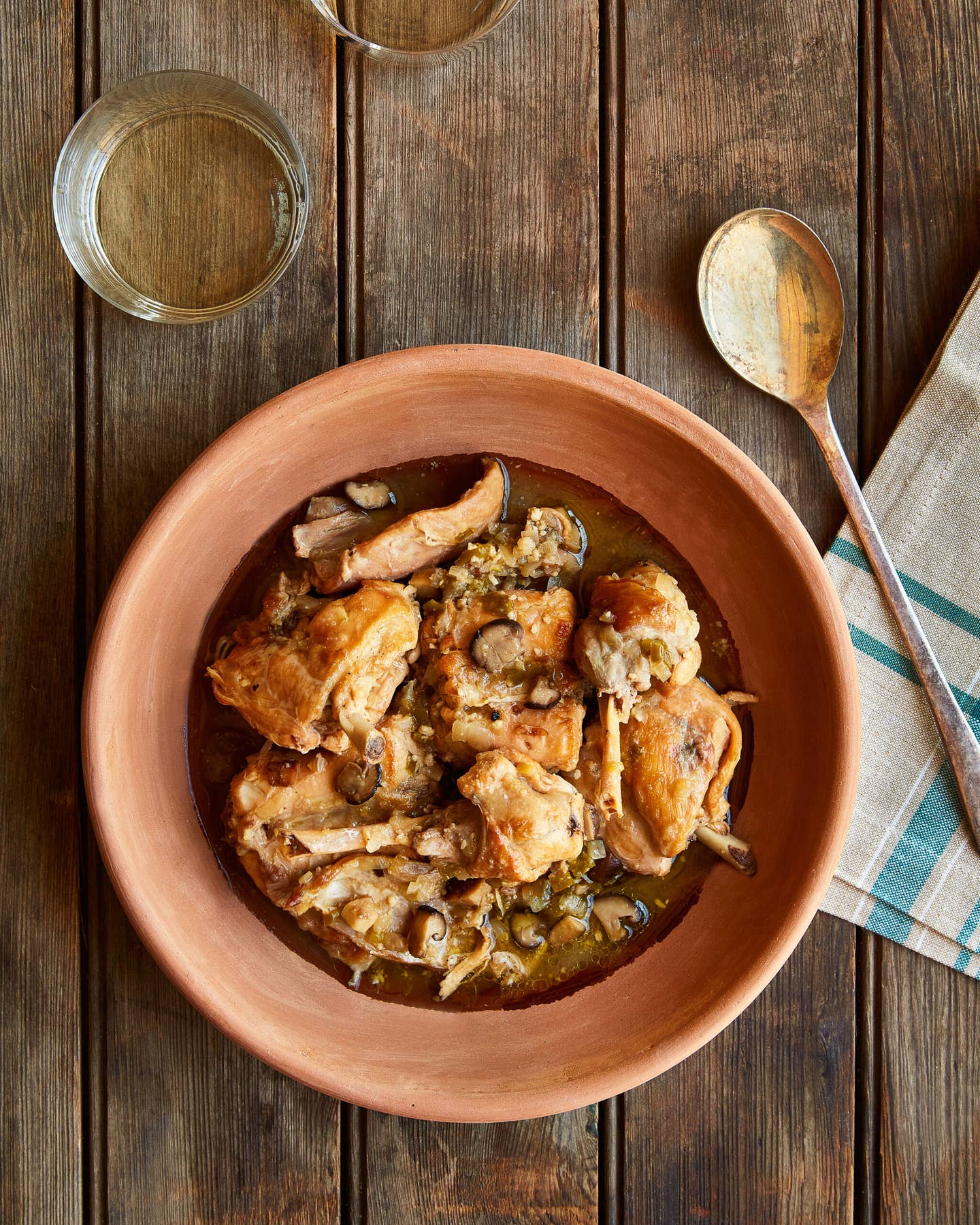 In Spanish cuisine, borracho ("drunken") indicates that the dish in question contains alcohol. In this rabbit stew recipe, chunks of tender rabbit bubble away in a homestyle Catalan sauce made with sherry, mushrooms, and a "picada" of ground almonds. Follow these instructions for breaking down a whole rabbit, and be sure to cut the hind legs crosswise in two using a cleaver or sharp knife.
Ingredients
Kosher salt
½ cup olive oil, divided
1 whole rabbit (2½–3 lb.), cut into 11 pieces (see headnote)
7 oz. coarsely chopped mushrooms (preferably a variety; about 2¼ cups
2 garlic cloves, coarsely chopped
1 medium green bell pepper, finely chopped
1 medium onion, finely chopped
⅓ cup raw blanched almonds, finely ground in a food processor or mortar and pestle
1 cup dry sherry
Kosher salt and freshly ground black pepper
Instructions
Step 1
Pat the rabbit dry with paper towels and season generously with salt. To a large pot set over medium-high heat, add ¼ cup of the oil. When it's hot and shimmering, add the rabbit and cook, turning occasionally, until browned, about 8 minutes total. Using tongs, transfer to a plate.
Step 2
To the pot, add the mushrooms, garlic, and 2 tablespoons of oil and turn the heat to medium. Cook, stirring occasionally, until the mushrooms are lightly browned, 5–7 minutes. Transfer to the plate with the rabbit.
Step 3
To the pot, add the bell pepper, onion, and remaining oil. Cook, stirring occasionally, until soft and translucent, about 10 minutes. Add the almonds, sherry, and reserved mushrooms and rabbit and stir to combine. Season with salt. Turn the heat to medium-high and cook until the sherry has reduced by two thirds, 6–7 minutes. Add enough water to barely cover the rabbit (about 2 cups), then turn the heat to low and cover. Cook, stirring every 30 minutes or so, until the rabbit is tender, 2½–3 hours.