Recipes
Watermelon Gin Punch with Himalayan Salt
Elegant black tea and botanical flavors round out this pretty party punch.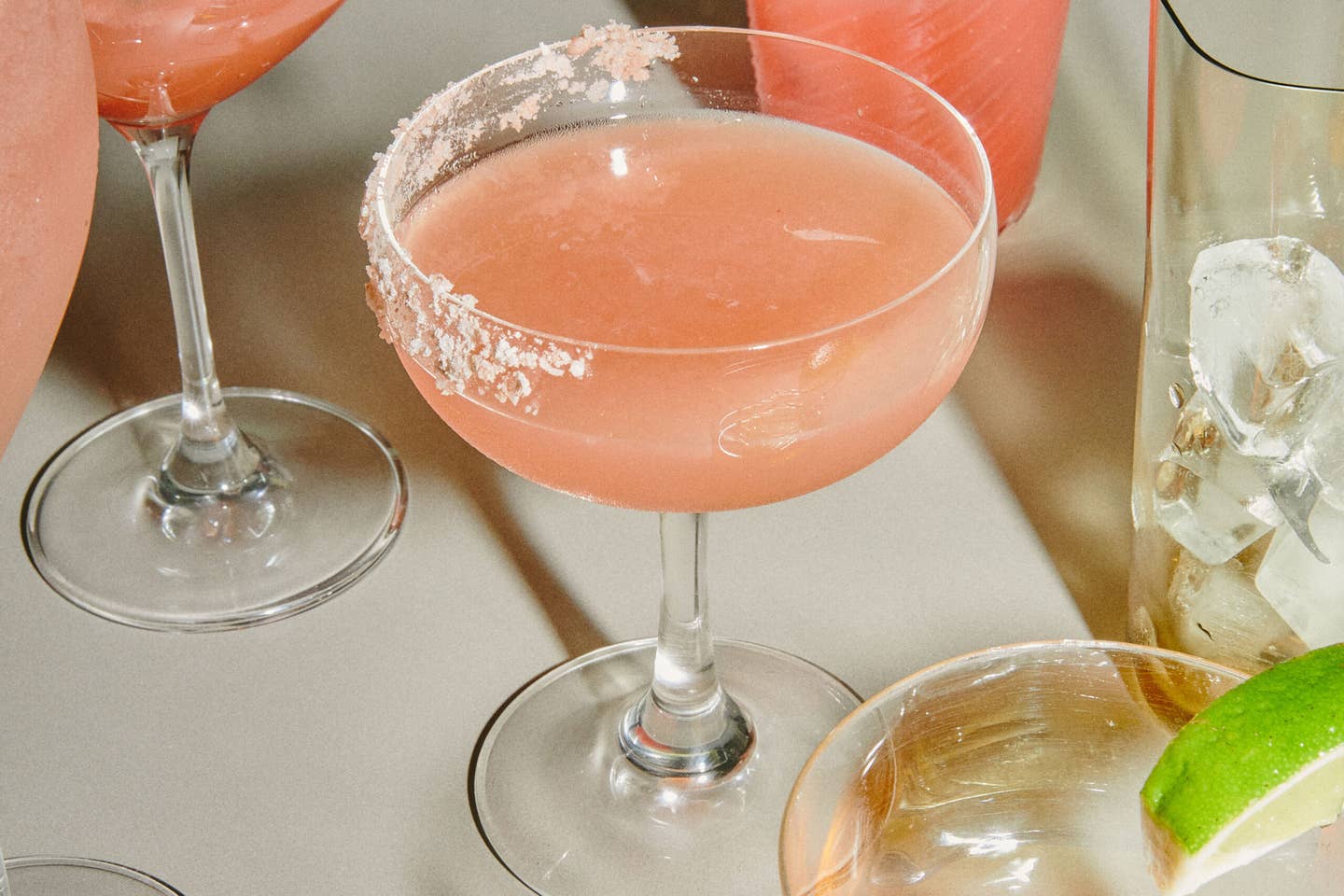 Luccia Corichi, the bar manager at New York City's Southern Indian restaurant Semma, developed this watermelon gin punch recipe to celebrate chef Romy Gill's new cookbook, On the Himalayan Trail. Himalayan black salt is mined at the base of the mountains in both India and Pakistan and it has distinctive, smoky-sulfurous notes. The ingredient, when paired with floral pink peppercorns and black tea, lends Corichi's cheerful fruity cocktail an elegant and layered depth. While any gin will work nicely in this recipe, she recommends seeking out Hapusa Himalayan Dry Gin, which is distilled with wild Himalayan juniper berries and other Indian botanicals.
While Corichi serves this punch straight-up in coupes, she encourages guests looking for a lower ABV drink to enjoy the mix over ice, topped off to taste with a splash of soda water or tonic. (For more on how to incorporate salt into cocktails, check out our primer here.)
Ingredients
For the Himalayan salt syrup:
2 cup sugar
2 Tbsp. whole pink peppercorns
1½ tsp. Darjeeling tea leaves
1 tsp. Himalayan black salt
½ tsp. dried lemon verbena
For the punch and garnish:
8½ oz. dry gin, divided
7½ oz. fresh watermelon juice, divided
5½ oz. Himalayan salt syrup, divided
12 small watermelon balls or 1-in. cubes
3 oz. fresh lemon juice
Instructions
Step 1
Make the Himalayan salt syrup: To a small pot, add the sugar and 2 cups of water. Bring to a boil over medium-high heat, then stir in the pink peppercorns, Darjeeling tea leaves, Himalayan salt, and lemon verbena and continue cooking, stirring occasionally, until the syrup has thickened and lightly coats the back of a spoon, 12–15 minutes. Remove from the heat, cool to room temperature, then strain into an airtight container and refrigerate until chilled. (The syrup keeps well in the fridge for up to 1 week.)
Step 2
Make the garnish: in a small bowl, stir together 2½ ounces each of the gin, watermelon juice, and Himalayan salt syrup. Add the watermelon balls, toss to coat, then cover, and refrigerate for at least 30 minutes or up to 24 hours.
Step 3
Make the punch: Fill a pitcher or punch bowl with ice, add the remaining 6 ounces of gin, 4 ounces of watermelon juice, 3 ounces of Himalayan salt syrup, and 3 ounces of lemon juice. Stir well to combine and strain into chilled coupes. Garnish with 1–3 watermelon balls per drink, if desired.