Recipes
Anzac Biscuits
These crumbly cookies come loaded with oats and coconut.
Serves

Makes 2 Dozen Cookies

Cook

50 minutes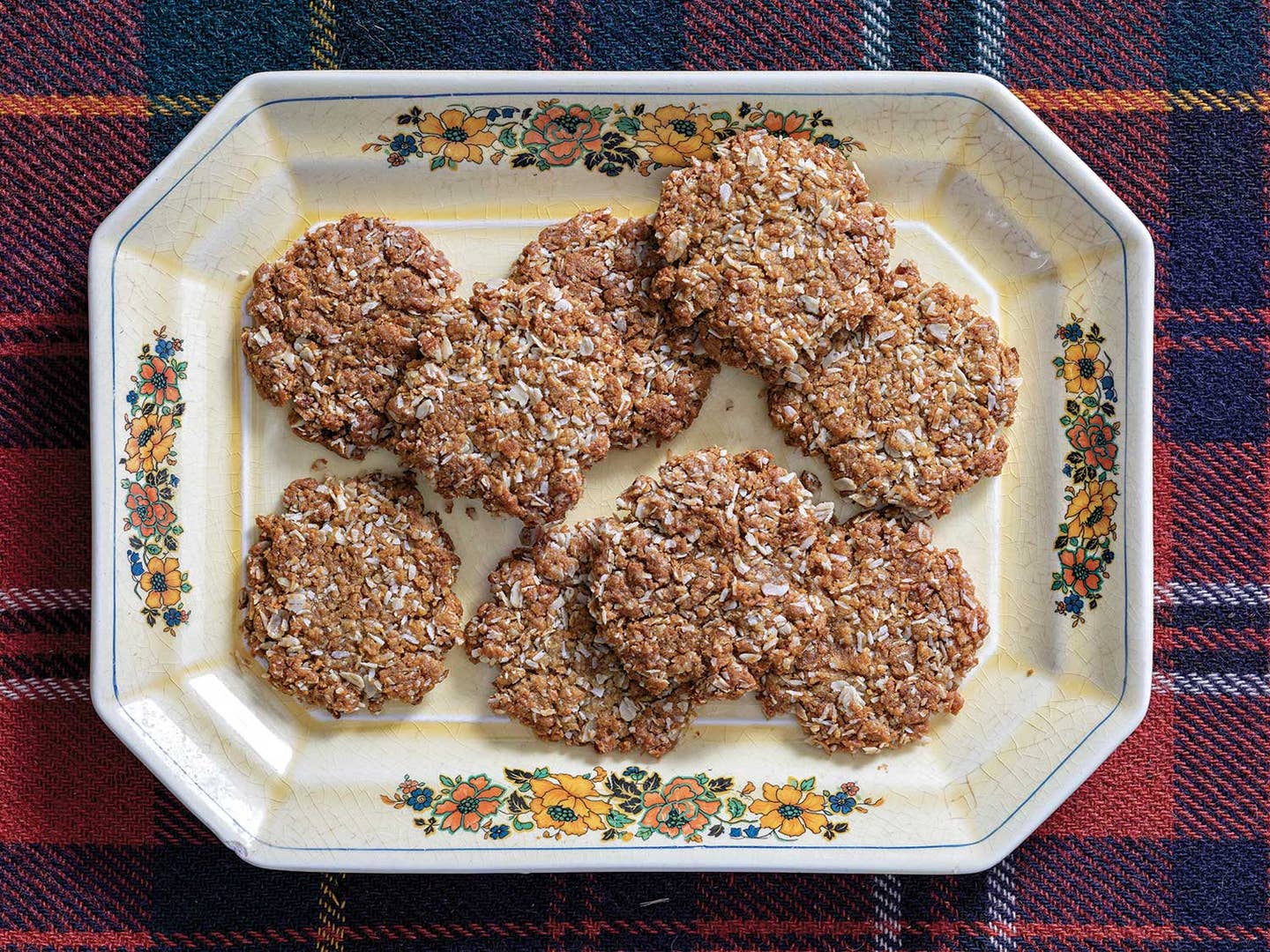 An acronym for Australia and New Zealand Army Corps, Anzac biscuits are the brainchild of 1920s-era military wives and mothers who sold the cookies for war-effort fundraisers. Heather Sperling, who developed this recipe for the 2014 edition of the Saveur 100, first tasted them at an outdoor market in, of all places, Berlin. "As a lifelong oat cookie devotee, it was intense love at first bite," she says. Loaded with coconut as well as oats, the dough will have a crumbly texture. No matter; once pressed into patties, it'll bake to a sturdy, satisfying crunch.
Ingredients
2 1⁄4 cups rolled oats
2 cups unsweetened shredded coconut
1 1⁄2 cups all-purpose flour
1 cup sugar
1⁄3 cup boiling water
1 1⁄2 tsp. baking soda
10 Tbsp. plus 1½ tsp. unsalted butter
3 Tbsp. golden syrup, such as Lyle's
Instructions
Step 1
Preheat the oven to 350°F.
Step 2
Meanwhile, in a medium bowl, stir together the first 4 ingredients and set aside. In a small bowl, stir together the boiling water and baking soda. In a small pot over medium heat, melt the butter and golden syrup, then stir in the reserved baking-soda mixture. Remove from the heat, pour over the reserved dry ingredients, and stir until a crumbly dough forms.
Step 3
Using a 1-ounce scoop or rounded tablespoon, divide the dough into balls. Drop the balls onto parchment-paper-lined baking sheets and press into ¼-inch-thick patties, spaced about ½ inch apart. Bake until golden, 15-20 minutes. Let cool completely on the baking sheets. Stored in an airtight container, the cookies will keep for up to 7 days.