Recipes
Stop Hating On the Appletini
Just because Extremely Serious Mixologists snub the puckering neon cocktail doesn't mean you won't absolutely love it.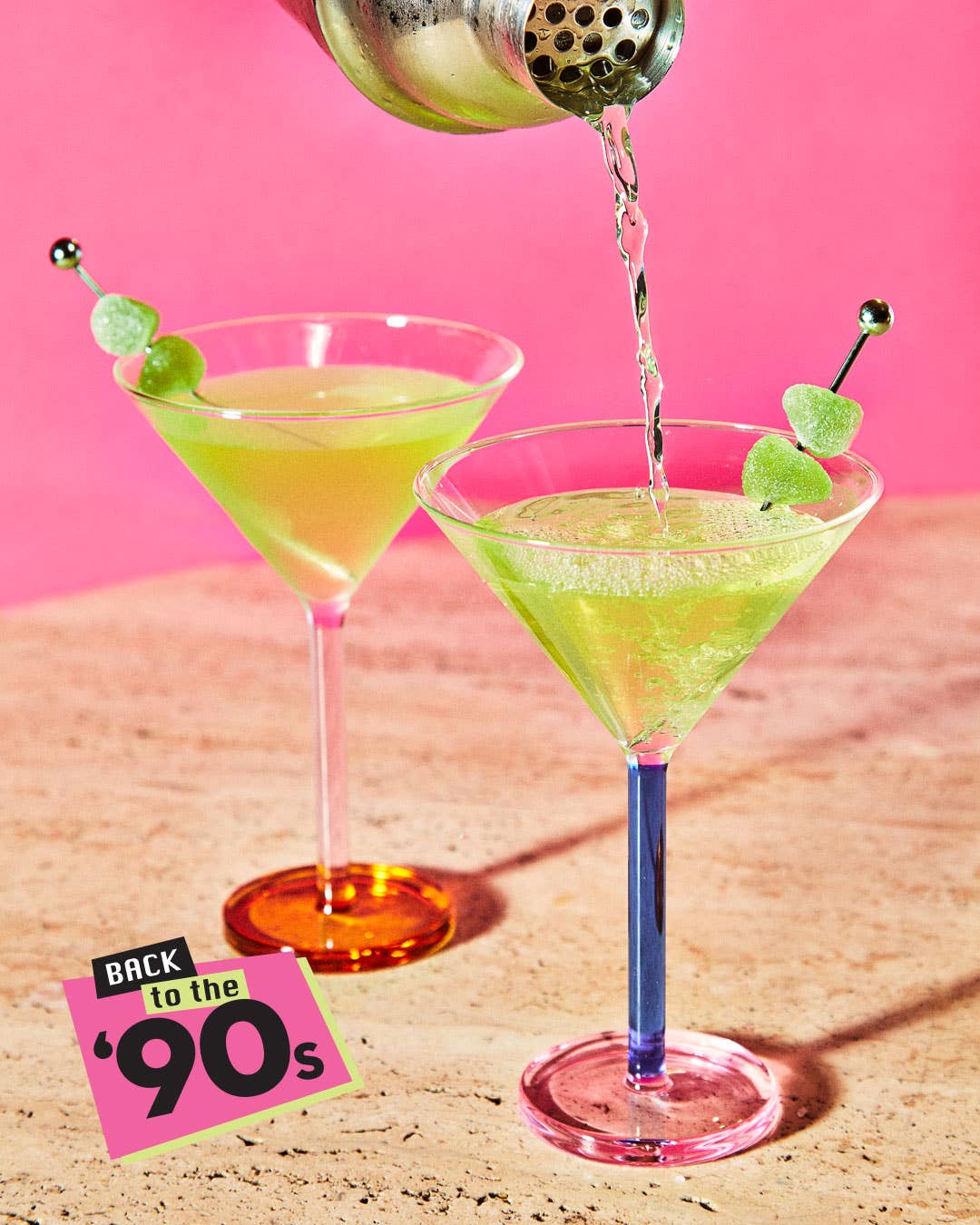 The classic martini endures for many reasons, not least among them the drink's simplicity. The textbook formula includes just two ingredients: dry vermouth, and either gin or vodka, with proportions and garnishes to be easily personalized to the drinker's tastes. Apart from sharing a similarly high-octane ABV, the rainbow of colorful and candy-sweet 'tinis that have emerged since the minimal version's birth bears little resemblance to their 19th-century brethren. That said, a few of these unorthodox variations—in particular, the appletini—have earned their own place in classic cocktail canon.
In the summer of 1997, Los Angeles bartender Adam Karsten invented a sweet-tart apple drink for a now-shuttered West Hollywood martini bar called Lola's. He named the drink, which was an immediate hit, the "Adam's Apple." Eventually, Lola's just started calling it the apple martini, and as bars and restaurants around the globe adopted the simple vodka-and-sour-apple-schnapps mixture as their own, the name was simplified further to the appletini we know and love (or love to hate) today.
There is certainly a "classic appletini recipe," but the door is open for all manner of variations. Over time, and especially over the past five years, craft bartenders have endeavored to reimagine the drink, updating it with lighter, brighter, higher-quality ingredients. The moral of the story? A classic serve—be it a traditional martini or its apple-y offspring—endures numerous iterations as trends and tastes change. But the refreshing (and boozy) sentiment remains the same.
Ingredients
1 oz. green apple schnapps (such as Apple Pucker)
1 oz. sweet-and-sour mix
1 oz. vodka
Fresh apple slice or apple candy, for garnish
Instructions
Step 1
Fill a cocktail shaker with ice, then add the schnapps, sweet-and-sour mix, and vodka. Shake well, then strain into a chilled martini glass or coupe. Garnish with a fresh apple slice or apple candy and serve immediately.