Drinks
Book Club Sangria
Citrus and pineapple keep this wine punch bright and fruity.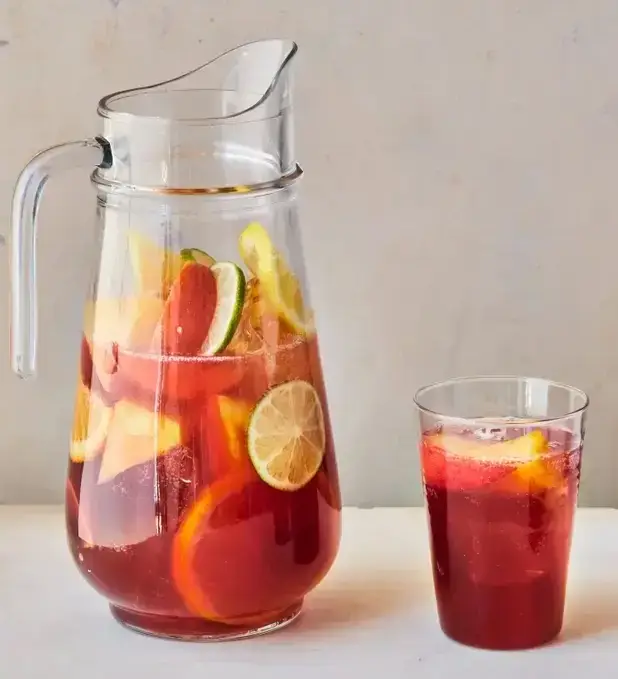 This sweet-tart wine punch was enjoyed by members of the Junior League of Houston book club in the 1970s. It then ran in our 2009 Texas issue. Find more of our favorite pitcher-perfect sangria recipes to sip through summer here.
Ingredients
¾ cups sugar
One 750-mL. bottle fruity red wine, such as pinot noir
1⁄4 cup brandy
¼ cups fresh orange juice
¼ cups fresh lemon juice
¼ cups fresh lime juice
1 cup ginger ale
1 cup fresh pineapple chunks
4 thin slices each of orange, lemon, and lime
1 fresh peach, pitted and sliced
Instructions
Step 1
In a small pot, bring sugar and 1 cup of water to a boil and cook until the sugar dissolves; remove from heat. Transfer to a pitcher, and set aside to cool to room temperature. Add the wine, brandy, and citrus juices, then cover and refrigerate.
Step 2
Just before serving, stir in the ginger ale, pineapple, citrus slices, and peaches. Pour into ice-filled glasses, garnish with some of the fruit, and serve immediately.
Before you break out your finest glass stemware—or worse, the red Solo cups—consider this: Even the pros rely on plastic glasses for every kind of outdoor situation. "For me, plastic glasses are an example of form following function," says Matt Crafton, winemaker at Chateau Montelena in Napa Valley. "I use them for picnics, camping, or large events where I don't want to clean dozens of glasses carefully by hand." That's because the best plastic wine glasses look a lot like the real thing, are more durable (and, therefore, sustainable) than the tumblers of yesteryear, and are more practical than their fragile tableware cousins.