Recipes
Squid Ink Pasta With Shrimp, Fennel, Tomatoes, and Bottarga Butter
A high-drama dish with the taste of the sea.
Serves

serves 4

Cook

30 minutes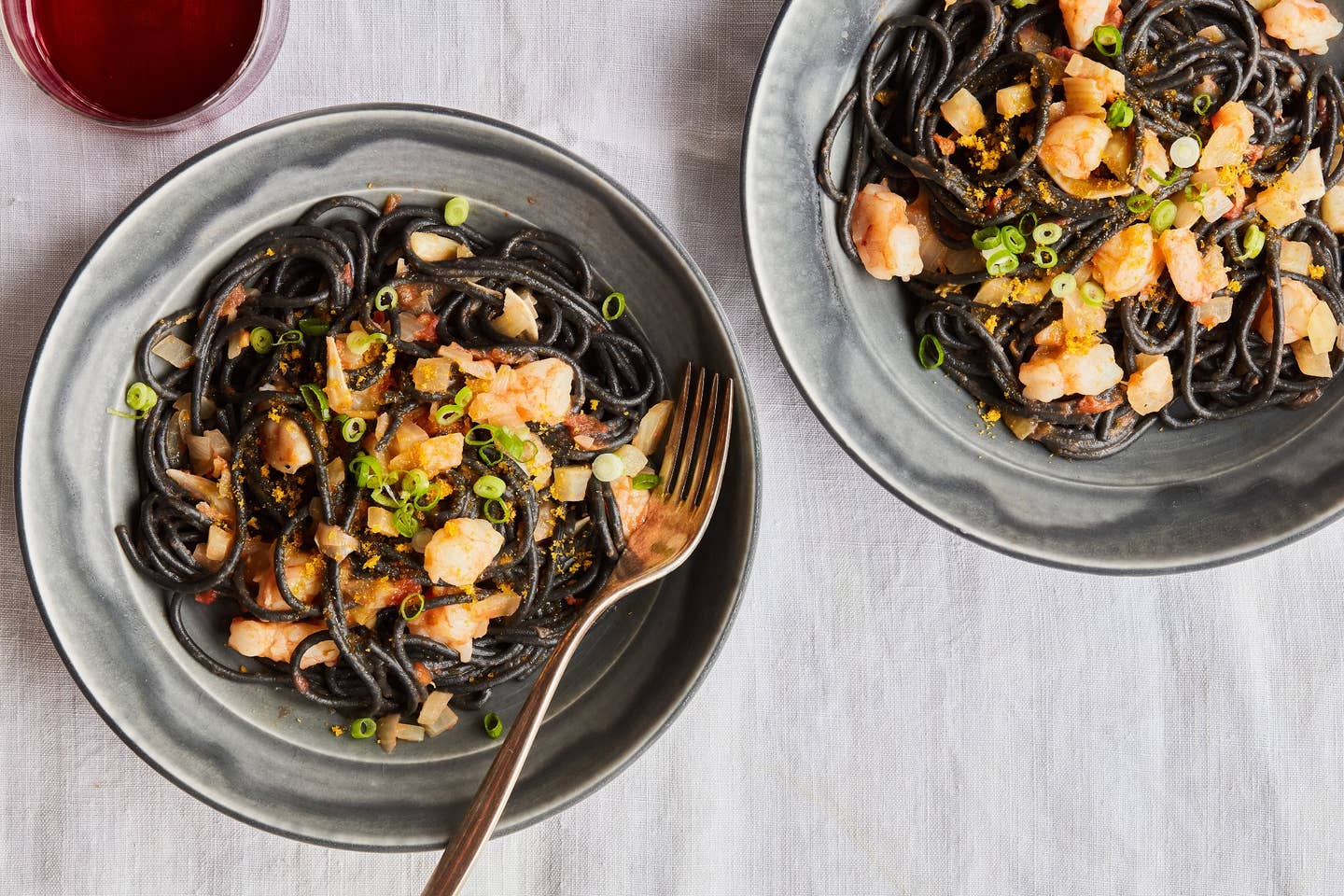 Chef Josh DeCarolis of Mother & Sons Trattoria in Durham, North Carolina makes this dramatic pasta dish using fresh squid ink tonnarelli, though squid ink spaghetti alla chitarra or even dried squid ink spaghetti both make suitable substitutes. In season, the chef recommends using fresh San Marzano tomatoes , but any other ripe, juicy tomatoes will do.
Domestic bottarga may be ordered online from both Clearwater and Cortez, Florida; imported Sardinian versions are available at well-stocked Italian grocers and on Amazon.
Ingredients
For the bottarga butter:
2 tbsp. unsalted butter, softened
1 tsp. finely grated bottarga, plus more for garnish
1–2 drops fish sauce (optional)
For the pasta:
Kosher salt
½ lb. fresh squid ink tonnarelli
¼ cups extra-virgin olive oil, plus more for drizzling
1 medium yellow onion, finely chopped (2 cups)
1 small fennel bulb, finely chopped (1 cup)
3 medium garlic cloves, sliced (1 Tbsp.)
3 medium plum tomatoes, finely chopped (2 cups)
3 oz. peeled and deveined shrimp, cut in ½-in. pieces (½ cup)
½ cups thinly sliced scallions
1 tbsp. finely grated lemon zest
3 tbsp. fresh lemon juice
Instructions
Step 1
Make the bottarga butter: In a small bowl, mix together the softened butter, bottarga, and the fish sauce. Set aside while you cook the pasta.
Step 2
Fill a large pot halfway with water, and bring to a boil over medium-high heat. Lightly salt the water, then add the tonarelli and cook, stirring frequently, until just al dente, around 4 minutes for fresh pasta or 8 minutes for dried. Drain, discarding the cooking liquid, then return the pasta to the pot and set aside.
Step 3
Meanwhile, to a large skillet set over medium-high heat, add a ¼ cup of the olive oil. Once hot, add the fennel, onion, and garlic and cook, stirring frequently, until the onion and fennel are tender and translucent, about 8 minutes. Add the tomatoes and continue cooking, stirring occasionally, until the juices have concentrated and thickened slightly, 1–2 minutes. Stir in the shrimp and 3 tablespoons of water and cook, stirring occasionally, until the shrimp is cooked through, about 1 minute. Lower the heat to medium, then stir in the reserved pasta, using tongs to toss the noodles gently until the pasta is heated through, about 1 minute. Remove from the heat, then add all of the reserved bottarga butter, and the lemon zest and juice. Toss well until the butter has melted and the pasta is evenly coated in the silky sauce, about 1 minute. Divide the tonarelli among 4 wide pasta bowls, spooning any of the remaining vegetables and shrimp over the top. Finish with sliced scallions, drizzle with olive oil, garnish with freshly grated bottarga, and serve hot.