Recipes
Everyone Should Know How to Make This Old-School Anglo-Indian Specialty
Kedgeree is an easy curried fish and rice dish that draws on culinary wisdom from Britain and the Subcontinent.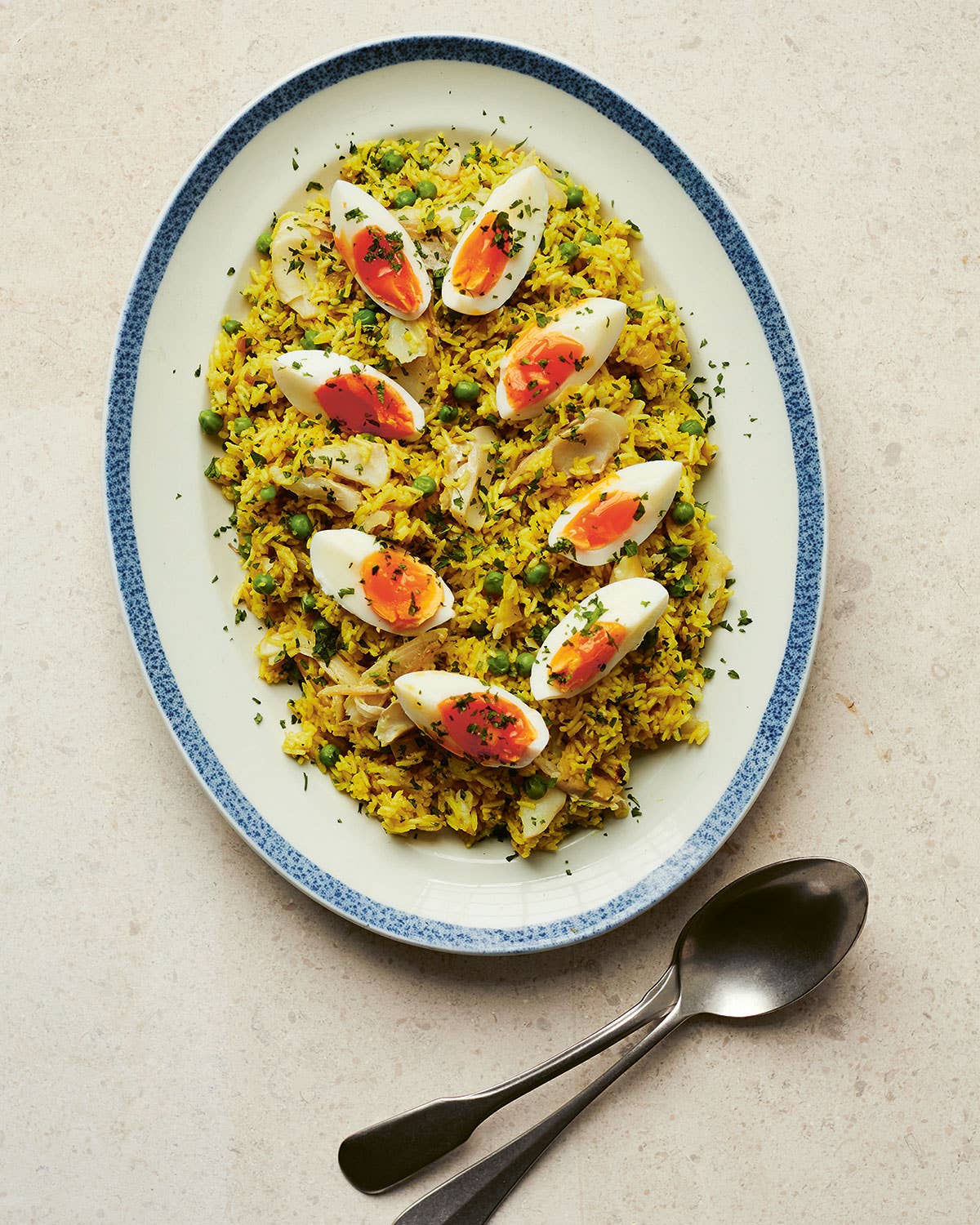 One of the earliest and best loved Anglo-Indian dishes, this breakfast staple has its origins in the late 17th century, when Britons returning from India attempted to recreate a spiced rice-and-lentil dish called khichri. Eliza Acton was purportedly the first to add fish to the recipe in 1845, and although she doesn't mention haddock specifically, it was around this time that Scottish finnan haddies had become hugely popular in southern England. The eggs in a kedgeree are typically hard-boiled and quartered, but on occasion they were poached instead—with the runny yolk stirred through the rice. While kedgeree is most often associated with breakfast, it's not uncommon to see it on lunch or the occasional dinner menu as well.
Ingredients
2 cups whole milk
1 lb. 2 oz. smoked haddock fillets, preferably undyed (see footnote)
1 bay leaf
1 small bunch parsley (1½ oz.), leaves finely chopped (1 cup), stems reserved
6 Tbsp. unsalted butter
2 Tbsp. mild or medium curry powder
1 tsp. ground turmeric
1 large yellow onion, finely chopped
2 cups basmati rice, rinsed in a strainer until the water runs clear
⅔ cup peas, fresh or frozen
6 large hard-boiled eggs, quartered lengthwise
6 lemon wedges, for garnish (optional)
Instructions
Step 1
To a medium pot set over medium heat, add the milk, haddock, bay leaf, and parsley stems and bring to a rapid simmer (being careful the milk doesn't boil over). Cook until the fish is opaque and flakes easily, 2–4 minutes, then use a slotted spoon to transfer to a plate. When cool enough to handle, use your hands or two forks to flake the fish into large chunks. Strain the milk into a 4-cup measuring cup (discarding the solids) and fill with water to reach 3½ cups, then set aside. Return the pot to the stove.
Step 2
To the empty pot, add the butter, curry powder, turmeric, and onion and turn the heat to medium. Cook, stirring frequently, until the onion is soft and translucent, about 11 minutes. Stir in the rice, then add the milk mixture and turn the heat to medium-high. When the liquid begins to boil, turn the heat to medium-low, cover, and cook until the rice is just cooked and has absorbed nearly all of the liquid, 15–20 minutes. (If the rice is still too firm, add 2 tablespoons of water and cook for 5 minutes more.)
Step 3
Fold in the peas, reserved haddock, and three quarters of the parsley leaves. Cover and cook until the peas are just cooked, about 3 minutes more. Serve topped with the hard-boiled eggs and remaining parsley leaves. Accompany with lemon wedges if desired.
Note: Smoked haddock, also called finnan haddie, is available via Amazon. You can substitute an equal weight of rehydrated salt cod fillets (the result will not be smoky) or smoked whitefish (the result will be smokier than the original).