Recipes
Carbone's Cherry Pepper Ribs
A mix of fresh and pickled chiles enhance Mario Carbone's Italian American-inspired riff on a BBQ classic.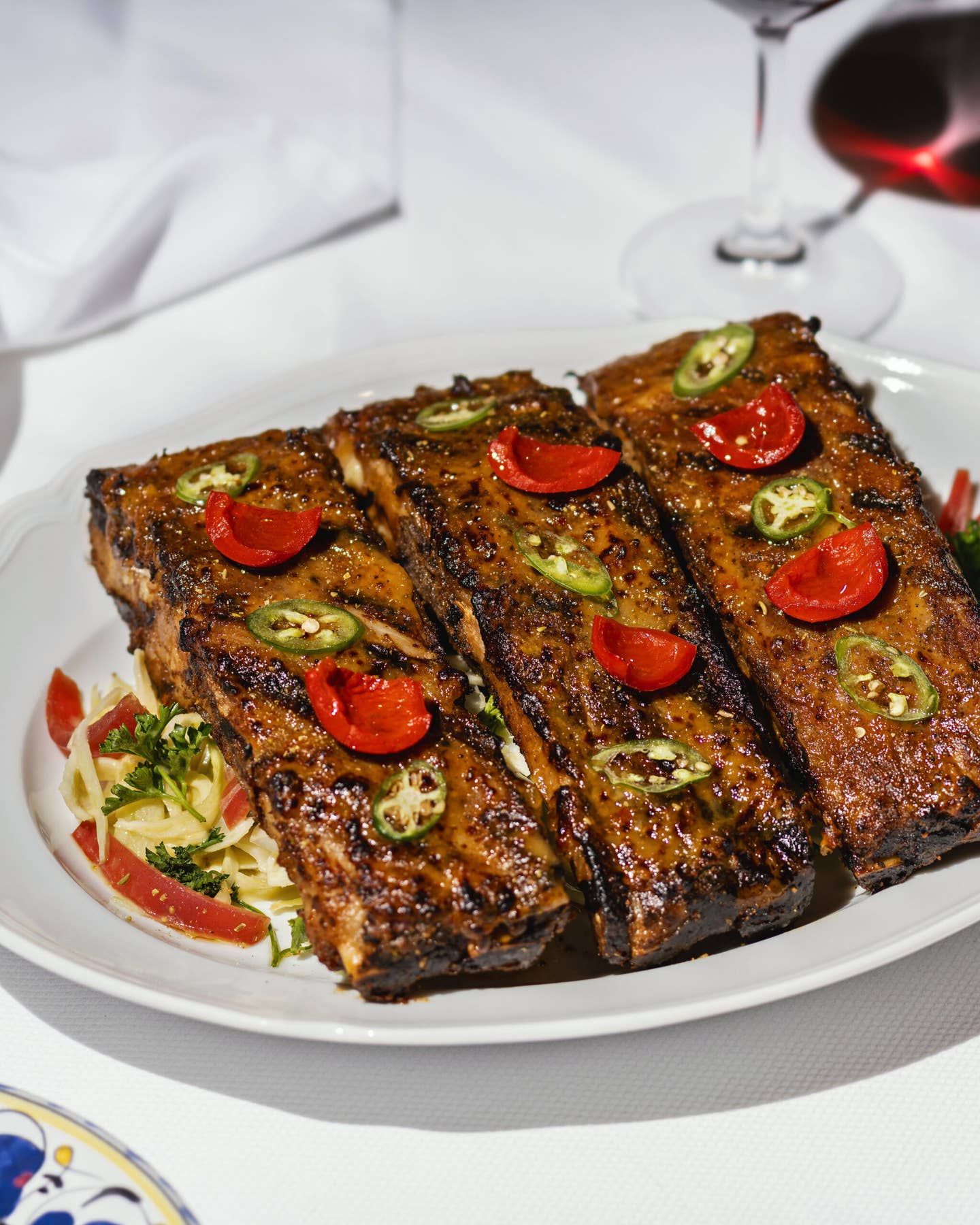 At New York City's Carbone—and its younger Las Vegas outpost in Aria Resort—Berkshire pork spare ribs from Heritage Foods are brushed with a sweet, garlic glaze, finished over a wood fire, then topped with a mixture of fresh and pickled chiles. "I love this dish because it's completely non-traditional to the Italian-American menu," says chef Mario Carbone. "It's a curveball that we throw, but somehow, once it hits the table, it looks perfectly at home."
Fresh cherry peppers come into season in late summer and often can be found at farmers markets and Italian grocery stores. (If you can't track them down, though, thinly sliced green jalapeños will get the job done.) Pickled cherry peppers are available year-round in well-stocked supermarkets and online. The individual components of this recipe can be made a day or more ahead of time, and the final step is a quick and easy one, making Carbone's cherry pepper ribs an impressive flex for outdoor entertaining. At his restaurants, the ribs are served over a bed of coleslaw, but any crunchy fresh salad would make a fine accompaniment. — Kat Craddock
Note: Slow cooking the meat in a layer of plastic wrap seals in its flavor and moisture, mimicking the effect of sous vide cooking. However, if you prefer not to cook in plastic, you may also omit this layer and bake only aluminum foil. We tested a plastic-free version and found the ribs still came out tender and juicy.
Ingredients
For the brined ribs:
1½ cup kosher salt
⅓ cup sugar
1 medium lemon, halved crosswise
1 whole garlic head, halved crosswise
2 Tbsp. whole black peppercorns
1¾ tsp. crushed red chile flakes
One 4-lb. pound rack spare ribs
For the spice rub:
2 Tbsp. whole fennel seed
1½ tsp. crushed red chile flake
⅓ cup light brown sugar
2 Tbsp. garlic powder
2 Tbsp. onion powder
1½ tsp. dried oregano
For the roasted garlic gaze:
1 cup olive oil, plus more
Garlic cloves from 1 large head, peeled
½ cup sugar
½ cup red wine vinegar
For serving:
½ cup fresh cherry peppers, stemmed and thinly sliced
½ cup sweet or hot pickled cherry peppers, stemmed, seeded, and quartered
Shredded cabbage or coleslaw (optional)
Instructions
Step 1
To a large pot over high heat, add 2 quarts water and the salt and sugar. Bring to a boil, remove from the heat, and stir until the salt and sugar have dissolved. Add 2 quarts cool water, the lemon and garlic halves, and the black peppercorns and chile flakes, then transfer the brine to a large enough container in which to submerge the meat. Add the ribs to the brine, cover tightly, and refrigerate for at least 6 and up to 24 hours.
Step 2
Meanwhile, make the spice rub: In a spice grinder or small food processor, grind the fennel seeds and chile flakes to a fine powder. Transfer to a small bowl, stir in the brown sugar, garlic and onion powders, and oregano, and set aside.
Step 3
Make the roasted garlic glaze: Preheat the oven to 300°F. To a small ovenproof pot or baking dish, add the olive oil and garlic, adding more oil as needed to fully submerge the cloves. 
Cover tightly with a lid or aluminum foil and bake until the garlic is golden and very tender when poked with a fork, about 1 hour.
Step 4
Carefully remove the pot from the oven and set it aside to cool to room temperature. Transfer the garlic cloves to a cutting board and, using a chefs knife, smash and chop to a fine paste. Reserve both the garlic paste and the garlic-infused oil.
Step 5
In a small pot over medium heat, stir together the sugar and red wine vinegar. Cook, stirring frequently, until the liquid has reduced in volume by half and is thick enough to coat the back of a spoon. Remove from heat, cool slightly, and stir in the roasted garlic paste. Set the glaze aside.
Step 6
Cook the ribs: Turn the oven down to 275°F. Arrange a few long layers of plastic wrap over a large work surface. Transfer the ribs to the plastic wrap, discarding the brine. Sprinkle the spice rub all over the rack, turning a few times to completely coat. Wrap the plastic up and around the ribs tightly, then wrap tightly in aluminum foil.
Step 7
Transfer the packet of ribs to a large rimmed baking sheet and bake until the meat is tender when poked with a knife, but not yet falling off the bone, about 2½ hours. Remove the tray from the oven and set aside without unwrapping until cool enough to handle, 15–20 minutes.
Step 8
Meanwhile, preheat a grill, grill pan, or broiler to cook over (or under) medium heat.
Step 9
Working over the baking sheet to catch any accumulated juices, remove and discard both the foil and the plastic wrap. Pat the cooked ribs dry with paper towels and transfer to a clean, dry cutting board.
Step 10
Using a sharp chefs knife, cut straight down between each bone to divide the rack into individual ribs. Brush each rib lightly with the reserved garlic-infused oil. If finishing under the broiler, arrange the ribs in a single layer on a dry baking sheet.
Step 11
A few minutes before you plan to serve the ribs, grill or boil them, turning occasionally, until lightly browned all over, about
10
minutes. Brush generously with the reserved glaze and continue cooking until the glaze is sticky and lightly caramelized,
5–7
minutes more. Transfer to a platter, top with fresh and pickled chiles, and serve the cherry pepper ribs hot, with coleslaw or shredded cabbage on the side, if desired.