Recipes
Chicken Couscous with Caramelized Onion and Raisin Tfaya
This couscous recipe from The North African Cookbook is a classic blend of sweet and savory flavors.
Serves

6

Cook

2 hours 15 minutes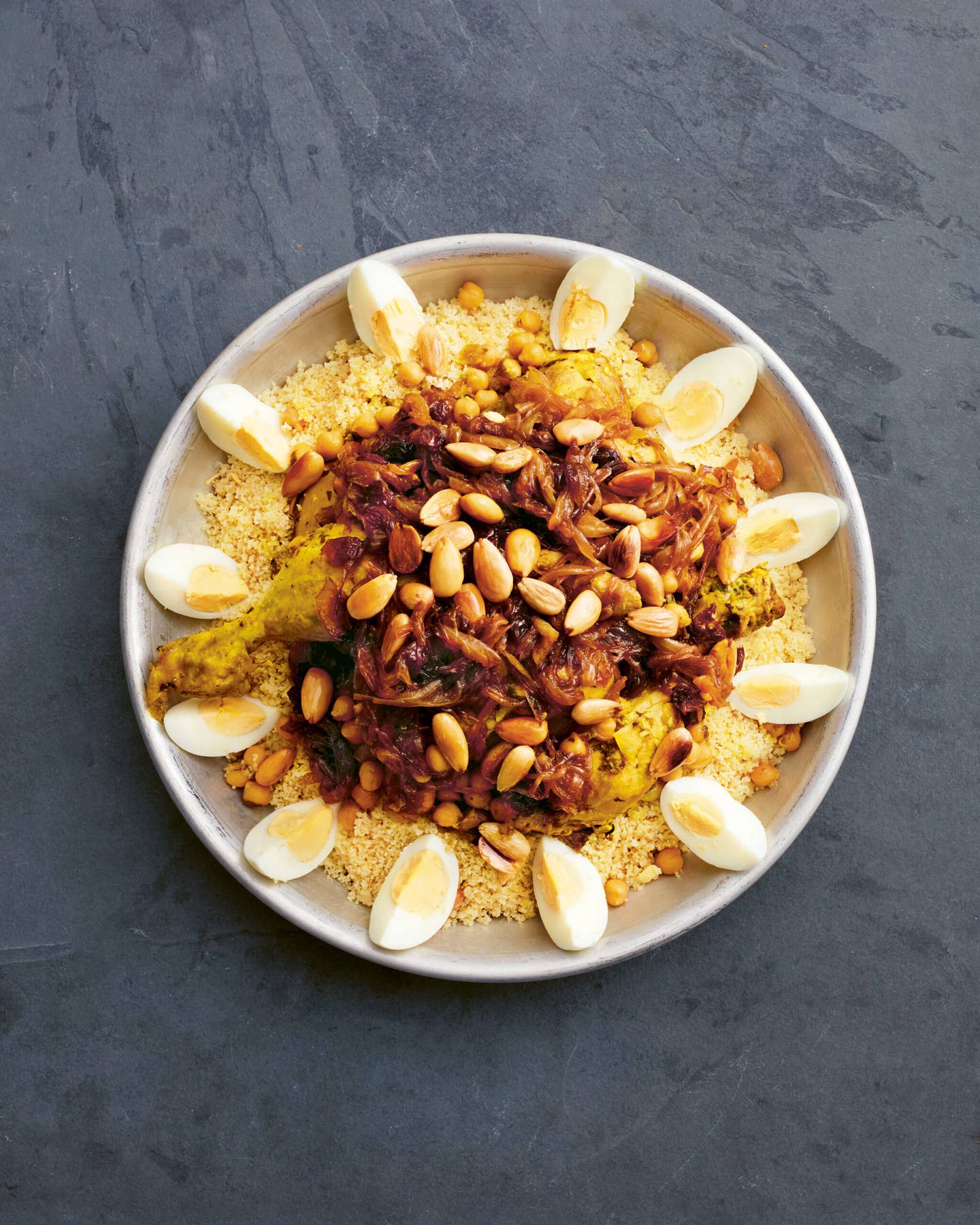 In this classic Moroccan recipe adapted from Jeff Koehler's new book The North African Cookbook, sweet and savory flavors are subtly layered together, via an elegant stew of chicken and chickpeas spooned over a bed of couscous, topped with a rich tfaya (sauce) of caramelized onions and spiced raisins, and garnished with fried almonds and hard-boiled eggs. Koehler offers several methods for preparing couscous in his book, including with a traditional couscoussier, but here we've included his ingenious quick-cooking technique, in which the couscous is gently tossed with olive oil and then briefly steamed in the oven prior to serving. It couldn't be easier, or more delicious.
Ingredients
For the tfaya:
½ cup raisins
3 Tbsp. unsalted butter or olive oil
1 tsp. ground ginger
½ tsp. ground cinnamon
3 large red onions (2¼ lb.) red onions, thinly sliced
¼ cup honey
For the stew:
2½ lb. bone-in chicken thighs or legs, skin removed
1 Tbsp. kosher salt
1 Tbsp. olive oil
½ tsp. ground ginger
½ tsp. ground white pepper
6 whole cloves
1 small cinnamon stick
Pinch saffron threads, crumbled
¾ cup canned chickpeas, drained and rinsed
1 Tbsp. unsalted butter
10 cilantro sprigs, folded and tied into a bundle with twine
10 parsley sprigs, folded and tied into a bundle with twine
For the couscous:
3 cups fine semolina couscous (1 lb.)
1 tsp. fine salt
1 Tbsp. olive oil
2 Tbsp. unsalted butter, at room temperature
For the garnish:
Vegetable oil, for frying
½ cup whole blanched almonds
3 large hard-boiled eggs, peeled and cut into wedges (optional)
Instructions
Step 1
Make the tfaya:
In a small bowl, cover the raisins with lukewarm water and soak until softened, about 10 minutes, then drain. To a large skillet set over medium heat, add the raisins, butter, ginger, cinnamon, onions, and ½ cup of water. Cover and cook, stirring occasionally, until the onions are soft and deep golden brown, about 30 minutes. Stir in the honey and turn the heat to low. Continue cooking until brown and jammy, about 15 minutes more.Remove from the heat and set aside.
Step 2
Make the stew: To a large, heavy pot add the chicken, oil, salt, ginger, white pepper, cloves, cinnamon stick, and saffron and turn to coat. Add the chickpeas, butter, cilantro, parsley, and 4¼ cups of water and bring to a boil. Turn the heat to medium-low, partially cover, and cook until the chicken is very tender, about 45 minutes. Remove from the heat and discard the herb bundles and cloves. 
Step 3
Meanwhile, make the couscous: Place the couscous in a 9- by13-inch baking pan. In a large measuring cup, stir together 3 cups of lukewarm water and the salt until dissolved. Pour evenly over the couscous and set aside until the grains are expanded and tender, 15–20 minutes.
Step 4
Position a rack in the center of the oven and preheat to 350°F. Using a fork, fluff the couscous, then drizzle with the oil. Using your hands, lift the grains and let them fall through your fingers, working out any clumps by rubbing the grains between your palms. Bake until the grains begin to steam, about 12 minutes.
Step 5
Make the garnish: To a small skillet set over medium heat, add oil to a depth of ½ inch. When it's hot and shimmering, fry the almonds until just golden, 2–4 minutes. Using a slotted spoon, transfer to a paper towel-lined plate.
Step 6
To serve, add the butter to the couscous, then use a fork to fluff until coated. Mound onto a serving platter and make a well in the center. Using a slotted spoon, place the meat and chickpeas in the well, then ladle with about half of the broth. Spread the tfaya over the chicken and sprinkle with the almonds. Garnish with the eggs, and serve with the remaining broth on the side.