Recipes
Pearled Couscous Salad with Kale, Halloumi, and Za'atar
This simple, one-bowl meal is the flavor bomb your deskside lunch needs.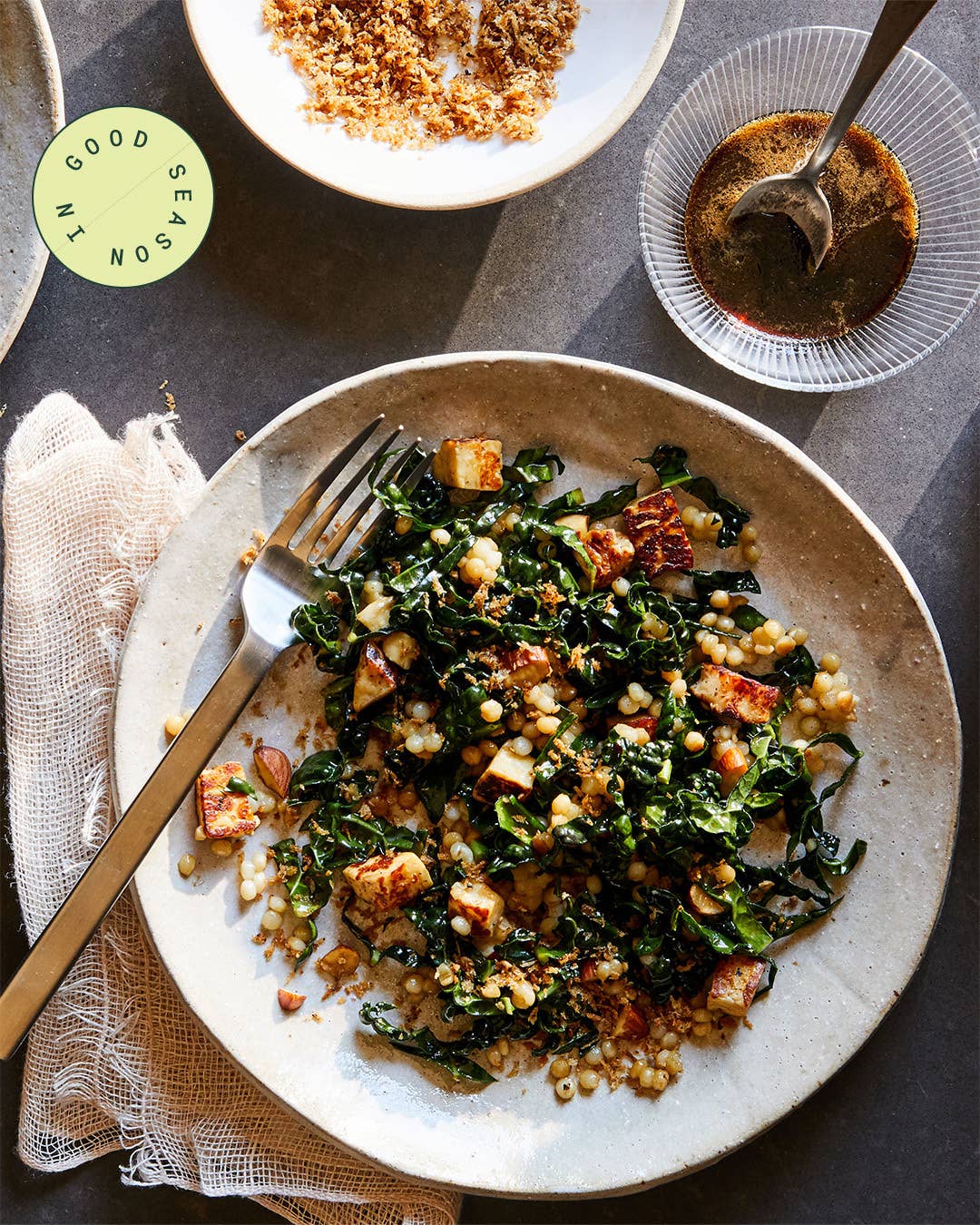 Welcome to In Good Season, SAVEUR's column on making the most of local produce according to contributing editor Fatima Khawaja. Here you'll find creative, unfussy meal ideas plus plenty of cooking advice—like what to do with that bumper crop of zucchini or how to store delicate heirloom tomatoes. Follow along, and you'll learn how to turn the season's bounty into easy plant-based meals.
Whether you're scrambling to put together a deskside lunch, or wondering what to serve your vegetarian friends for dinner, a simple grain our couscous kale salad is a no-brainer. In this simple version, toasty almonds, crunchy breadcrumbs, mild vinegar, and plenty of chewy halloumi make it easy to enjoy a generous serving of leafy greens. Pearled couscous (also known as Israeli couscous) is larger than the more common Moroccan type. If you prefer, swap it out for farro, brown rice, or any other whole grain. Mutti makes an excellent tomato vinegar; find it online or substitute a good-quality sherry vinegar.
Ingredients
1 cup dried pearled couscous
8 oz. halloumi cheese, cut into ½-in. pieces (1¼ cups)
¼ cup coarsely chopped roasted almonds
½ cup Italian breadcrumbs
½ cup za'atar
½ cup tomato vinegar
½ cup olive oil, divided
½ tsp. kosher salt
1 large bunch lacinato kale, stems removed, leaves washed, dried, and finely chopped.
Instructions
Step 1
In a small pot set over medium heat, bring 1½ cups of water to a boil. Stir in the couscous, then turn the heat down to maintain a simmer, cover, and cook, stirring occasionally, until the couscous is tender and the water has almost fully absorbed, about 8 minutes. Remove from heat, fluff with a fork, and set aside.
Step 2
To a small skillet over low heat, add 2 tablespoons of the olive oil, the breadcrumbs, and the za'atar. Cook, stirring frequently, until the crumbs are golden brown, fragrant, and toasty, about 7 minutes. Transfer to a small bowl and set aside. Return the skillet to the stove and set over medium-high heat. Line a large plate with paper towels and set it by the stove. Add 1 tablespoon of olive oil, and, working in batches to avoid crowding the pan, add the halloumi, and cook, turning occasionally, until the cheese is lightly browned all over, about 5
minutes per batch. Using a slotted spoon, transfer the halloumi to the lined plate.
Step 3
In a large bowl, whisk together the vinegar, salt, and the remaining olive oil. Add the kale, toss well to coat, then, using your hands, lightly massage the dressing into the greens to soften. Toss in the almonds, and the reserved couscous and halloumi. Garnish the couscous kale salad with the reserved breadcrumbs and serve at room temperature.