Recipes
Retro Shrimp Pâté
Peter Som transformed the pink, jiggly '70s mainstay into an elegant spread fit for easy entertaining.
Serves

6 as an appetizer

Cook

3 hours 25 minutes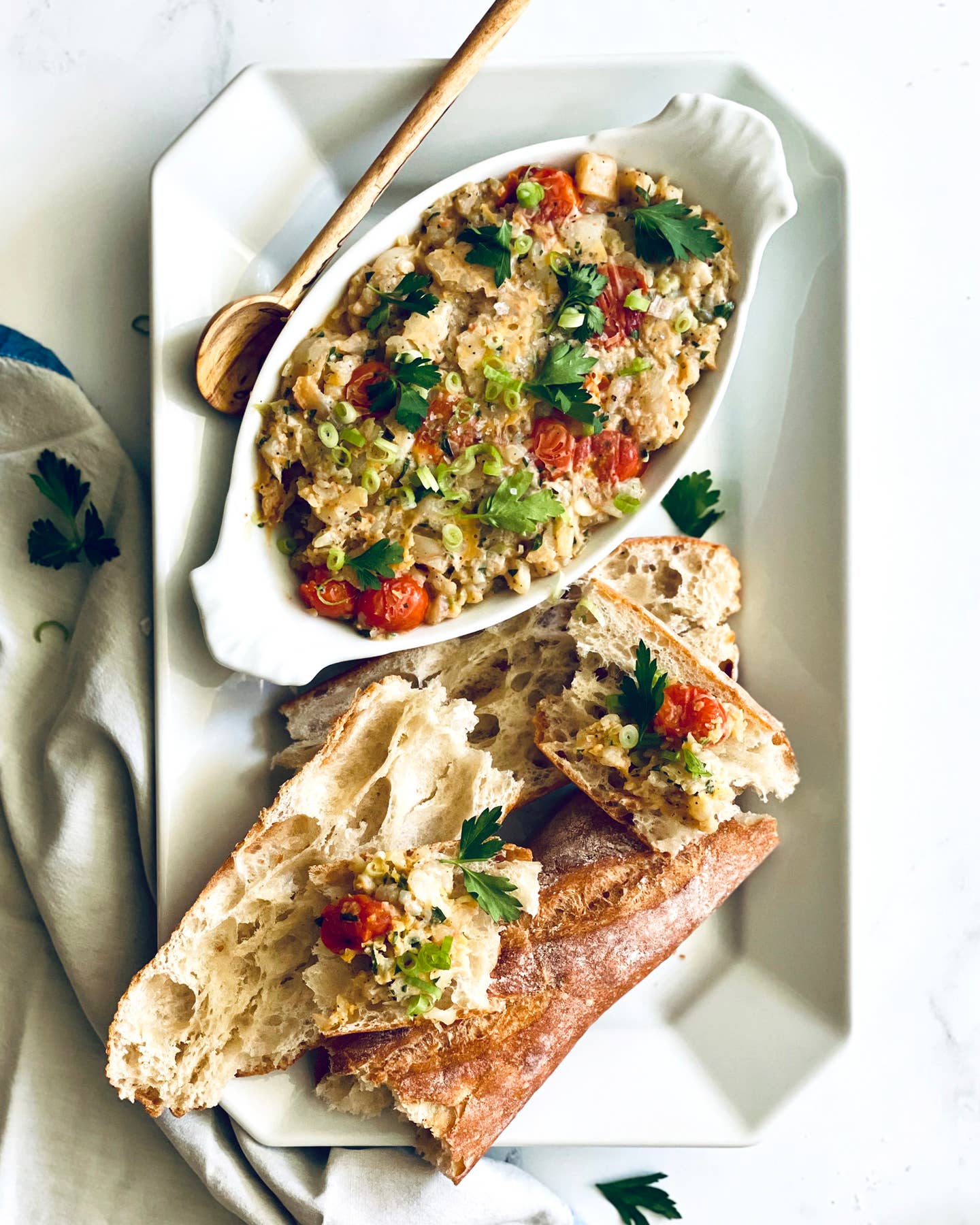 Welcome to Grandma's Notebook, a series unearthing the hand-written recipes of Mary Woo, the late grandmother of fashion designer Peter Som. Follow along as we dive into 20 years of recipes that trace her Chinese American immigrant experience. Along the way, we'll discover hidden family secrets, new and enticing flavors, and priceless hand-me-down dishes that deserve a second life in your kitchen.
This easy shrimp pâté recipe comes from the crinkled kitchen notebook of Peter Som's grandmother, who made a '70s rendition of the dish regularly. Here, Som brings us a fresher, zestier, and less wobbly take on the original that calls for extra citrus and pan-roasted cherry tomatoes (begone, Campbell's soup!).
Ingredients
1 lb. peeled cooked medium shrimp
2 cups cherry tomatoes
1 Tbsp. tomato paste
2 tsp. olive oil
1 large shallot, finely chopped (¼ cup)
6 Tbsp. unsalted butter
1½ tsp. lemon zest
2 Tbsp. lemon juice
½ cup mayonnaise
¼ cup finely chopped parsley leaves, plus more for garnish
¼ cup thinly sliced scallions, plus more for garnish
1 tsp. kosher salt
½ tsp. freshly ground black pepper
½ tsp. dry mustard powder
Baguette slices or crackers, for serving
Instructions
Step 1
To a medium skillet set over medium heat, add the olive oil and tomatoes. Cover and cook, shaking the pan occasionally, until they burst and begin to brown, 5–7 minutes. Transfer to a small bowl, wipe out the skillet, and return it to the stove.
Step 2
In the empty pan set over medium heat, melt the butter and cook the shallots, stirring occasionally, until soft, about 6 minutes. Stir in the tomato paste and cook until it sizzles, about 1 minute more. Transfer to the bowl with the tomatoes.
Step 3
In a food processor, pulse the shrimp to a coarse paste, then transfer to a large bowl. Add the lemon zest, lemon juice, mayonnaise, parsley, scallions, salt, black pepper, mustard powder, and reserved tomatoes and shallots. Using a silicone spatula, mix gently to combine.
Step 4
Scrape into two 1-pint Mason jars, or transfer to a large ramekin, flattening the top. Cover tightly with plastic wrap, pressing on the spread to remove any air bubbles, and refrigerate until set, at least 3 hours. Garnish with additional parsley and scallions and serve chilled with baguette slices for spreading. (Refrigerated, the pâté will keep for up to 5 days.)