Recipes
Fennel and White Balsamic Jam
Sweet and savory flavors sing in this delicate condiment from pastry chef Natasha Pickowicz.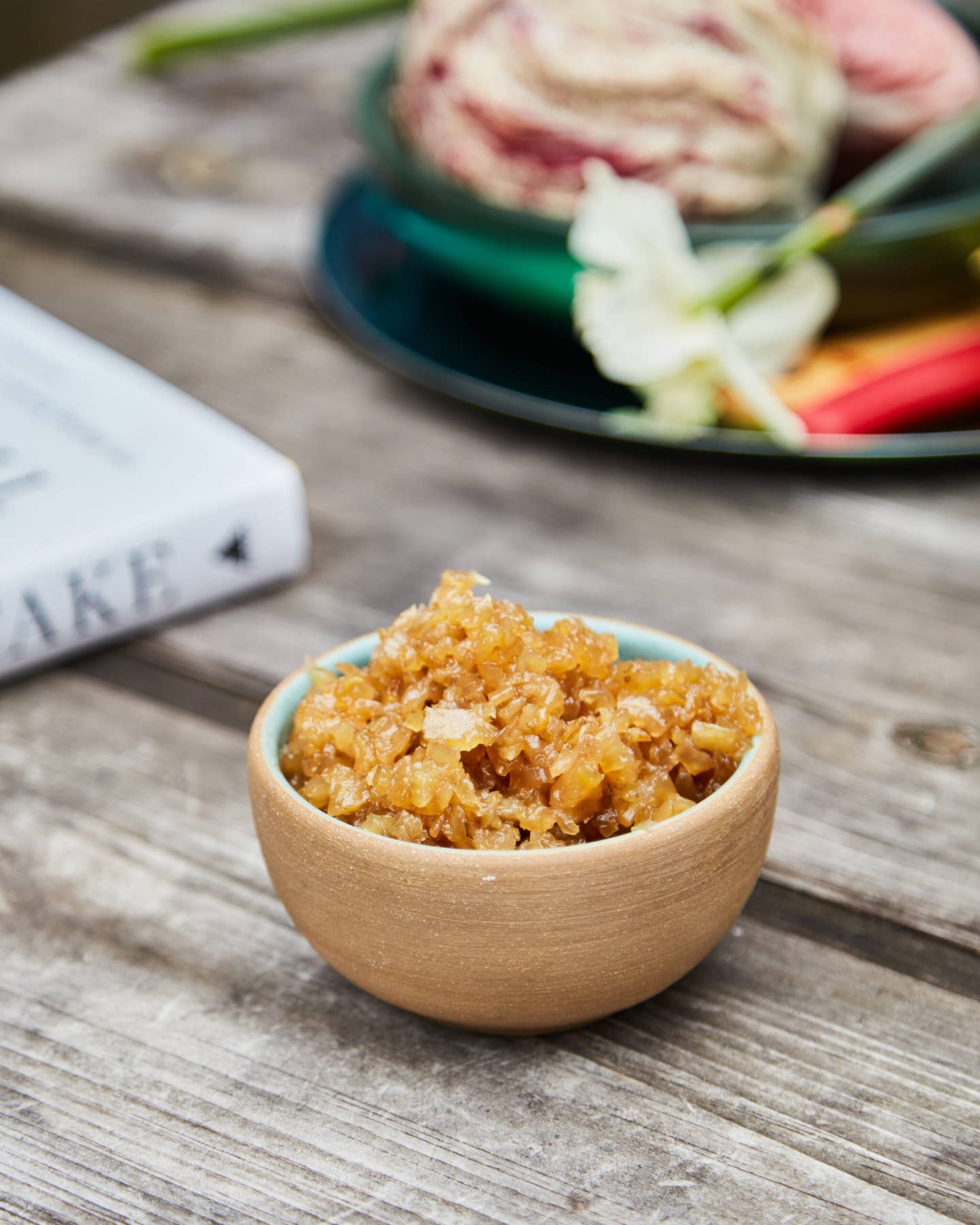 "This bracing jam" writes New York City pastry chef and cookbook author Natasha Pickowicz, "tastes just as nice with a pork chop as it does in a layer cake." Balanced bright, sweet, and savory notes place this delicate fennel jam recipe midway between mostarda and preserves. In her cookbook, More Than Cake, Pickowitz layers it between thin strips of tender olive oil cake and mascarpone, but she also likes it on a cheese plate or as a spread on a simple salami sandwich.
Ingredients
2 medium fennel bulbs, stalls and fronds removed (1 lb. 5 oz.)
1 Tbsp. olive oil
½ tsp. kosher salt
½ cup white balsamic vinegar, divided
½ cup sugar, divided
Instructions
Step 1
Using a mandoline or sharp chef's knife, slice the fennel bulbs ⅛ of an inch thick.
Step 2
To a large nonreactive skillet or Dutch oven over medium-low heat, add the olive oil. When the oil begins to shimmer, add the fennel and salt and cook, stirring frequently, until softened but not browned, about 15 minutes. Stir in ¼ cup each of the vinegar and sugar, then turn the heat down to low. Place a circle of parchment paper directly over the fennel (this will prevent the vinegar from evaporating too quickly). Continue cooking, stirring occasionally, until the liquid is nearly evaporated, about 20 minutes.
Step 3
Stir in the remaining vinegar and sugar and continue cooking until the fennel is translucent and tender, about 30 minutes more. Remove from the heat and set aside to cool to room temperature.
Step 4
When cool enough to handle, spread the fennel mixture out onto a large cutting board; using a large chefs knife, chop finely. (Alternatively, you may process the jam in a food processor, but take care not to overprocess the jam to a paste.) Transfer the fennel jam to an airtight container and store in the fridge for up to 3 weeks.