Recipes
Bhaji Dana (Parsi-Style Fenugreek Leaves with Peas)
Bitter greens are an elegant foil to the sweetness of onions and green peas.
Serves

serves 2

Cook

30 minutes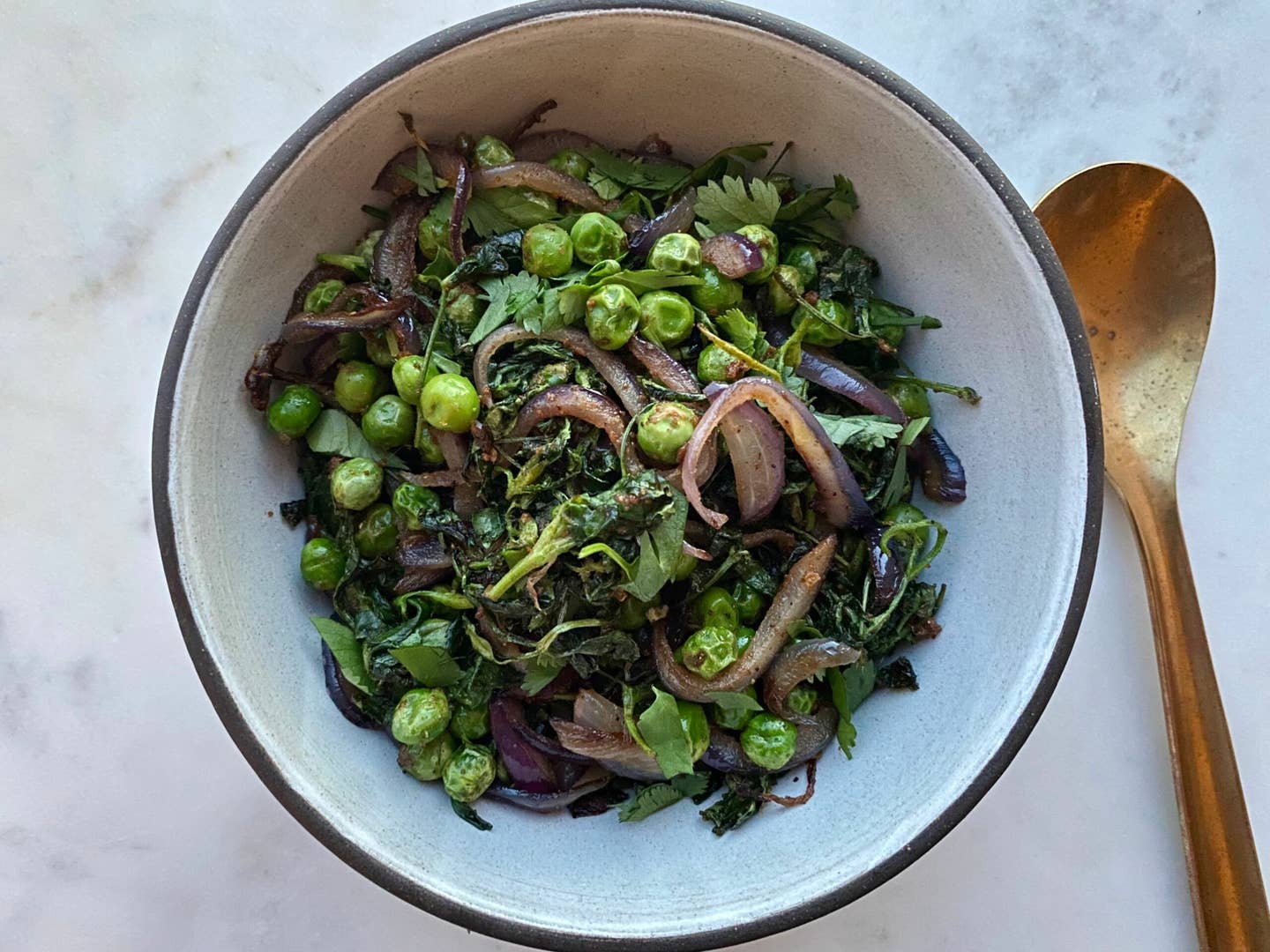 Fenugreek is a plant traditionally used in South Asian cooking for its leaves and seeds. It imparts a potent fragrance and has a distinct bitter taste. Widely available in Asian markets—especially Indian ones—the leaves may be sold fresh, frozen, or dried, while fenugreek seeds are packaged as a spice. While there's no substitute for fresh fenugreek leaves in this Parsi-style preparation, the recipe is otherwise highly versatile. Eat it on its own, with a cooked egg on top, or as a side dish with chicken or lamb.
Ingredients
1 tbsp. vegetable oil or ghee, divided
1 small red onion, thinly sliced lengthwise (½ cup)
1 green bird's eye chile, thinly sliced into thin rings
2 tsp. ginger-garlic paste
3 cups fresh fenugreek leaves, stems removed
1 tsp. ground coriander
1 tsp. ground cumin
1 tsp. Indian chile powder
1⁄2 tsp. freshly grated nutmeg
1⁄2 cup fresh or frozen peas
Kosher salt
1⁄2 cup coarsely chopped cilantro
Fresh roti*, to serve
Instructions
Step 1
In a medium skillet over low heat, add ½ tablespoon oil. Once the oil is hot, add the onions and cook, stirring occasionally, until they begin to brown, around 10 minutes. Transfer the onions to a bowl and set aside. In the same skillet, add the remaining oil, the chile, ginger-garlic paste, coriander, cumin,chile powder and nutmeg, and cook, stirring frequently, just until aromatic, about 30 seconds. Add the fenugreek leaves and cook until wilted, 3–4 minutes. Add the peas and the reserved onions and cook, stirring occasionally, until the peas are hot and cooked through, 2–3 minutes more. Season to taste with salt, and stir in the cilantro. Transfer to a bowl and serve hot, with fresh roti on the side.