Recipes
These Spicy Fire Crackers Are a Sleeper Hit
Saltines are the ideal vessel for spice mixes of all kinds.
Serves

6–8

Cook

12 hours 10 minutes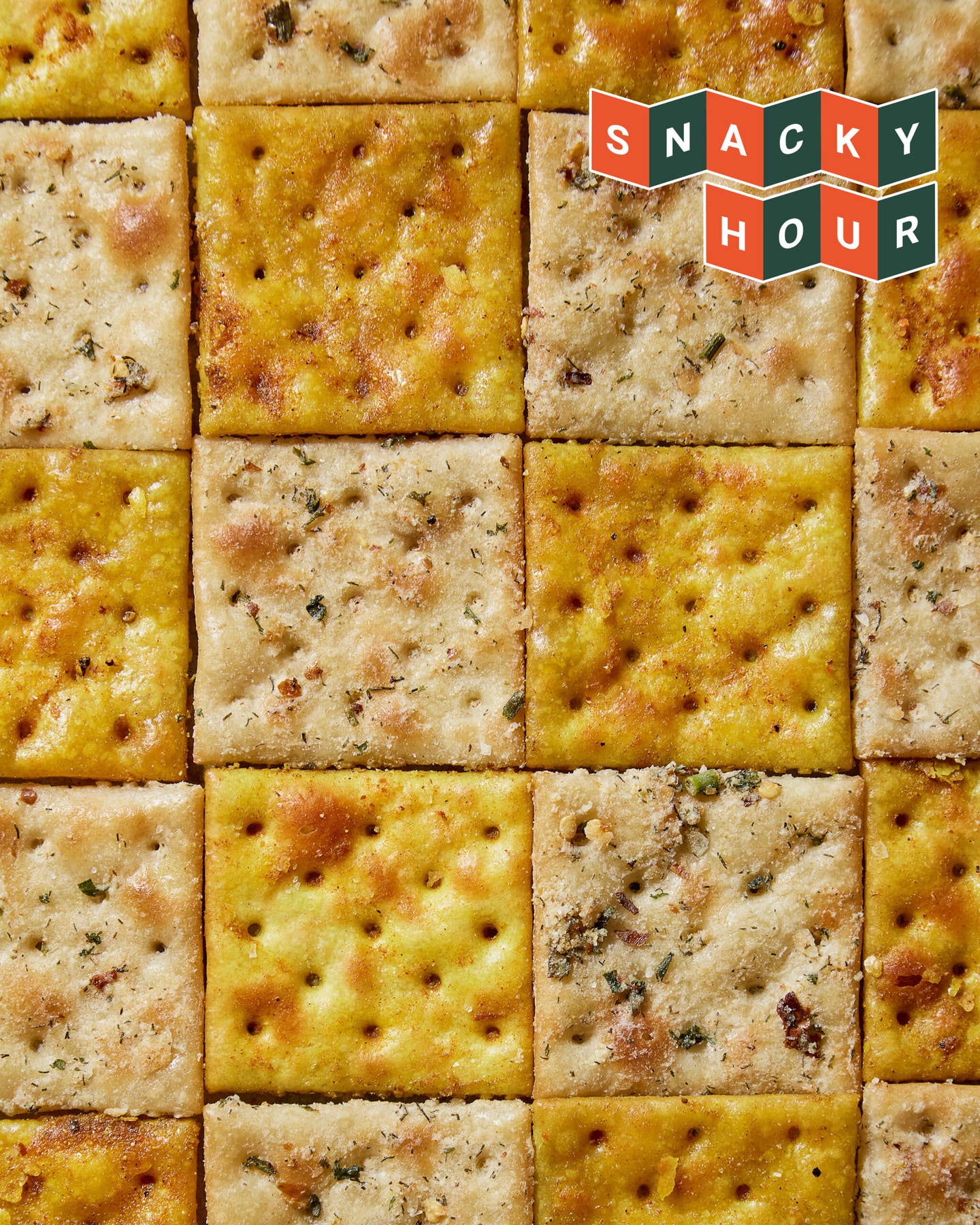 It's always Snacky Hour somewhere, at least according to snack-obsessed SAVEUR senior editor Ellen Fort. Follow along as she discovers the best bites that fall outside the confines of breakfast, lunch, or dinner. Savory, salty, spicy, sweet, sour: everything's fair game during Snacky Hour.
Saltines, the bland-but-ubiquitous crackers found in every grandparent's pantry, are often relegated to sick-day snacks paired with ginger ale, or stacked alongside a bowl of tomato soup. Growing up, my great-uncle Rufus Fort considered them a perfect snack when slathered with butter and toasted. But many of my Southern brethren experience the true nature of Saltines as a blank canvas for spice, toasted until crispy and served as a salty, spicy snack at parties and potlucks. Fire crackers, so named because of a healthy dash of crushed red chile flakes, typically include a packet of powdered ranch dressing in the list of ingredients. I came up with two of my own from-scratch variations: One with a spice-laden homemade ranch powder, and another packed with Indian spices from Diaspora Co. (I recommend turmeric, ginger, and chile powder; crushed red chile flakes can be swapped for the Guntur Sannam chiles if desired.) Pro tip: An air fryer* can crisp these very quickly; head to the footnote for directions.
Ingredients
For the spicy ranch fire crackers:
1 cup vegetable oil
3 Tbsp. dry buttermilk powder
2 tsp. crushed red chile flakes
1½ tsp. garlic powder
1½ tsp. kosher salt
1½ tsp. MSG, optional
1½ tsp. onion powder
1 tsp. dried chives
1 tsp. dried dill
1 tsp. dried parsley
½ tsp. freshly ground black pepper
Two 4-oz. sleeves Saltines
For the turmeric-ginger fire crackers:
1 cup vegetable oil
1 Tbsp. ground coriander
1 Tbsp. ground ginger
1 Tbsp. ground turmeric
1 tsp. garlic powder
1 tsp. kosher salt
½ tsp. ground black pepper
½ tsp. ground Guntur Sannam chile
Two 4-oz. sleeves Saltines
Instructions
Step 1
To a gallon zip-top freezer bag, add the oil and all of the seasoning. Seal the bag and massage to mix. Add the crackers to the bag. Seal and flip the bag until all of the crackers are thoroughly coated. Set aside at room temperature to marinate for at least 6 and up to 12 hours.
Step 2
Position two racks in the upper and lower third of the oven and preheat to 250°F. Line two large rimmed baking sheets with parchment paper, then arrange the crackers in a single layer on them. Bake until the Saltines are lightly browned, 15–20 minutes. Set aside to cool to room temperature. Serve the fire crackers immediately or transfer to an airtight container and store at room temperature for up to two weeks.
*Air fryer instructions: Preheat the air fryer to 300°F. In the basket, arrange the crackers in a single layer. Air fry, gently shaking the basket occasionally, until lightly browned, about 5 minutes. (Depending on the size of your machine, the fire crackers may need to be fried in batches to ensure they turn out evenly crispy.)