Recipes
Haakh (Kashmiri-Style Spinach)
Chef Romy Gill's effortless, brothy greens.
Serves

serves 3

Cook

20 minutes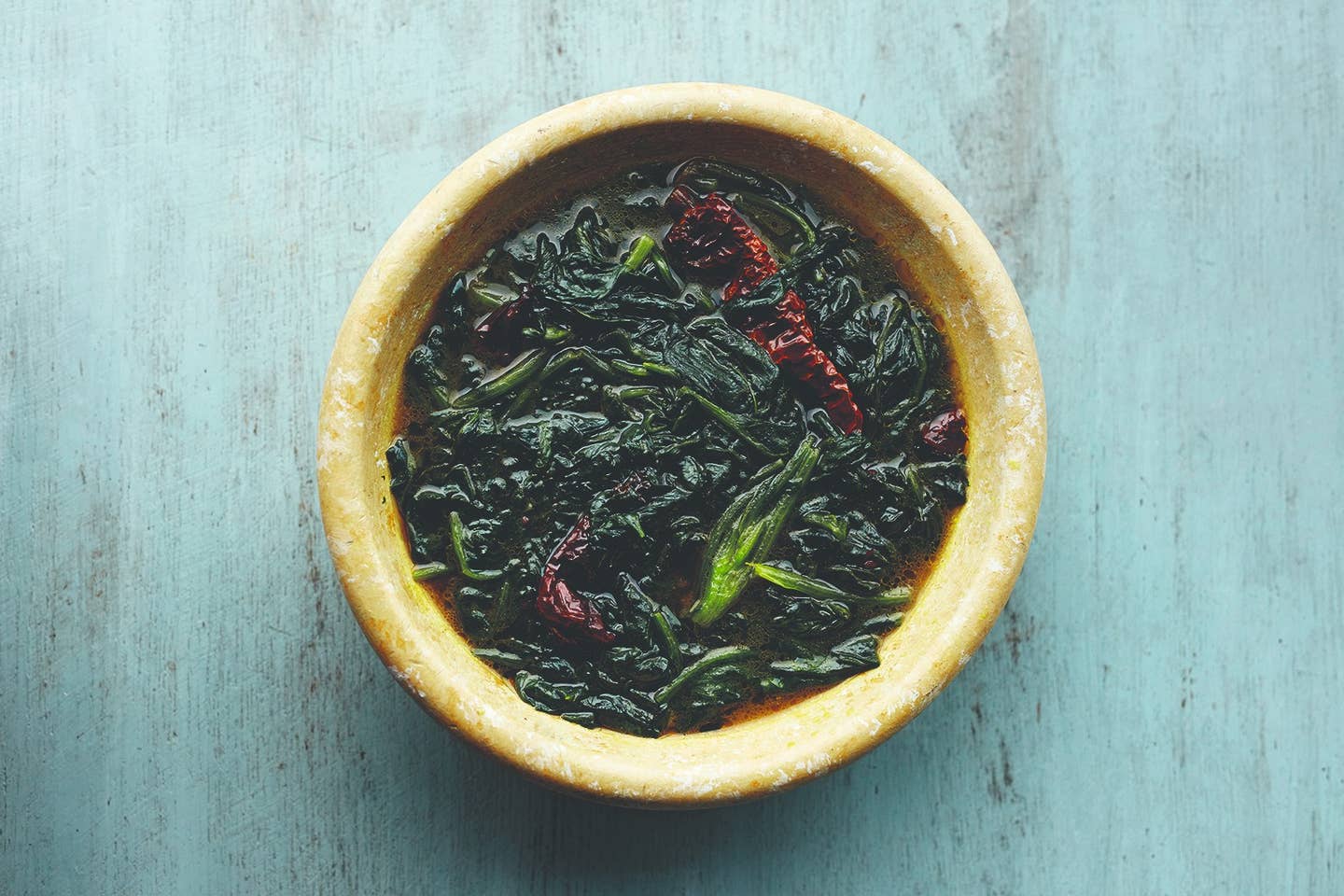 Haakh is eaten by many Kashmiris as a main dish, served simply with rice or flatbreads. However, others will eat it as a side dish, alongside meat. The recipe, adapted from British Indian chef Romy Gill's cookbook, On The Himalayan Trail: Recipes and Stories from Kashmir to Ladakh, is so simple yet so delicious. The greens used in Kashmir are different to the varieties found elsewhere, so your greens might take less water, and less time to cook. Gill recommends using long spinach leaves, rather than quicker-cooking baby spinach.
Ingredients
3 tbsp. mustard oil
4 dried whole red kashmiri chiles
½ tsp. asafoetida powder
1 lb. 10 oz. spinach, picked and washed
1 tsp. kosher salt
1 tsp. turmeric powder
Steamed basmati rice or flatbread, for serving
Instructions
Step 1
To a large, heavy-bottomed pot set over medium heat, add the mustard oil. Once hot and shimmering, add the chiles and asafoetida, and cook, stirring frequently, until fragrant, about 1 minute. Add the spinach in batches, stirring occasionally, until the greens have wilted enough that they all fit in the pot. Stir in the salt, turmeric, and 1 cup of warm water, and cook until the spinach has fully wilted and the water has come to a boil. Cover the pot and cook, until the spinach is tender and about half of the water remains, about 5 minutes. Remove from the heat, ladle the greens and their cooking liquid into a bowl, and serve warm, with rice or flatbread on the side.