Patjuk (Adzuki Bean Porridge with Sweet Rice Dumplings)
Celebrate the winter solstice with this savory Korean bowl.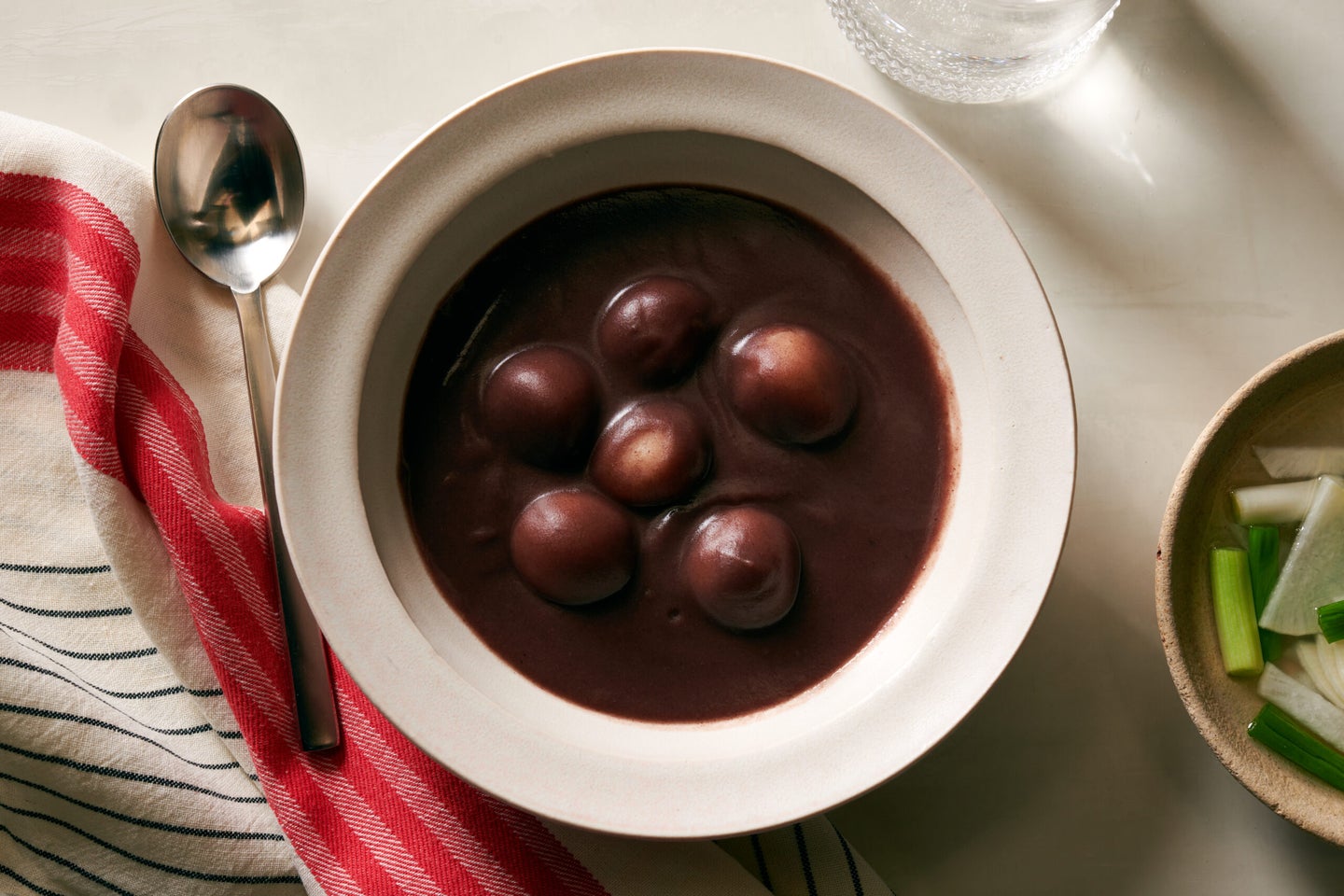 Dongji (동지, 冬至) is the Korean celebration of the winter solstice. The longest night of the year is widely considered a time of transition and in early Korean history, the holiday was considered the start of the new year, which ushered in the return of sunnier days. To celebrate, we eat patjuk (팥죽), a porridge made with dried adzuki beans. According to Korea's shamanistic traditions, these red beans are believed to ward off ghosts and evil energy. The porridge also includes sweet rice dumplings named after birds eggs, ssae al shim (새알심), which symbolize birth and the coming spring.
While sweetened patjuk is also popular, this version is savory, like the one my mother always made. She used to make huge pots at a time, filling old glass kimchi jars with the velvety, purple-tinged porridge. Serve it like she did, with our family's favorite winter kimchi, dongchimi (radish water kimchi). 
Featured in: "Korea Celebrates Winter Solstice with Pots of Patjuk."
Patjuk (Adzuki Bean Porridge with Sweet Rice Dumplings)
Chef Mina Park's family patjuk recipe is a savory take on the traditional Korean adzuki bean and rice dumpling porridge.
Time: 4 hours, 40 minutes
Ingredients
2 cups (12 oz.) dried adzuki beans
1 tsp. kosher salt, divided, plus more to taste
1 cup plus 2 Tbsp. sweet rice flour (also known as glutinous rice flour)
Dongchimi (radish water kimchi) or another kimchi, for serving
Instructions
To a large bowl, add the adzuki beans and enough cold water to cover. Use your hand to swish the beans around gently, then drain off the water, allowing any stones and debris and wash away. Repeat a few times until the water runs clean, then cover the beans with fresh water, cover, and refrigerate for at least 3 hours or overnight.
Drain the beans, discarding the soaking liquid, then transfer the beans to a large, heavy pot. Add 8 cups of fresh water, ½ tsp of the salt, and bring to a boil over high heat. Cover the pot with a lid, then lower the heat to maintain a simmer. Cook until the beans are soft and can easily be crushed with your fingers, 60–70 minutes. Remove from the heat and set aside to cool to room temperature.
Meanwhile, make the rice dumplings: In a large bowl, stir together the sweet rice flour and the remaining ½ teaspoon salt. Using a wooden spoon, gradually start stirring in hot (not boiling) water a few tablespoons at a time just until a shaggy dough begins to come together (this will require about ½ cup of water). Start kneading the water into the dough with your hands, gathering up all the crumbly bits as you go. The dough should not be too sticky, and it should start to feel supple, shiny, and smooth as you knead. Form into a ball, wrap tightly in plastic wrap, and set aside at room temperature until the dough has softened, about 20 minutes.
Using a large chef's knife or bench knife, divide the dough in half; cover one of the halves back up with the plastic wrap. Using your hands, roll the other half out to an even, 1-inch thick cylinder. Cut the cylinder crosswise into 1-inch lengths, then roll each piece into a smooth ball. Transfer the balls to a baking sheet or a large plate and repeat with the other half of the dough. (You should have 25–30 balls.) Cover the dumplings with plastic wrap and set aside at room temperature until you're ready to cook them.
Transfer the reserved adzuki beans along with their cooking liquid to a blender and blend until very smooth.
Set a fine mesh strainer in the bean-cooking pot and strain the purée back into it, discarding any solids. Set over medium heat, then bring to a gentle simmer. Gently drop the reserved dough balls into one by one and cook, stirring occasionally, until the dumplings have all floated to the top, 8–10 minutes. Season to taste with additional salt, then ladle the patjuk into bowls and serve warm, with dongchimi or another kimchi on the side.