Recipes
Kwame Onwuachi's Peel-and-Eat Shrimp
Score points at your next cocktail party with this simple yet irresistible starter.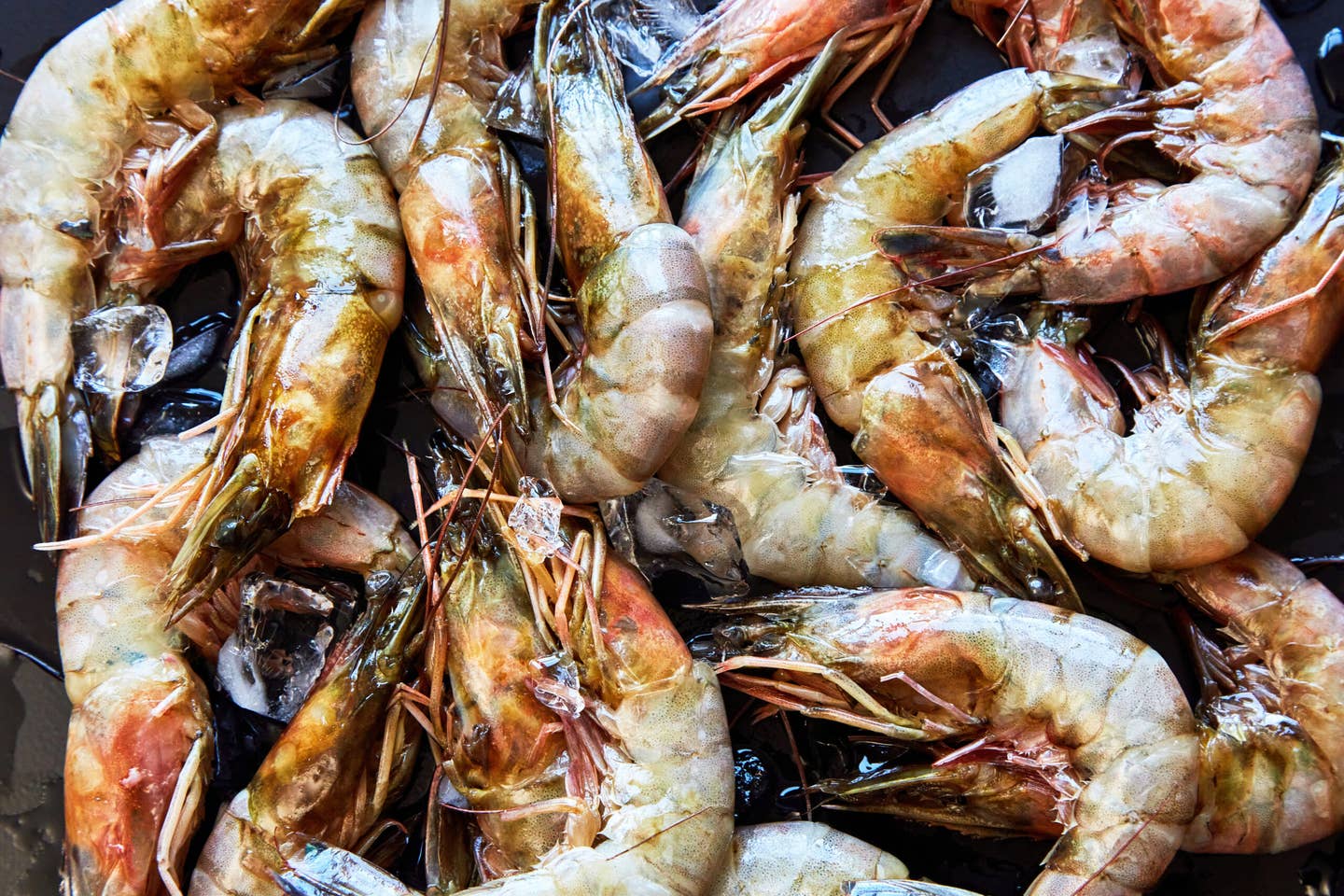 Shrimping along the Louisiana coast isn't just a job. For many it's a way of life, one that stretches back to the 18th century. Today's shrimping communities are astonishingly diverse, made up of Vietnamese, Croatian, Arcadian, and Black shrimpers who harvest in both inland and federal waters. Regardless, though, it's an industry under threat from both natural and manmade disasters as well as international competition. The price of a pound of shrimp has barely budged since the 1980s. Nevertheless, shrimp rules Louisiana, and that's good news for the hungry. Some of my best memories of living in Baton Rouge or visiting my mother in New Orleans were walking into a friend's house to find a mess of still-steaming peel-and-eat shrimp, ready for peeling and eating. Smothered in house spice, sweetened with garlic, and silky with melted butter, they burst with flavor with every bite. There are many, many ways to prepare the shrimp that come from these coastal waters, but this is perhaps the most fun, one of the easiest and quickest, and so damn delicious. —Kwame Onwuachi, author of My America: Recipes from a Young Black Chef: A Cookbook (Knopf, 2022)
Note: You'll have plenty of House Spice left over, which you can use as a rub for meats and fish, to flavor the flour for fried chicken, or as a condiment for fried eggs. It will keep, stored in a cool and dark place in an airtight container, for up to 4 months.
Ingredients
For the House Spice:
3 tbsp. plus ¾ tsp. freshly ground black pepper
2 tbsp. plus 1½ tsp. kosher salt
2 tbsp. plus 1¼ tsp. granulated garlic
2 Tbsp. Worcestershire powder
1 Tbsp. plus 2½ tsp. granulated onion
1 Tbsp. plus 1¼ tsp. cayenne pepper
1 Tbsp. plus 1¼ tsp. sweet paprika
For the shrimp:
3 Tbsp. grapeseed oil, or vegetable oil
10 garlic cloves, smashed with the heel of a knife
12 jumbo shrimp (about 12 oz.), preferably unshelled and head-on, deveined
1 Tbsp. House Spice (from above), plus more for garnish
Kosher salt
6 fresh thyme sprigs
4 Tbsp. cold unsalted butter, cubed
Fresh lemon juice
Coarsely chopped parsley leaves, for garnish
Crusty bread, for serving (optional)
Instructions
Step 1
Make the House Spice: In a bowl, whisk together the black pepper, salt, granulated garlic, Worcestershire powder, granulated onion, cayenne, and paprika; set aside.
Step 2
Make the shrimp: To a large pan set over medium heat, add the oil and garlic. Cook, stirring occasionally, until softened and fragrant (do not brown), 3–5 minutes.
Step 3
Meanwhile, season the shrimp generously with salt to taste and 1 tablespoon of the reserved House Spice. Turn the heat to high and add the shrimp and thyme to the pan. Cook, swirling the pan continuously, until the shrimp are just cooked, about 2 minutes. Remove the pan from the heat and let stand for 1 minute. A cube at a time, stir in the remaining butter; the sauce should be slightly thick and coat the shrimp. Season with lemon juice and more salt and House Spice to taste, then sprinkle with parsley. Serve immediately with bread if desired.