Recipes
Dino's Hot Chicken Sandwich
A crunchy and crackly Nashville hot chicken sandwich for the books.
Serves

serves 4

Cook

8 hours 45 minutes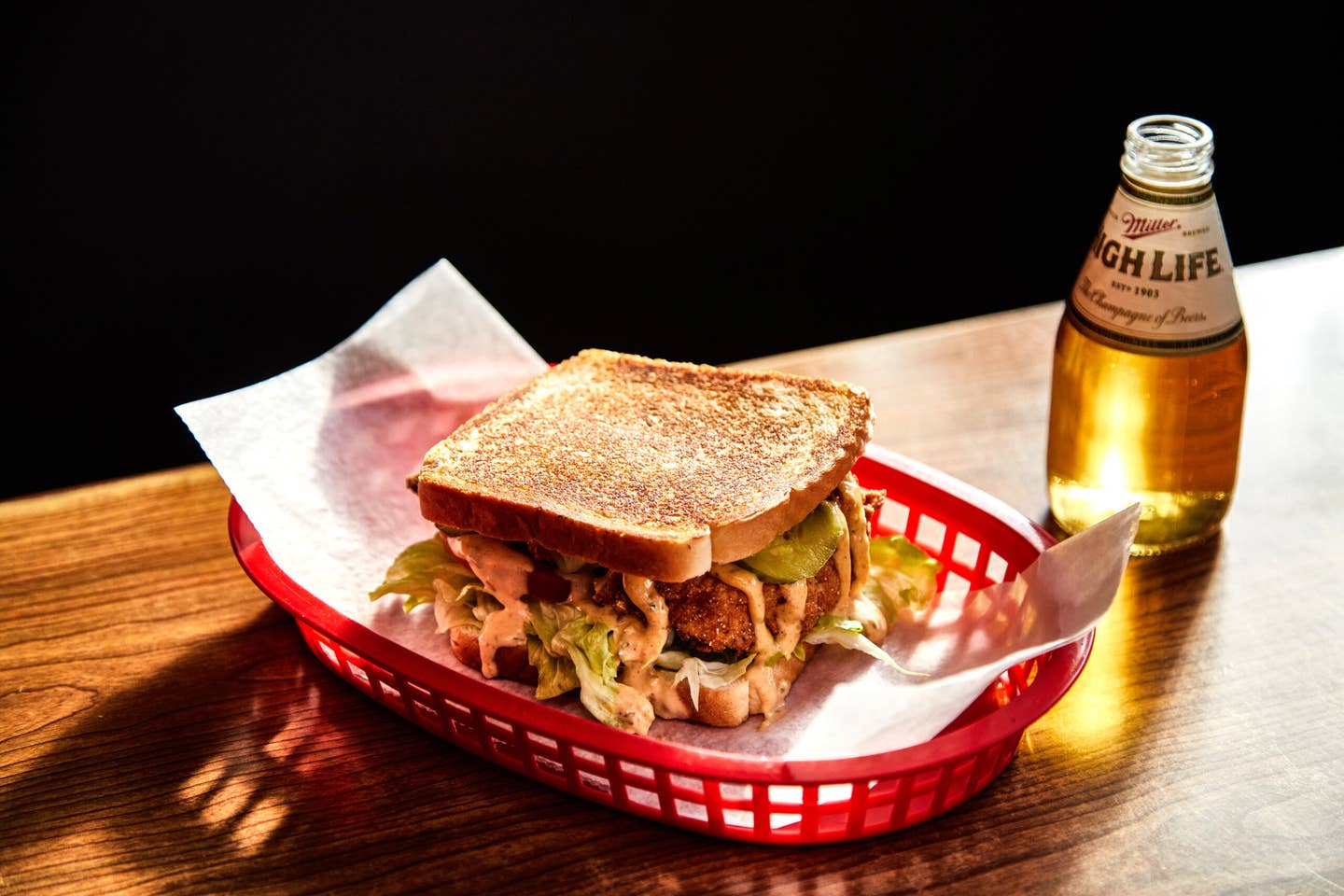 The key to the proper Nashville hot chicken recipe, invented by Prince's Hot Chicken Shack, is the spice mix: a sinus-clearing, cayenne-forward blend which gets whisked with oil to create a potent finishing paste.
At Dino's Bar, a dive institution in East Nashville, the hot chicken sandwich comes with a side of cooling tartar sauce to cut through some of the spice, but the chicken itself hews closely to the roots of the recipe that started at Prince's so many years ago. Make sure to use your favorite vinegar-based hot sauce in the chicken brine, and don't forget to preheat the oil before frying to ensure a crackly, crispy crust.
Ingredients
1 lb. boneless, skinless chicken breast
¼ cups plus 1 Tbsp. kosher salt, divided
2 tbsp. dark brown sugar
¼ cups plus 2 Tbsp. fresh lemon juice
2 cups buttermilk
2 tbsp. vinegar-based hot sauce, such as Louisiana brand
⅓ cups plus 1 Tbsp. cayenne pepper, divided
1 tsp. garlic powder
1 tsp. Old Bay Seasoning
1 tsp. onion powder
1 tsp. paprika
1 cup canola oil, plus more for frying
1 cup all-purpose flour
½ cups cornmeal
1 tbsp. freshly ground black pepper
8 slices white bread
Bread and butter pickles
Tartar sauce (optional)
Instructions
Step 1
Cut the chicken breasts lengthwise into 1-inch wide strips. In a medium bowl or a medium container with a lid, stir together ¼ cup of salt, the brown sugar, and lemon juice. Add the chicken pieces and toss to coat, then add enough cool water just to cover the chicken. Cover tightly and refrigerate for at least 4 and up to 8 hours.
Step 2
Drain the brined chicken well, discarding the soaking liquid. Rinse and drain the chicken, then return it to the bowl, add the buttermilk and hot sauce, and toss to coat. Cover the bowl again and refrigerate for at least 4 and up to 8 hours more.
Step 3
Meanwhile, prepare the hot oil. To a small bowl, whisk together ⅓ cups of cayenne, the garlic powder, Old Bay, onion powder, and paprika. Whisk in 1 cup of canola oil, then set aside.
Step 4
In a large bowl, whisk together the flour, cornmeal, black pepper, and the remaining salt and cayenne. Set aside.
Step 5
Into a medium pot, pour canola oil to a depth of 2 inches. Attach a deep-fry thermometer, and turn the heat to medium-high. While the oil is preheating, line a rimmed baking sheet with foil and place it by the stove.
Step 6
When the oil reaches 350°F, fry the chicken: Working in batches, dredge the chicken in the flour mixture, shaking off any excess, then carefully drop the pieces into the oil and fry, stirring occasionally, until crispy and golden brown, 4–5 minutes. Using a heatproof slotted spoon or a spider skimmer, transfer to the foil lined pan and keep warm while you continue cooking the rest of the chicken.
Step 7
Assemble the sandwiches. Place a slice of bread on 4 plates. Top each slice with 2–3 strips of fried chicken. Stir the hot oil well, then drizzle 2–3 tablespoons over each serving. Top each with bread and butter pickles and a second slice of white bread and serve hot, with tartar sauce on the side, if desired.