Recipes
Old-School Pad Gaprao
The classic version of this Thai dish is refreshingly simple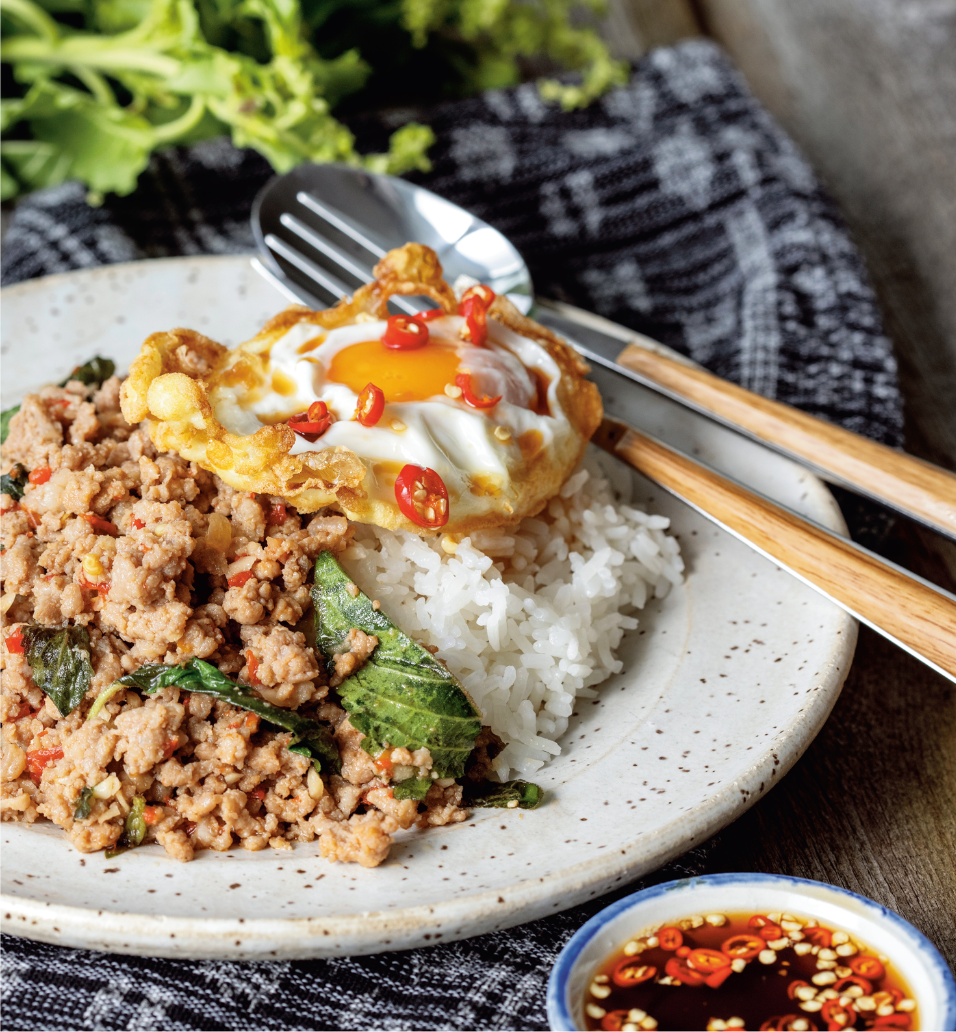 This recipe is brought to you by SAVEUR Cookbook Club, our passionate community of food-loving readers from around the globe celebrating our favorite authors and recipes. Join us as we cook through cookbooks new and old, and share your food pics and vids on social media with the hashtags #SAVEURCookbookClub and #EatTheWorld.
Pad gaprao (often misspelled as "pad kra pao") is a true staple of the Thai diet, sold by street vendors and at fancy restaurants, and made in homes all over the country. Cookbook author Pailin Chongchitnant calls this version adapted from her cookbook Sabai: 100 Simple Thai Recipes for Any Day of the Week—"old school" because it's so simple, seasoned only with fish sauce and basil. Newer takes on the classic dish include add-ins like soy sauce, oyster sauce, and veggies, but Chongchitnant's original pad gaprao recipe is easier to prepare—and preserves a little Thai culinary history in the process. If you can't find holy basil, don't be tempted to swap in Thai basil—Italian basil is in fact a closer substitute.
Pad gaprao is typically paired with a fried egg when served as a one-dish meal. If serving as part of a multi-dish Thai meal, you can omit the egg. For an old-school pad gaprao experience, make this dish as spicy as you can handle—it's not just about the heat, as chiles also provide flavor that's important to the dish. Chongchitnant uses a mixture of mild and hot chiles; the mild ones add the necessary chile flavor without overpowering the dish with spice. Red bell pepper will work, but she suggests you try to find something smaller and less watery (we like Jimmy Nardellos). The bird's eye chile seeds can be removed to moderate the heat further.
Ingredients
2–3 bird's eye chiles
⅓ cup coarsely chopped mild red peppers
7 garlic cloves
3 Tbsp. vegetable oil, plus more for frying
4 large eggs
1 lb. lean ground pork
2 Tbsp. fish sauce, plus more
2 tsp. sugar, plus more
1½ cups holy basil or Italian basil leaves
4 cups steamed jasmine rice, for serving
Instructions
Step 1
Using a mortar and pestle, pound the bird's eye chiles to a fine paste. Add the mild red peppers and garlic and continue pounding to a coarse paste, then set aside.
Step 2
Line a large plate with paper towels and set it by the stove. To a small nonstick skillet over medium-high heat, add oil to a depth of ⅓ inch. Once the oil is hot, carefully crack in one egg and cook, using a spoon to occasionally baste the top of the egg with the hot oil, until the whites are crispy and browned and the yolks are cooked to the desired doneness, about 1 minute for a runny yolk, or 2 minutes for a set yolk. Using a heat-proof spatula, transfer the egg to the lined plate; keep warm while you repeat with the remaining eggs.
Step 3
To a wok set over medium heat, add 3 tablespoons oil and the reserved chile-garlic paste. Stir-fry until the garlic is just beginning to turn golden, about 2 minutes. Turn the heat up to high, add the ground pork, and, using a heat-proof spatula, quickly toss to mix with the chile-garlic paste. Add the fish sauce and sugar, and continue stir-frying until the pork is fully cooked, about 4 minutes. Turn off the heat, then add the basil and stir just until the leaves have wilted. Season to taste with more fish sauce and sugar as needed.
Step 4
Divide the rice among 4 plates. Top each serving with the pad gaprao followed by a fried egg and serve hot