Recipes
Pan de Muerto (Bread of the Dead)
Ring in Día de los Muertos with these sweet, citrus-scented buns from Mexico.
Serves

Makes 8 small loaves

Cook

4 hours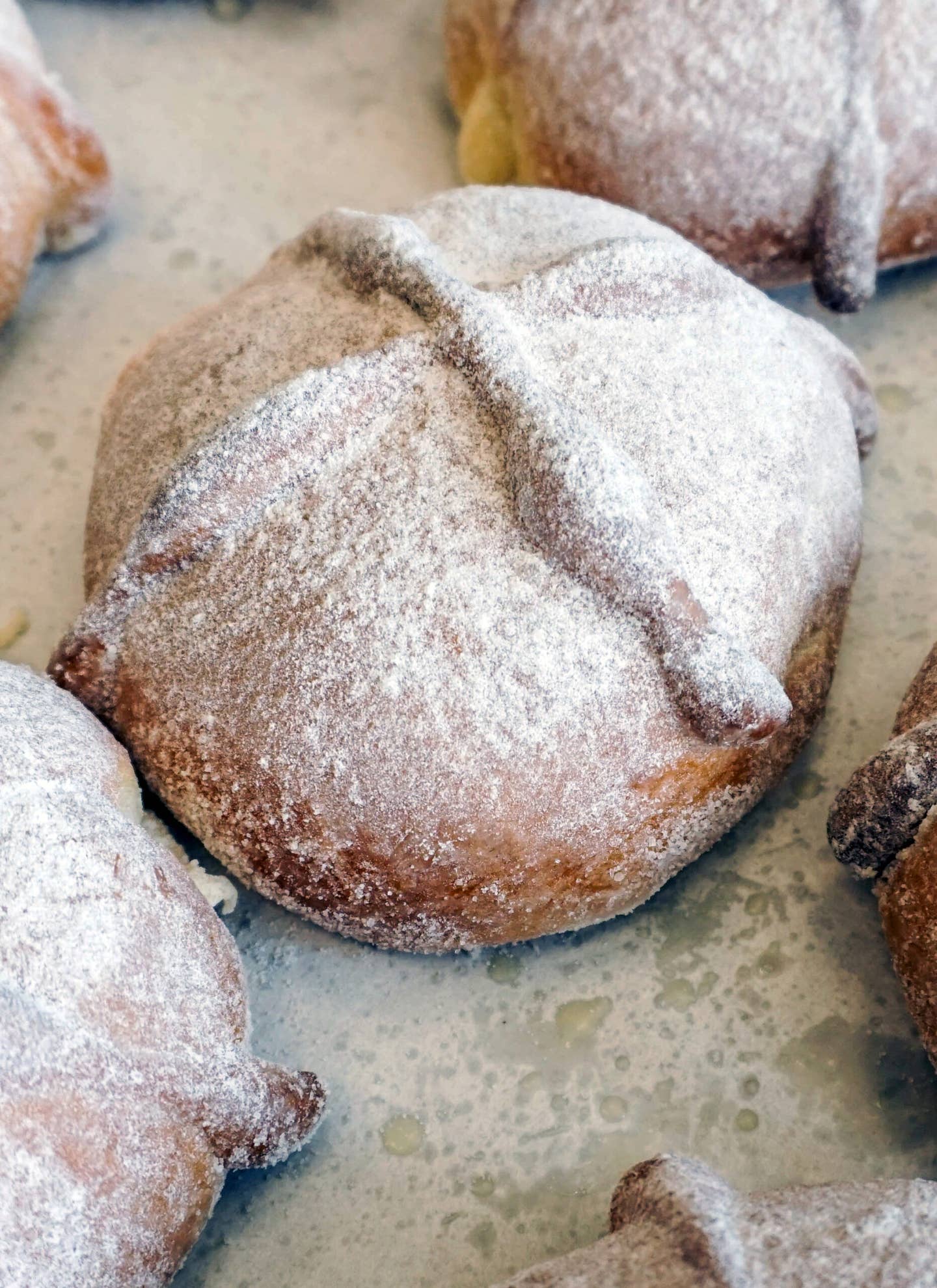 On a typical morning, the line at Mexican American bakery La Panadería in San Antonio winds out the door, as locals wait patiently to order a box of pan dulce, a category of sweet breads and pastries popular throughout Mexico. Brothers and co-owners David and José Cáceres grew up selling their mother Doña Josefina's pan dulce on the streets of Mexico City. When they opened their own bakery in Texas, La Panadería, pan de muerto—citrus-scented buns topped with bone-shaped patterns and dusted with sugar—became one of their signature offerings. The treat is especially popular during Día de los Muertos, a holiday widely celebrated in Mexico to honor departed loved ones, but La Panaderia bakes it all year long. Now, with their pan de muerto recipe, so can you.
Ingredients
3¼ cups bread flour
1½ tsp. instant yeast
1½ tsp. kosher salt
¼ cup plus 2 Tbsp. whole milk
2 Tbsp. orange essence
1 Tbsp. orange flower water
1 Tbsp. finely grated orange zest
3 large eggs, beaten
½ cup sugar
15 Tbsp. unsalted butter, at room temperature, divided
½ cup confectioners sugar
Instructions
Step 1
To a stand mixer fitted with the paddle attachment, add the flour, yeast, and salt and mix to combine. Add the orange essence, orange flower water, orange zest, and eggs and mix on low until just combined, 1–2 minutes. Replace the paddle attachment with the hook and mix on medium-low until the dough pulls away from the bowl, 6–8 minutes. Turn the speed to low and, with the machine running, gradually add the sugar and 7 tablespoons of the butter. Mix on medium until the dough is shiny and elastic, 6–8 minutes. Transfer to a lightly greased bowl, loosely cover, and set aside until nearly doubled in size, 1½–2 hours.
Step 2
Tear off about one-fifth of the dough and transfer to a lightly floured work surface (re-cover the dough in the bowl). Using your palms, roll into a ½-inch-wide rope. Cut into 16 log-shaped pieces (1½–2 inches long), then transfer to a parchment-lined baking sheet, cover, and refrigerate. 
Step 3
On a lightly floured work surface, divide the remaining dough into eight equal portions (about 3.2 ounces each). Shape one of the portions into a ball, then press gently to flatten slightly and transfer to another parchment-lined baking sheet. Repeat with the remaining dough portions. Cover loosely and set aside in a warm place until nearly doubled in size, about 1½ hours.      
Step 4
Position a rack in the center of the oven and preheat to 375°F. On a lightly floured work surface, roll each dough log into a 6-inch length, then pinch each in two or three places (so they resemble bones). On one of the dough rounds, place two of the strips in an X shape, then repeat with the remaining rounds. Bake until puffed and lightly browned, 18–20 minutes. Transfer to a wire rack to cool slightly. 
Step 5
Melt the remaining butter. Brush the tops of the buns with it, then dust with the confectioners sugar and serve.