Recipes
Peruvian Roast Chicken With Ají Verde
Sandra Gutierrez's riff on pollo a la brasa has all the bold flavor of the restaurant version, at home.
Serves

4-6

Cook

3 hours 55 minutes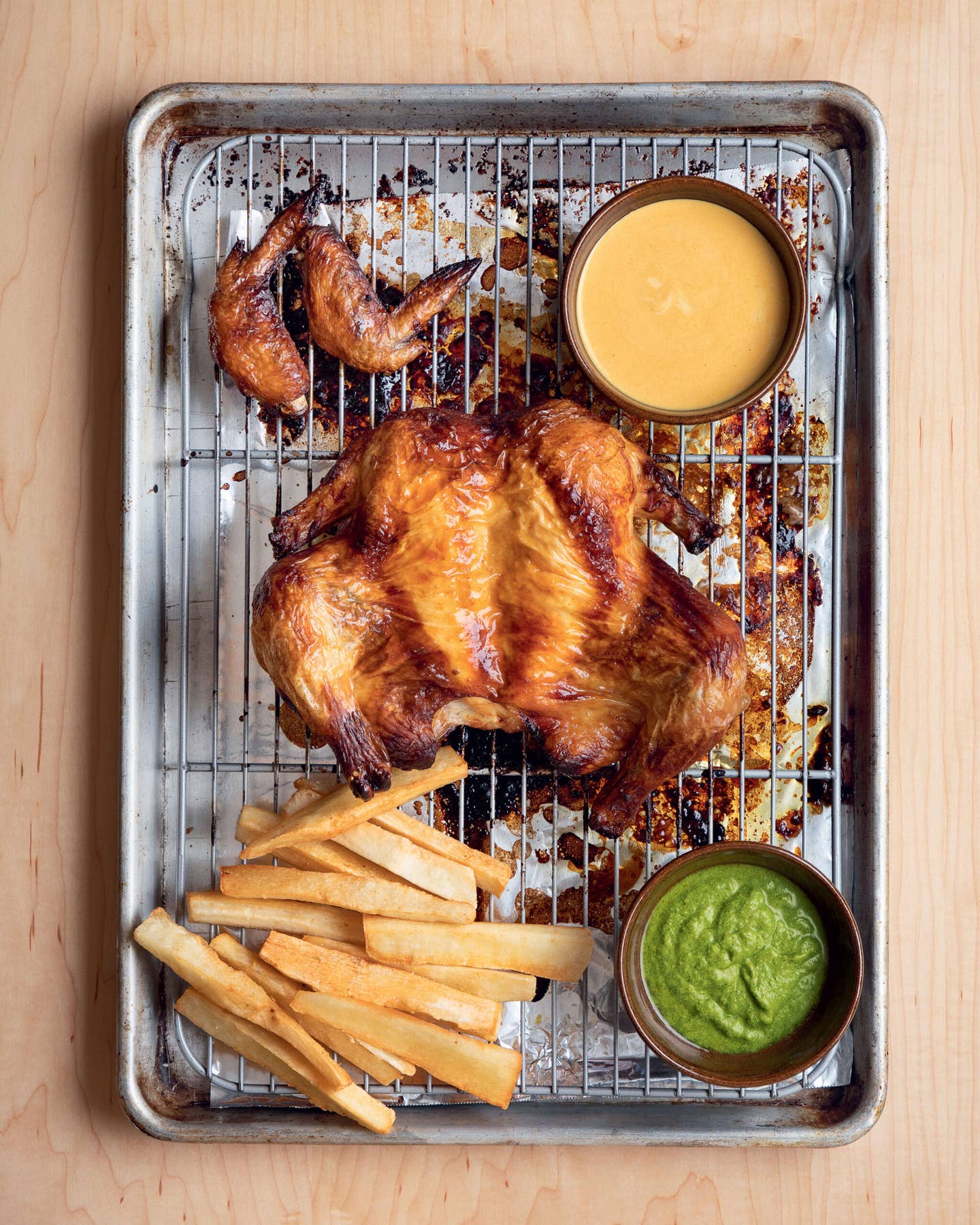 This recipe is brought to you by SAVEUR Cookbook Club, our passionate community of food-loving readers from around the globe celebrating our favorite authors and recipes. Join us as we cook through a new book every month, and share your food pics and vids on social media with the hashtags #SAVEURCookbookClub and #EatTheWorld.
As author Sandra A. Gutierrez knows full well, wood-smoked Peruvian roast chicken is an art form. This home-cooked version, adapted from her cookbook Latinísimo: Home Recipes from the Twenty-One Countries of Latin America, gets pretty close to that iconic pollería flavor by spatchcocking a whole bird (cutting out its backbone and pressing it flat, to ensure through-and-through seasoning and roasting), then bathing it in a marinade of dark beer, spices, and chile paste. After slow-roasting at high heat, the chicken is crispy and deeply flavorful all over, a perfect complement to the citrusy, spicy creaminess of ají verde. Serve with hot white rice or roasted potatoes, both of which are ideal vessels for more of that delicious green sauce.
A note on ingredients: Ají panca and ají amarillo are spicy yet subtly fruity chiles grown throughout Peru, and are widely available in jarred roasted chile pastes. Huacatay, also known as black mint, is an aromatic herb used in dishes across South America, often sold jarred or frozen. (All three products can be found at Latin grocery stores or via online retailers; you can also use fresh mint as a substitute for the huacatay.)
Ingredients
For the chicken:
1 cup dark lager-style beer
¼ cup ají panca paste
2 garlic cloves, finely chopped
2 Tbsp. vegetable oil
1 tsp. ají amarillo paste
1 tsp. ground cumin
1 tsp. fine salt
One 4-lb. whole chicken, giblets removed and spatchcocked
For the ají verde:
1 packed cup fresh cilantro (leaves and tender stems)
4 large jalapeño peppers, stemmed and sliced (do not remove the seeds)
2 scallions (white and green parts), sliced
2 garlic cloves, coarsely chopped
½ cup crumbled queso fresco or feta cheese
¼ cup ají amarillo paste
¼ cup fresh lime juice, or more to taste
2 tsp. chopped huacatay leaves or paste , or substitute 1 tsp. fresh mint
2 tsp. honey
1 tsp. ground cumin
1 tsp. fine salt
½ cup vegetable or avocado oil
Instructions
Step 1
Marinate the chicken: In a medium bowl, whisk together the beer, ají panca paste, garlic, oil, ají amarillo paste, cumin, and salt. Place the chicken in a large plastic bag, then pour the marinade all over it, turning to coat. Seal the bag tightly, then refrigerate for at least 2 hours, or up to 24 hours.
Step 2
Make the ají verde: To a blender, add the cilantro, jalapeños, scallions, garlic, queso fresco, ají amarillo paste, lime juice, honey, huacatay, cumin, salt, and ¼ cup cold water. Blend until smooth, then, with the motor running, add the oil in a thin stream until the sauce has thickened. Season to taste with more lime juice and salt, then set aside. (This recipe yields about 2 cups; extra aioli will keep refrigerated in a sealed container for up to 1 week.)
Step 3
Position an oven rack in the center of the oven and preheat to 450°F. Fit a large rimmed roasting pan with a wire rack.
Step 4
Remove the chicken from the marinade and transfer it, breast side up, to the prepared roasting pan (discard the marinade). Roast until the chicken is browned all over and its juices run clear when pierced with a fork at the thickest part, 45–55 minutes. Remove the chicken from the oven, transfer to a cutting board, and set aside to rest at room temperature for 10 minutes before cutting into portions. Serve warm, with the reserved aïoli on the side.