Recipes
Sombi (Senegalese Coconut Rice Pudding)
Rice, coconut milk, and vanilla cook together to make a fragrant, luscious dessert.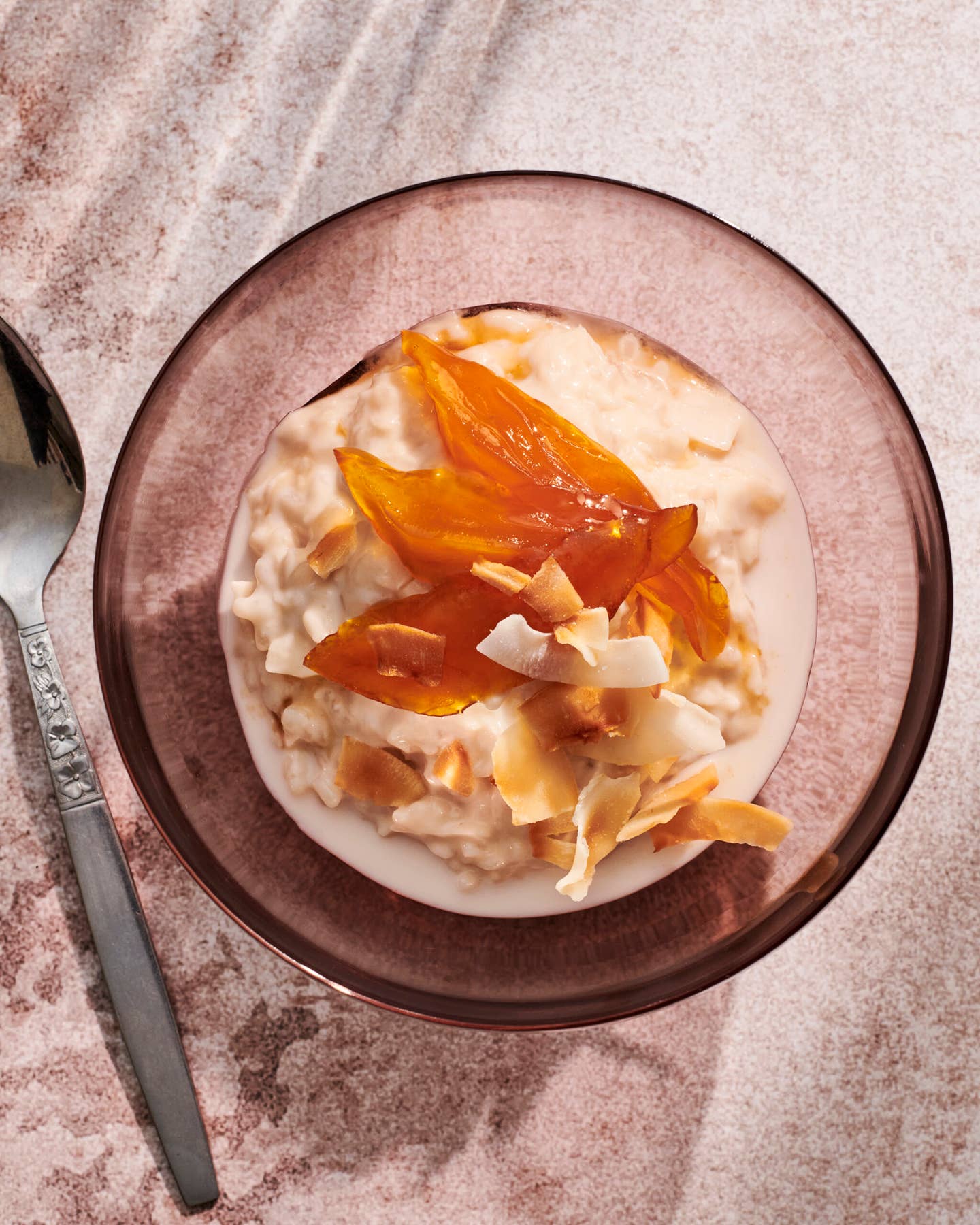 Rice cultivation is the lifeblood of Casamance, the area of Senegal from which sombi, a coconut rice pudding, originates. At sunset, one feels a special silence around the paddies as the rice shoots sway, captives of the gentle breeze. The tranquility of that scene is one of chef Pierre Thiam's most vivid memories of home. He finishes the classic Senegalese dessert with caramelized mango for brightness and toasted coconut for texture.
Ingredients
½ cup honey
2 mangoes, peeled and sliced lengthwise
2 cups coconut milk
½ cup unsweetened shredded coconut, divided
¼ cup sugar
1 vanilla bean, split lengthwise, seeds scraped, or 1 tsp. vanilla extract
1 cup cooked white rice, preferably long-grain
1 Tbsp. lime juice
Pinch kosher salt
Instructions
Step 1
In a skillet set over medium heat, cook the honey until bubbly. Using tongs, dip the mango slices in the honey to coat; cook until golden-brown, about 5 minutes. Transfer to a plate and set aside.
Step 2
To a medium pot set over medium heat, add the coconut milk, 6 tablespoons of the shredded coconut, the sugar, and vanilla and cook, stirring frequently, until thickened slightly, about 10 minutes. Reserve ½ cup of the sauce and set aside.
Step 3
To a skillet set over low heat, add the remaining shredded coconut and cook, stirring occasionally, until lightly golden-brown, about 5 minutes. Remove from the heat and set aside.
Step 4
Set the pot with the coconut milk mixture over medium-low heat, add the rice, and cook, stirring frequently, until all the liquid is absorbed, about 5 minutes. Stir in the lime juice and salt and discard the vanilla pod.
Step 5
Transfer the rice pudding to serving bowls. Dividing evenly among the bowls, drizzle the reserved sauce around the edges of the pudding, lay the mango slices atop the pudding, and garnish with the toasted shredded coconut. Serve warm.