Recipes
Ruangan Chaman (Kashmiri-Style Paneer in Tomato Gravy)
A simple but filling vegetarian dish.
Serves

serves 4

Cook

1 hour 10 minutes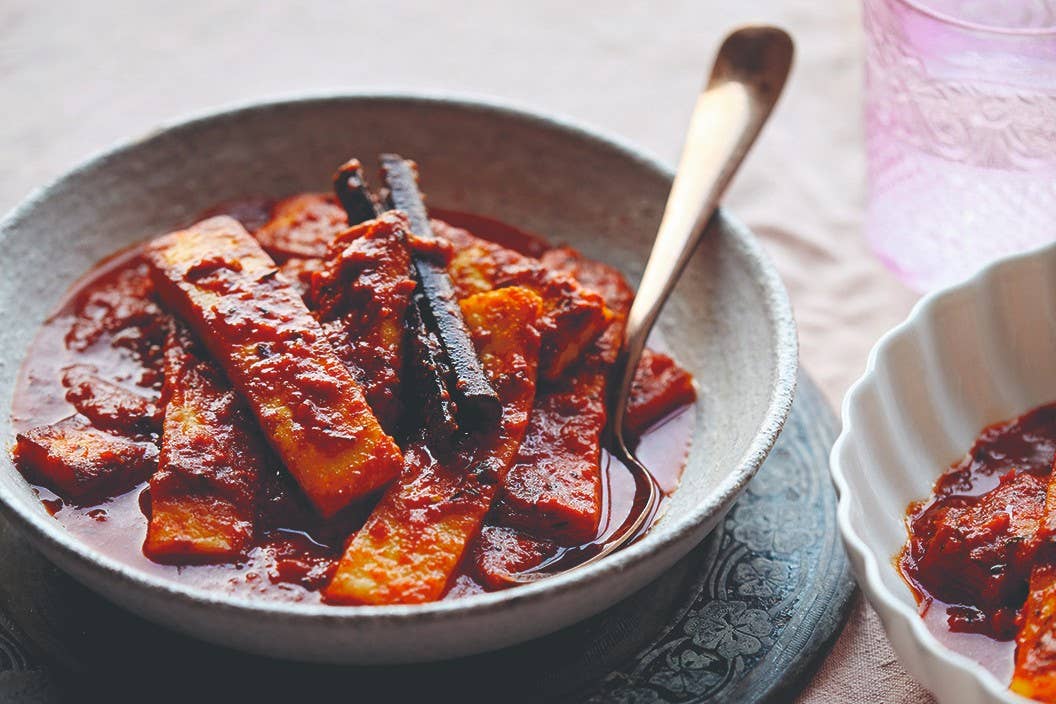 Kashmiri ruangan chaman is a delicate, tangy, and exquisite dish. Chaman refers to paneer—South Asia's fresh, pressed cheese—in the Kashmiri language. Served with rice or flatbread, this recipe, which is adapted from British Indian chef Romy Gill's cookbook, On The Himalayan Trail: Recipes and Stories from Kashmir to Ladakh, is one of her husband's favorite dishes. Some cooks like to blanch and peel the tomatoes before pureeing them, but Gill thinks that extra step is unnecessary. Black cumin seed is darker, thinner, and sweeter than its more common brown cousin; look for it in South Asian markets or specialty stores like Kalustyan's.
Ingredients
3 medium plum tomatoes (10 oz.), cored
1 tbsp. plus 1 tsp. ghee or 2 Tbsp. mustard oil
14 oz. paneer, cut into ½-in. thick strips
One 3-in. cinnamon stick
2 tsp. Kashmiri chile powder mixed with 2 Tbsp. hot water
1 tsp. ground ginger
1 tsp. crushed green cardamom seeds (from about 8 pods)
1 tsp. kosher salt
1 tsp. ground turmeric
1 tsp. dried mint or dried fenugreek leaves
½ tsp. black cumin seeds
¼ cups plus 1 Tbsp. cockscomb flower extract (optional)
Steamed basmati rice or flatbreads to serve
Instructions
Step 1
To a blender, add the tomatoes and process to a smooth purée; set aside. To a medium skillet set over medium heat, add the ghee. Once hot, add the paneer in batches and cook, turning once, until golden brown on both sides, about 6 minutes. Transfer to a plate and set aside.
Step 2
Add the cinnamon stick and the reserved tomato puree to the skillet and cook, stirring frequently, until the tomatoes thicken slightly, about 4 minutes. Stir in the chile powder water, ginger, cardamom, salt, and turmeric, and cook 2 minutes more. Add 1½ cups hot water, then turn the heat up to medium high and bring to a boil. Lower the heat to maintain a steady simmer, cover, and cook, stirring frequently, until the tomato gravy begins to thicken, about 10 minutes.
Step 3
Remove the lid, then return the fried paneer to the skillet. Stir in the dried mint, black cumin, and the cockscomb extract (if using), then cook, stirring occasionally, until the gravy has thickened enough to coat the back of a spoon, about 5 minutes more. Turn of the heat, cover the skillet, and set aside to rest at room temperature for 30 minutes to allow the flavors to meld together. Transfer to a platter and serve warm with steamed basmati rice or flatbread on the side.