Recipes
Sambal Tempeh with Lemon Basil
An earthy and aromatic Indonesian condiment for grilled vegetables and satay.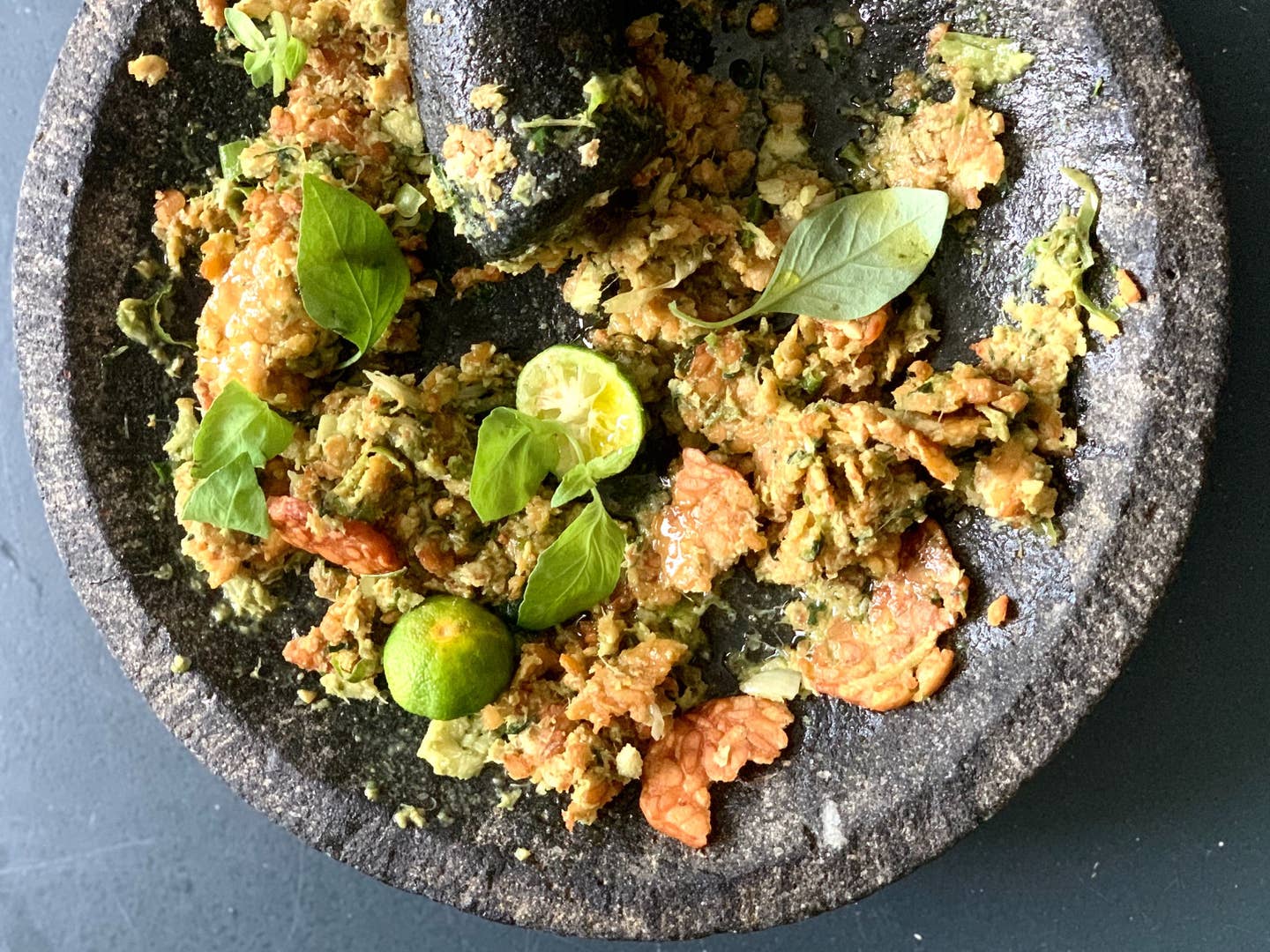 The combination of nutty tempeh and aromatic lemon basil is an elegant match in this fiery Indonesian condiment adapted from chef Vanja Van der Leeden's cookbook INDOSTOK. Quite different from more common, saucy sambals, this dryer style goes well with grilled eggplant, rice, and steamed fish. Fresh or frozen makrut limes can be found at Asian grocery stores; if unavailable, substitute the zest of half a lime and a squeeze of fresh lime juice.
Ingredients
2 tbsp. sunflower oil, plus more for deep frying
3 large garlic cloves, peeled
8 green bird's eye chiles, sliced
One 1-inch piece of ginger, peeled and sliced
1⁄2 tsp. kosher salt
2 small makrut limes, halved
2 1⁄2 cups fresh lemon basil leaves (or substitute Italian basil leaves)
One 7-oz. block of tempeh, thinly sliced
Instructions
Step 1
To a small skillet over low heat, add the oil. When hot, add the garlic and chiles and cook, stirring occasionally, until the garlic is golden brown, about 5 minutes. Use a fork or slotted spoon to transfer the garlic and chiles to a mortar and pestle, reserving the oil.
Step 2
To the mortar, add the ginger and salt. Squeeze the makrut lime over the aromatics and. pound together just to combine. Add the lemon basil and continue pounding and grinding to make a fragrant, coarse paste. Set aside.
Step 3
Line a large plate with paper towels and set it by the stove. In a wok over medium-high heat, pour fresh oil to a depth of 2 inches. When the oil is hot, deep fry the tempeh in batches, stirring occasionally, until golden brown, around 3 minutes per batch. Using a slotted spoon, transfer to the lined plate to drain and set aside.
Step 4
Once the tempeh is cool enough to handle, crumble it with your hands and add to the mortar and pestle. Grind the sambal to a coarse paste, adding a bit of the reserved chile-garlic oil to taste if you prefer a looser, spicier sauce. Serve grilled eggplant satay, or any grilled vegetables or meat.